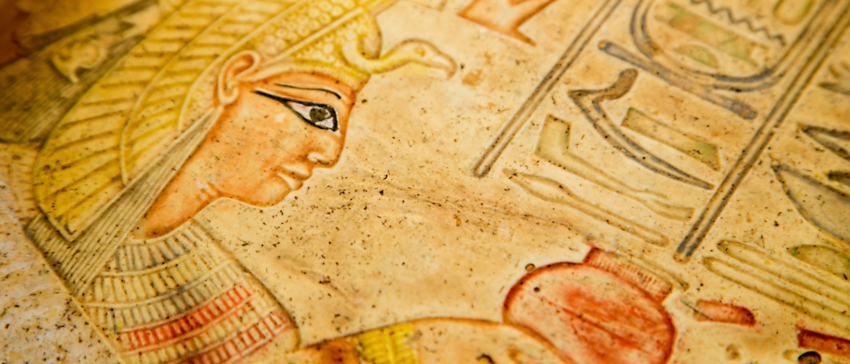 Question: Which reincarnated Egyptian goddess ruled the Nile for thirty years and became so famous that her face was printed on the empire's coins—yet wasn't actually Egyptian?
Answer: Cleopatra
Considering that Cleopatra is one of the most famous Pharaohs of Egypt and by far its most famous historical woman, it comes as a surprise for many to realize that she wasn't actually Egyptian. She was Macedonian Greek, the 13th Greek Pharaoh in a row.
Alexander the Great conquered Egypt in 332 B.C. (The city of Alexandria is named for him.) His general, Ptolemy I, became ruler of Egypt, founding the library at Alexandria and trying to put a Hellenistic stamp on society. Rule of Egypt passed down through his line to Ptolemy XII, who, like his predecessors, never learned to speak fluent Egyptian, conducting business in Greek and letting translators do the rest. When he died, his children—Cleopatra, age 18, and Ptolemy XIII, age 10—were made co-rulers (and, by tradition, married).
Cleopatra made waves from the get go. She announced that she was the reincarnated goddess Isis and she endeared herself to the populace by demonstrating that she could speak fluent Egyptian (the first in her family to bother). She had her face minted on coins—all by herself, no brother in sight—and contributed to some of Egypt's greatest monuments. But as Ptolemy XIII grew older, his advisors plotted to depose Cleopatra, and she had to flee to plan her next move.
When Ptolemy enraged the Roman ruler Julius Caesar, Cleopatra made her boldest move yet: she famously snuck into Caesar's chambers, rolled up in a carpet, and wooed him not only into a relationship but into restoring her sole power. She didn't relinquish power again until her death by suicide in 30 B.C., ending the age of the Pharaohs for good.
10 Things That Might Surprise You about Cleopatra
Two languages were not enough for her: In addition to Greek and Egyptian, she learned Aramaic, Ethiopic, Latin, and Hebrew.
It was Cleopatra who pushed for Caesar to add leap days and leap years to the Julian calendar, at the urging of her astronomer, who noted that Egypt had already figured this system out nearly 200 years earlier.
She met her lover Mark Antony when he summoned her to Tarsus to ask for money—she turned the tables and so enchanted him that he followed her back to Egypt for the winter, and agreed that Rome would give her Cyprus, Crete, Libya, Jericho, and most of Syria and Lebanon.
To make sure yet another sibling didn't threaten her power, Cleopatra had her imprisoned sister Arsinoe executed on Mark Antony's orders—but infuriated the Romans by having the execution take place on the steps of the sacred Temple of Artemis.
While living in Egypt with Cleopatra, Mark Antony bestowed upon her the title Queen of Kings, which chilled the elite in Rome, who feared she would soon end up Empress.
With noble friends in Alexandria, Cleopatra and Mark Antony formed a supper club named "the Inimitable livers," in which they took turn entertaining each other lavishly, seeing how much they could outdo one another.
Pliny the Elder writes that Cleopatra bet Mark Antony that she could spend ten million sestertii (roughly the annual wages of 10,000 men) in a single meal and he accepted the bet, saying it was impossible. During the second course, she had herself served a cup of strong vinegar. She shattered her rare pearl earrings into the cup, let the pearls dissolve, and then drank them to win the bet.
Though dozens of historical accounts suggest that Cleopatra committed suicide by asp bite, scholars have recently questioned whether this is true, as anyone living in Egypt would have known that death by asp takes hours and is incredibly painful. The only scholar to write of the matter within a decade of her death said she poisoned herself.
When she died, the temple of Hathor—the biggest monument in Egypt ever overseen by a woman—was still being built under her auspices. If you visit it today, you will find her and her son Caesarion (executed shortly after her death) immortalized on the temple walls.
Having died in 30 B.C. Cleopatra actually lived closer in time to the creation of the iPhone (2037 years later) than to the building of the Great Pyramid (finished 2330 years earlier).
Explore the land ruled by the Macedonian who was Egypt's most famous queen on Suez Canal Crossing: Israel, Egypt, Jordan & the Red Sea.