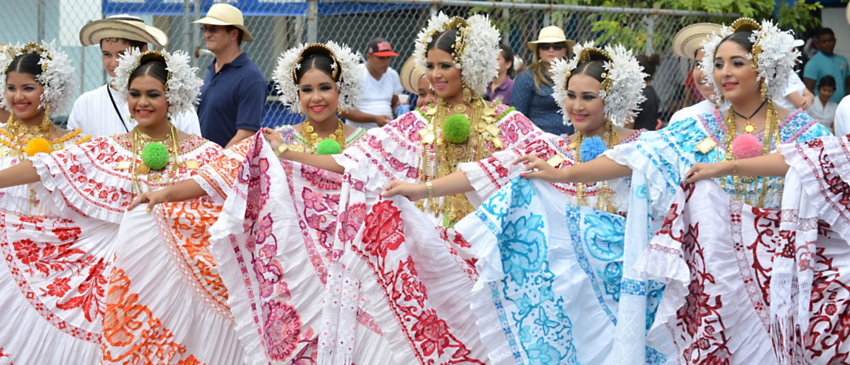 Question: What piece of Spanish culture was forced upon the people of Panama, evolved into one of their greatest sources of pride, and then disappeared from Spain?
Answer: Panamanian polleras
Often, when a colonizer forces its culture onto an indigenous population, a nation's eventual independence involves rejecting much of what was imported during the occupation. But in Panama, the opposite happened at least once: the colonizer lost its grasp on its old tradition, while the ruled subjects made it thoroughly their own.
During the 16th and 17th century, Spain controlled the wealth of Panama, with much of the land owned by hacendados (rich hacienda proprietors). The indigenous people made to don peasant dress from southern Spain (visibly reinforcing class distinctions between rich and poor). Women were pressed into wearing polleras, white dresses with long, full skirts. The woolen material used in Spain was quite heavy and stiff, not an ideal fit for a tropical climate.
The women of Panama took matters into their own hands. Yes, they could wear white dresses, but they would do it their way. First, they chose gauzier, lighter cotton. And then they brought the dresses to life with embroidered designs of native flowers and wild animals. Soon it was a point of pride to be able to make the most beautiful and intricate polleras (which no one peasant in Spain would now recognize). Over time, the tradition expanded to include other colors, various cuts of skirt, and dramatic accessories.
While polleras have long since faded from Spanish life, they are celebrated as a defining aspect of Panamanian culture. Every woman has one and they are considered an investment; authentic polleras take months to complete by hand, and cost anywhere from hundreds to thousands of dollars. Today, no cultural event in the nation would take place without a contingent of women in their polleras, which truly have become the fabric of their lives.
Know Your Polleras
Typically, a Panamanian woman will own two polleras: one her parents buy that she wears during her teen years, and one that she buys herself and wears throughout adulthood.


Polleras are actually not a dress but a two-piece outfit: a lace-collared blouse and a skirt composed of three segments.


Panamanian ingenuity led to the creations of dozens of colors of embroidery thread whose hues came from vegetable dye and snail urine, allowing wearers to personalize their garments.


Though polleras are made all over the country, the Los Santos and Herrera provinces have the greatest concentration of artisans trained in classic methods, some charging as much as $10,000 per dress.


Polleras require patience; a hand-made pollera with a lot of jewel-work and an elaborate pattern of embroidery might require one to two years of work.


There are five regional styles of pollera, each then divided into two categories: the more casual pollera montuna, which is plainer and straighter; and the fancier, pollera de gala, which boasts more elaborate embroidery and a fuller, gathered skirt.


Which regional pollera you choose determines which jewelry gets paired with the outfit: multiple flat chains, gold medallions, vivid colored pom poms, pearl and gold mosquetas (brooches), or a combination of the above.


Women may wear a traditional Andean hat if clad in a pollera montuna, but not if you are wearing a pollera de gala, which requires tembleques (dramatic beaded headpieces); tortoise-shell combs may be worn with either pollera.


To honor the tradition, the city of Las Tablas established Desfile del Mil Polleras, the Thousand Polleras Parade, but it became so popular, it now features 10,000 women in polleras, and an audience of more than 125,000.


Experience the color, tradition, and pride of Panama during our Panama Canal Cruise & Panama: A Continent Divided, Oceans United Small Ship Adventure.