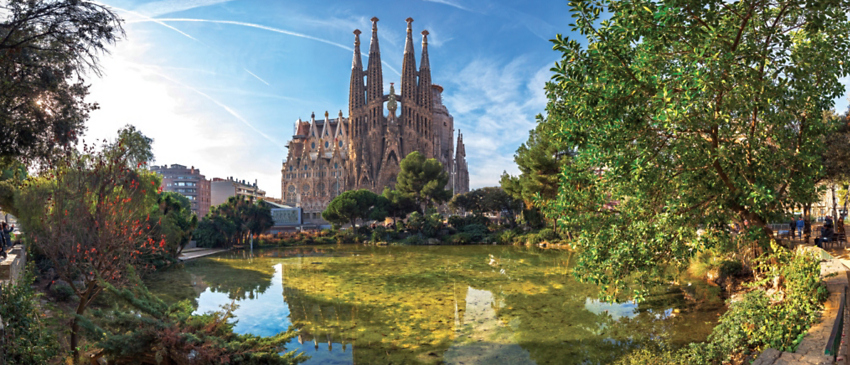 Question: Antoni Gaudi asked for a permit to build La Sagrada Familia in 1885. What year did the city grant it?
Answer: 2019, 93 years after Gaudi died.
No special lens or trick photography is required to transform the ceiling of La Sagrada Familia into a kaleidoscopic pattern. Considered the ultimate masterpiece of the Spaniard Antoni Gaudi, the cathedral exuberantly embodies the style of a man whose Dean said upon his graduation from architecture school, "I am not sure to whom I presented a diploma today, a madman or a genius."
Named one of the Most Beautiful Churches in the World by Condé Nast Traveler and The Telegraph of London, deemed "awe-inspiring" by National Geographic, and declared "bigger than life" by Rick Steves, La Sagrada Familia in Barcelona, Spain, hardly flies under the radar. How could it? It (currently) rises 566 feet and emphatically punctuates the skyline with eight spires. Construction has been ongoing for a whopping 137 years—yet it's only been legal for two months.
Though the earliest groundwork began in 1882, Catalan Modernist architect Antoni Gaudi wasn't in a huge hurry. He didn't get around to filing the official paperwork until 1885, when he turned in his permit request, with a blueprint that showed 18 towers and an array of fantastical elements, to the city of Sant Marti de Provencals (now a neighborhood of Barcelona). He didn't bother to wait for a reply, but kept working away at his dream project, sure that they would approve it. This remained true for 41 years, until he was struck and killed by a tram. After his death, work continued, and a second artist was introduced in 1986 to work on the Passion Façade. (See below.) Decade by decade, the church continued to grow.
What nobody seemed to realize was that the city had never approved any of it. It wasn't until 2016 that an urban planner discovered what she called the "historical anomaly" that the city's most famous building was illegal. Considering that the cathedral attracts 4.5 million visitors a year, you'd think that finally granting a legal permit would be a slam dunk. Surprisingly, when the council finally voted on the license in June of this year, they approved most, but not all, of the plan. The final façade proposal was tabled and will be determined by a special commission just for that section at a later date.
Though the original goal was to complete the basilica in time for the 100th anniversary of Gaudi's death in 2026, architects admit that 2030 or 2032 is more likely. If the latter estimate is true, La Sagrada Familia would be complete exactly 150 years after the first stone was laid without a permit.
Fascinating Facts About La Sagrada Familia's Other Artist
In 1986, Barcelona commissioned Josep Maria Subirachs, the most famous Catalan sculptor in history, to finish the decoration of the Passion Façade on La Sagrada Familia.


Born in 1927 to a poor family, Subirachs had apprenticed himself to a sculptor at age 14, and took art classes at night after working all day.


At 24, he got a scholarship to study in Paris, where he gravitated toward the Avant Garde.


He got an initial commission from Barcelona in 1957, yielding the city's first public abstract sculpture; his second work for the city in 1960 was banished to a remote neighborhood for not being pretty enough.


In the 1960s, Subirachs was part of the anti-Franco movement, creating rough, angular expressionist pieces he called "anguished," and he became a prominent pro-Catalan figure.


The city was soon home to dozens of his sculptures and the rest of the world took notice: his creations appeared across Europe, as well as in North America and Asia.


When he was commissioned to work on the Passion façade, Subirachs insisted on living in a flat within view of the basilica, as Gaudi had done.


Subirachs was prolific, crafting four enormous bronze doors and 100 stone figures for the façade.


His adornments also included a Magic Square, a grid in which adding together the numbers of any column or any row add up to the same total (in this case 33, the Bible's age of death for Jesus).


The most high profile—and controversial—elements of the façade were his figures of the passion, which, rather than imitating Gaudi's drawings, Subirachs rendered in his signature (raw, tortured) style.


Other Catalan artists organized a protest against the sculptures in 1990, saying he had not honored Gaudi's vision, but the city ignored requests to remove or replace the figures.


Subirachs continued his work as a sculptor after the controversy and was productive until Parkinson's disease forced him to retire in 2009, having created 3,000 artworks total (70 in Barcelona alone).


He died in 2014; like his predecessor Gaudi, his enduring work remains a testament to his vision and artistry.
See the handiwork of Gaudi, Subirachs, and more when you visit the heart of Catalonia on your Iberian Voyage: Lisbon to Barcelona Small Ship Adventure.