It's All About the Timing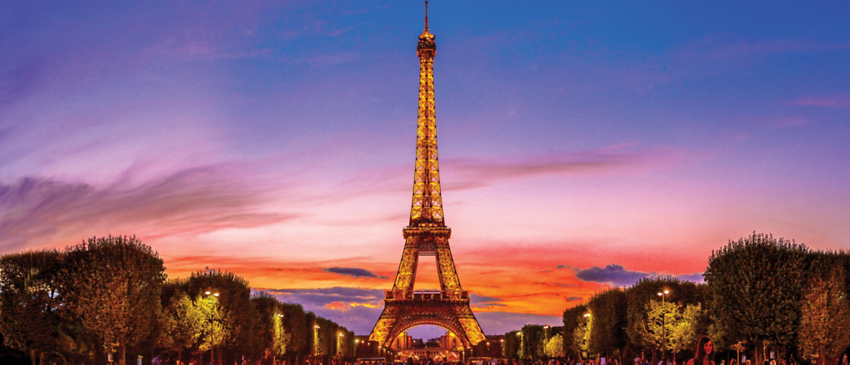 Question: Sure, it's magical… but it's also illegal: At what famous landmark could you technically be fined if you snap a photo at night?
Answer: The Eiffel Tower in Paris, France
Considering that the Eiffel Tower is one of the most photographed structures on earth, it is surprising how many shutterbugs break the law when capturing it on film. There indeed is a time of day when it is not legal to take photos of the iconic tower; in fact, that time is almost 16 hours long in December. Even on its most legally photographable day—June 21—there are still 8 hours when it should be off limits.
That's because it is technically illegal to take pictures of the tower at night. Happily for the lawbreakers, this is a civil matter, not a criminal one, which means they won't get arrested. But if authorities wish, offenders could be sued and made to pay a fine.
The building itself actually falls under the rules of public domain, which would normally mean photographers could just snap away. But the light show that illuminates it once the sun sets is copyrighted as an artistic work protected by French law. The Société d'Exploitation de la Tour Eiffel, which makes the rules, has determined that unless you seek permission in writing first, visitors may not share any nighttime Eiffel Tower photos even on their personal social media, a stance they reaffirmed in a 2014 law journal.
You have several ways to get around this: Take pictures but only enjoy them in the privacy of your own home; wait for the lights to go out, and snap shots of the unlit structure; or, do like everyone else and take all the photos you like, knowing that the Société is too small to chase everyone who tags themselves in an Eiffel selfie. Even people who try to make money off the images will most likely just receive an angry letter in French. Truly, if you're not making money off the image, they're not going to spend money to stop you from enjoying your illicit prize.
Which of These 10 Eiffel Tower "Facts" is True?
A man successfully rode his bicycle down all the stairs of the tower. (True: In 1923, cyclist Pierre Labric made a bet with a doubter that this feat was possible—and he won. Moments after he landed at ground level, he was arrested; cycling is not allowed.)


20 people a year leap to their deaths from the Eiffel Tower. (False: The average is 4, despite all the barriers and netting erected to drop the rates from its peak of 10-12 a year in the mid-20th century.)


Wild truffles suddenly appeared on the upper platform. (False: They appeared inexplicably on the roof of the nearby Mercure Hotel, despite being incredibly rare and native only to tiny pockets of the Mediterranean and southern Europe.)


A zip line was attached to the tower for thrill rides. (True: In the summer of 2017, visitors could ride a zip line from the tower, across the Champs de Mars, to the L'Ecole Militaire.)


It can change its size, shrinking or inflating by a half foot at a time. (True: Its resting state in warm weather is six inches larger than its shrunken cold weather size.)


To promote the 1948 Winter Olympics, a miniature skating rink was erected on the second level. (False: Paris has only hosted Summer Olympics, in 1900 and 1924, with 2020 up next. St. Moritz held the 1948 winter games.)


The Nazis erected a giant swastika on top, but it blew away. (True: The swastika was torn off by the wind and the Nazis had to settle on a smaller swastika flag.)


Hitler ordered it blown up, but the bomb at its base malfunctioned. (False: Hitler did give the order, but his Paris commander refused to carry out any attempt to destroy the world famous landmark.)


When it is repainted every seven years, it requires 10,000 gallons of paint. (False: That would only get 2/3 of the job done. It requires 15,000 gallons.)


The Eiffel Tower has a wife. (True-ish: A French woman had a legal ceremony declaring herself civilly wed to the tower, and she changed her name to Erika La Tour Eiffel. While many people love the Eiffel Tower, she is assumed to be the first to say "I do.")
Experience the magic of the City of Lights with Grand Circle Cruise Line during The Seine: Paris to Normandy River Cruise.