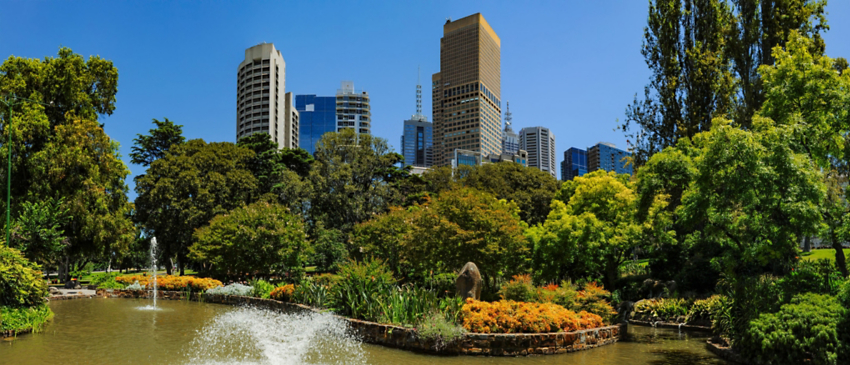 Question: What happened when thousands of people started emailing the trees of Melbourne, Australia?
Answer: The trees wrote back.
In 2015, when the city of Melbourne started looking for ways to preserve its trees after a 13-year drought, it really thought outside the box. One initiative of the city's Urban Forest Strategy was to assign unique email addresses to all 77,000 trees. The idea was that citizens should report fallen limbs, branches too close to power lines, or other obvious problems. Online maps were available, with no tree unlisted, and authorities awaited the results.
Turns out Melbournians think outside the box too. Yes, some used the email reporting system as intended, but others began writing letters to the trees themselves—declaring affection, worrying about how weather or traffic was affecting then, even asking for advice. Melbourne's Councilor for the Environment described this turn of events as "unintended but positive." When The Atlantic reported on this story, news spread well beyond the city, and a deluge of new letters followed. Thousands of emails poured in from places such as Russia, Germany, Hungary, Britain, Hong Kong, and Singapore.
Some of the letter-writers have gotten back replies, which often include inspirational statements, like "Nature can influence the way people learn in a positive way, so I hope I inspire your learning." Occasionally, more cheeky comments surface, such as this one purportedly from a red cedar that dodged a history question with, "I don't know, but then I'm only a tree." (All such replies come from volunteers within the city's environmental office.)
The idea may have gone in an unusual direction, but the effect has been just what was intended: more awareness and care for the city's trees. Happily, their ranks are growing again: The Urban Forest Strategy also committed the city to planting 3,000 new trees each year (18,000 so far), much to the delight of the arboreal correspondents, some of whom are quoted below.
Can You Spot the Real Letters to Trees?
"Today I was struck, not by a branch, but by your radiant beauty. You must get these messages all the time. You're such an attractive tree."


"It makes me sad when trucks damage your low-hanging branches. Are you as tired of all this construction work as we are?"


"I have exams coming up and I should be busy studying. You do not have exams because you are a tree. I don't think that there is much more to talk about as we don't have a lot in common, you being a tree and such. But I'm glad we're in this together."


"Hello Mr. Willow Leaf Peppermint, or should I say Mrs. Willow Leaf Peppermint? Do trees have genders?"


"How do you deal with the constant, relentlessly soul-crushing pain of disappointment after disappointment that characterizes our lives on Earth? You must be very old, right? So I thought you might know."


"Are you worried about being affected by the Greek debt crisis? Should Greece be allowed to stay in the European Union?"


"Hello Weeping Myrtle, I'm sitting near you and I noticed on the urban tree map you don't have many friends nearby. I think that's sad, so I want you to know I'm thinking of you."


"Are you and your fellow English elms enjoying the cricket series as much as we in England are, and are you giving the native Aussie trees some stick over their team's performance?"


"How y'all? Just sayin' how do. My name is Quercus Alba. Y'all can call me Al. I'm [a tree] about 350 years old and live on a small farm in N.E. Mississippi, USA. I don't travel much—actually haven't moved since I was an acorn."


"I don't know where I'd be without you to extract my carbon dioxide. (I would probably be in heaven)."
Answer: All are excerpts from real letters released to the press by the city of Melbourne.
See the inspiring trees of Melbourne—and a whole lot more South Pacific beauty—when you join us for Australia & New Zealand: An Adventure Down Under.