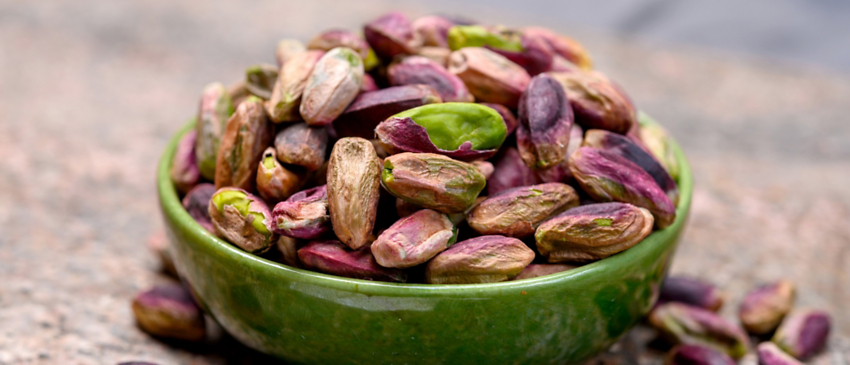 Question: What Sicilian item known as "green gold" is so precious it's government and police protected?
Answer: Pistachios
When perusing the bakeries, gelatarias, and markets of Sicily one thing that you won't miss are the vibrant green pistachios sprinkled and infused in almost everything. They're one of the most popular flavors on the island and are incorporated into anything from pastries to pizza and pesto—but these aren't your average pistachios. Hand-harvested from the foothills of Mount Etna, Sicily's pistachios have such a unique flavor that they're protected by the government.
So what makes them so special? Sicily's pistachios, known as Bronte pistachios, are grown along the base of Mount Etna, which is an active volcano. Its lava flow has infused the soil with rich minerals ideal for growing pistachios, grapes, citrus fruits, almonds, and more. This salty soil gives the pistachios a flavor and appearance unlike any other variety in the world. The bright green nut has a hint of purple and a bold, savory, and earthy flavor.
They are grown primarily by family-owned businesses and harvested by hand from late August through September. During this time, police officers patrol the fields on the ground and in the air by helicopter to prevent thieves from stealing the precious crops. While the region only produces about 1% of the world's total pistachios, these ones are so sought after that they are often called "green gold." 2.2 pounds of Bronte pistachios costs about $18 which is more than double the price of pistachios from Iran and the U.S., the world's largest producers.
The price tag may be high but when purchasing Bronte pistachios, you are guaranteed the highest quality due to government protection. Many traditional foods in Sicily and Italy are protected in what is known as Denominazione di Origine Protetta (DOP), or Protected Designation of Origin. This certification ensures that products are locally grown within a specific region, are made by local farmers or artisans using traditional methods, and are inspected by experts to ensure they are authentic. Only food items that check those boxes can bear the DOP food label. For authentic Bronte pistachios, there are only 230 authorized farmers.
The purpose behind the DOP guarantee is to protect the traditions at the center of Italy's history and culture. It protects against fraudulent imitators both in Italy and around the world who want to charge the same as the premium products, without the same historic process. By taking an active role in the protection of its agriculture and food, Italy is ensuring that these traditions will last so we can all enjoy their truly one-of-a-kind fare.
7 More Protected Foods from Sicily and Italy:
Traditional Balsamic Vinegar: In order to be labeled "traditional" balsamic vinegar it must be from Modena or Reggio Emilia, Italy where they've been making it for more than 900 years. It has a thicker consistency and richer taste because they do not allow the grapes to fully ferment. It also can be aged for more than a decade.


Buffalo Mozzarella: As a creamier alternative to your typical mozzarella, this one comes from the milk of a water buffalo and is considered a true southern Italian delicacy. This soft cheese is best made in Campania, the region where Naples is located.


Genovese Basil: While this is one of the most popular basils around the world, it's traditionally from a small town in the province of Genoa—the name Basilico Genovese is protected by Italy and the European Union. The same area is also known for another DOP product—pesto!


Prosciutto: It's not very surprising that this popular cured ham is a protected designation as one of the most treasured exports of Italy. There are many varieties from the regions of Emilia-Romagna, Tuscany, Veneto, and more which are all protected and vary in smokiness, color, and age.


Asiago Cheese: As a protected designation of origin, the only "authentic" Asiago cheese is produced in northern Italy in the alpine region of Veneto and Trentino-Alto Adige. The production of authentic asiago has a strictly defined process as the cows must graze in Alpine highland pastures and their milk is processed at dairies 2,000 feet above sea level.


Panettone and Pandoro: These Christmas cakes are another delicacy that are protected against imitations, and by law they have strict rules for baking, including they should be made with butter and beer yeast. Italian bakers produce over $685 million worth of these cakes each year.


San Marzano Tomatoes: These long and sweet tomatoes are what make Italy's pasta and pasta dishes taste so extraordinary. Crushed, canned, and sold around the world, authentic San Marzano tomatoes are grown in Italy, however, there are ongoing battles against fraudulent products who claim to be this premium tomato variety.



Try Sicily's famous Bronte pistachios on a variety of treats and dishes when you spend the day exploring Sicily during Undiscovered Adriatic: Eastern Italy, Venice, Puglia & Malta.