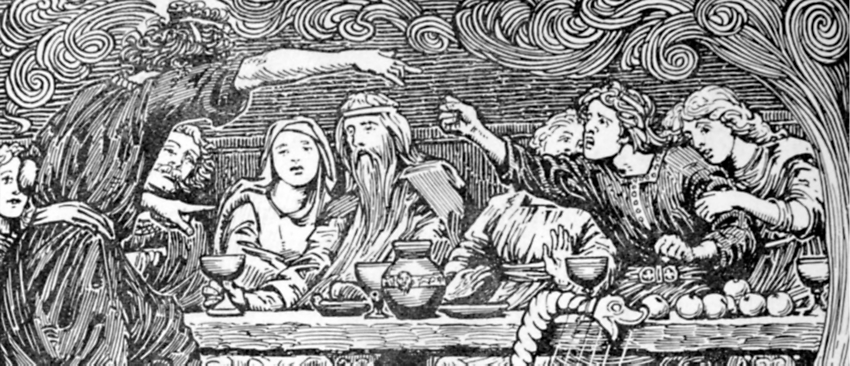 Question: What ancient Scottish tradition gave us 20th-century rap and the most popular musical of the 21st century?
Answer: Flyting, the fine art of insult battles
When the musical Hamilton exploded onto the theater scenes, audience members were treated to the site of our founding fathers trying to verbally dominate each other with rapid-fire insults and rhyming boasts. For some viewers, this seemed completely new; others recognized these exchanges as rap battles: showdowns between MCs (rappers) proving their dazzling linguistic skills (often while either resolving or extending feuds).
The roots of rap battles actually are much, much older than Alexander Hamilton; in Scotland and England, the tradition of "flyting" has been around since the fifth century. The wittiest of men tried to take each other down a peg with off-color jokes, incendiary claims, and the earliest recorded uses of scatological humor in English. These verbal jousts became something of a spectator sport, including command performances in the court of James IV. The slams could be quite elegant—"Gray-visaged gallows-bird, out of your wits gone wild"—but were just as likely to include references to genitalia, excrement, and perversion (which we will kindly refrain from printing here).
Shakespeare, no slouch, was a master of these insult riffs. In King Lear, for instance, Kent demolishes Oswald by calling him "A knave; a rascal; an eater of broken meats; a base, proud, shallow, beggarly, three-suited, hundred-pound, filthy, worsted-stocking knave; a lily-livered, action-taking knave, a whoreson, glass-gazing, super-serviceable finical rogue."
Over time, variants of flyting showed up in the English Parliament, came to the colonies via slave owners, appeared in printed civil war broadsheets, and gained popularity among African-Americans of the Roaring 20s in word games known as "the Dozens." A good 1,600 years after flyting first took hold, the insults keep flying, as they will for as long as there are humans to hurl them.
The Crown Jewels: Best Insults of old England, Scotland, Ireland, and Wales
Bedswerver—English: A Shakespearean insult for adulterer


Bespawler—English: slobberer, he who drools when speaking


Cumberworld—English: A person so useless, all they do is occupy space


Clipe—Scottish: Someone who can't keep their mouth shut, a tattle-tale


Boggin—Scottish: Foul-smelling person


Bum's oot the windae—Scottish: delusional person, someone talking nonsense


Dalcop—English: Not just stupid, but particularly stupid


Dew-beater—English: Clumsy or awkward person (named for an oversized shoe)


Drewgi siffilitig (Syphilitic stink dog)—Welsh: Someone dirty or nasty


Driggle-draggle—English: A sloppy woman


Dryshite—Irish: Someone gloomy who instantly brings down a room


Fel rhech mewn (Turd in a jam jar)—Welsh: Someone completely useless and annoying


Fopdoodle—English: An insignificant man who merits no attention


Fustylugs—English: A corpulent woman, one also likely to throw her weight ahead


Gobermouch—Irish: A nosy neighbor or insatiable meddler


Gomey—Scottish: blank-looking, simpleminded


Pen bach (Small head)—Welsh: A dimwit or obvious idiot


Shtate—Irish: Unkempt, suggesting a person's life is in a shambles


Wagon—Irish: A woman both foul and fearsome, a battle-axe. Don't cross her.
Discover the colorful connections between past and present when travel with us on our New! Scotland Revealed: Legends, Lochs & Highland Landscapes adventure.