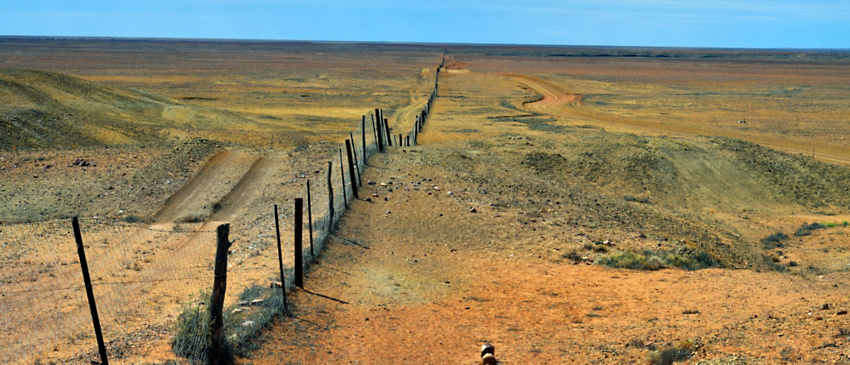 Question: Where is the world's longest fence and what does it (mostly, but not always) keep out?
Answer: It crosses two states in southern Australia to keep out dingoes.
When authorities in South Australia and Queensland completed the mind-bogglingly long Dingo Fence in 1885, it was the longest fence in the world and one of Earth's longest structures period. Running over 3,400 miles, it was built to seal off the fertile southwestern corner of the country, home to sheep stations as big as small countries, and save them from the wild dogs known as dingoes. At the time of its building, one station alone was reporting 11,000 sheep per year lost to dingo attacks. Farmers battled the dogs using everything from rifles to poison before the wall came along.
The number of dingo attacks dropped precipitously after the wall went up. A minimum of six feet high, it was too high for dingoes to leap, and with 15 feet of brush-free clearance on either side of the fence, it left any animal near it exposed to hunters. The wall's success led the Department of Agriculture & Fisheries to permanently fund its oversight, so the wall now has its own staff of 23 employees. Among them are teams of two that visit 186-mile sections of the fence every week until the length has been inspected—a process 18 weeks long—before starting over at the beginning.
Nonetheless, the fence is considered a vital part of life in the south, and when Queensland celebrated its 150th year, it named the fence an "Icon of Queensland," a symbol of "innovation and inventions" for all who live Down Under.
Meet the Dingoes: Fast Facts About the Wildest Dog
Arriving Down Under on the boats of Indonesian sailors, dingoes have lived in Australia for 5,000 years.


Dingoes are in the canine family but are also part wolf, which is revealed by the fact that they do not bark but howl.


They are not especially large, despite their fearsome reputation: The average male is two feet fall and a large dingo tops out at around 50 pounds.


Depending on where a dingo lives, it may be sandy, red, black, black and tan, or white.


They are unusually adaptable and live in every Australian ecosystem: alpine, woodland, grassland, desert and tropical.


Despite the fears of farmers, the primary prey of dingoes are wallaby and kangaroo, not livestock.


Dingo populations don't grow quickly: they reproduce only once a year, with fairly small litters of four to six.


Highly social, dingoes travel in packs of a dozen or so, with a dominant pair, their offspring from several years, and non-dominant pairs who have not produced offspring.


Inside the perimeters of the fence, as a number of dingoes have returned, some farms have employed "guard donkeys" to kick the dingoes.


Dingoes can be domesticated, but it's tricky: they hate to be left alone and, upon the owners' return, they need long reassurance sessions of patting and soothing talk.


If you own a dingo, you must resign yourself to one location, as dingoes dislike change, whether of home or owner, and do not adapt easily.


They can swivel their heads 180 degrees (more than twice as far as humans) to see prey and predators in all directions.


They can also rotate their wrists, a flexibility that allows them to catch prey and even open doors (just one more reason for farmers to be glad the fence is still up).
Discover the land the dingoes call home when you explore Australia & New Zealand: An Adventure Down Under with O.A.T.