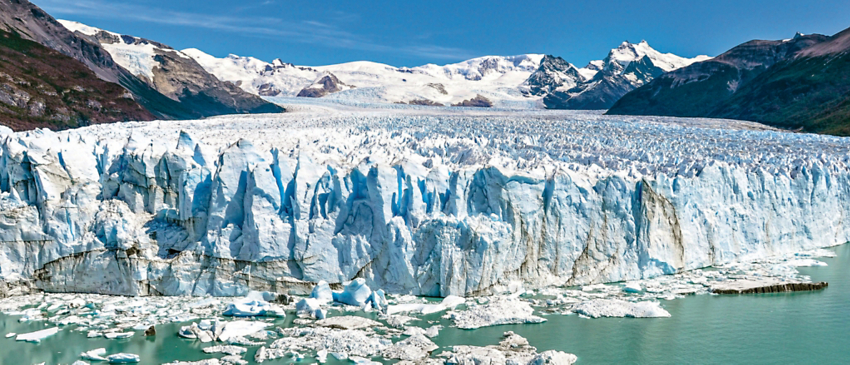 Question: Where in the world does a glacier routinely fall apart as a sign of its good health?
Answer: Perito Moreno Glacier, Argentina
The height of a 15-story building, 19-mile-long Perito Moreno Glacier is already a monster in size—and, unlike most of its peers on Earth, it shows no signs of shrinking any time soon. Spanning 121 square miles of ice fields in Argentina and Chile, it creeps across the Austral Andes to its terminus overlooking Lake Argentino, where its fans gather for photos—especially when it's about to crumble.
The fact that the glacier has groupies stems from its size, of course, and its spectral beauty, but also because, in the age of climate change and glacial retreat, Perito Moreno continues to advance steadily. (The only other glaciers on earth that are keeping pace are Chile's Pio XI and New Zealand's Franz Josef.) In fact, Perito Moreno's tip ends up crossing the lake, initially damming it, until the flowing water cuts a channel, carving out a natural ice arch. The arch grows in size as the glacier inches forward, but there's only so far it can go; every few years, the pressure building up from behind the arch stresses it until the structure begins to groan, shudder, and finally give way with a roar.
The arch rupture was first recorded in 1917 and has happened somewhat routinely ever since, with its biggest exception being a 16-year period from 1988 to 2004. The most recent rupture was in 2018 and travelers from around the world made pilgrimages to be there when it broke. But Mother Nature makes her own rules and it collapsed during a storm in the middle of the night, robbing them of the view. Even so, every collapse is a cause for celebration, as the event is only possible because of the glacier's growth.
The UNESCO World Heritage Site is not set for another rupture till at least 2020. But its fans still make pilgrimages to see the shapeshifting white-and-blue landscape, knowing that it will never be the same twice.
10 Fascinating Facts about Perito Moreno
The first recorded non-indigenous sighting of the glacier occurred in 1879, when it was found by a Chilean navy captain, who named it after a fellow scientist.


An Argentinian boundary officer missed the memo; when he "discovered" it the next year, he decided it should be named Bismarck Glacier after the Prussian Chancellor.


In 1881, the glacier was re-renamed, returning the honor to a countryman: Francisco Moreno, an Argentinian scientist, surveyor, and explorer who also had a town named for him.


However, Perito Moreno the glacier and Perito Moreno the town are nowhere near each other; the town is over 300 miles away.


The glacier's depth runs 550 feet beneath the surface of the lake, but its inland depth is even more impressive: 2,297 feet at its thickest point (making it taller than the "Freedom Tower" at One World Trade Center).


The glacier is part of a 48-glacier ice field that is the world's third largest fresh water reserve.


One theory of why it keeps growing is that comparatively little of it is below the water line, so that melt below the surface is balanced by snow accumulation above in a perfect equilibrium


Whenever the ice builds up on the water, warm afternoon is prime viewing time as sunlight causes shards of ice to fall away every hour or so, offering just a taste of a real rupture.


A full collapse is no joke: since 1968, 32 people who crossed out of established safe viewing zones have been killed by shards of ice propelled by the rupture.


Perito Moreno is one of the last remnants of the Ice Age that ended about 18,000 years ago, proof that no matter how much things change, some things stay the same.
Witness this stunning natural wonder during your Exploring South America: Rio, Buenos Aires, Patagonia & Chilean Fjord Cruise Small Ship Adventure.