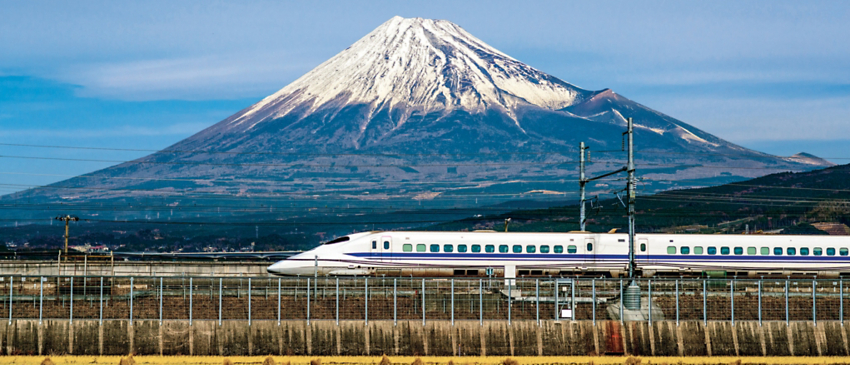 Question: What country writes excuse notes for people to give their bosses if their train to work comes six minutes late?
Answer: Japan
In Japan, trains are woven deeply into the fabric of life, whether it's a daily commute or for holiday travel. People love their trains and expect them to be the best in the world—cleanest, fastest, and with not just the latest technology but the next technology. There is perhaps no other segment of culture that better embodies the famed Japanese embrace of efficiency. When something is off, everyone notices.
In many countries—including our own—a train running a few minutes late wouldn't be a huge deal (and it might even be the norm). But Japan measures train timeliness in seconds; on a daily average, the longest delay at a single stop is under 20 seconds, with an average variation from the timetable of under a minute along the length of an entire route. The system is so precise that if a train arrives more than five minutes late at your stop, authorities will offer you a written "certificate of delay" to take to work so that you don't get in trouble for tardiness. A delay of an hour is so unheard of that it is likely to make the news.
Japanese riders will point out, however, that this is only truly if you riding a single line. Because more than a dozen train lines run by eight different operators now share the rails, the connections can trip you up: If your connecting train arrives exactly on time but your original train is even a few seconds late, you can miss the next segment of your journey. In this way, too much precision isn't always a good thing.
Japan Train Trivia
In July, resort cars debuted on the Yamagata Shinkansen route, featuring warm foot baths for passengers to soak in.


Two train lines use Maglev technology: magnetic levitation, in which the "floating" train can reach speeds of up to 370 miles per hour without touching the track itself.


During peak commuting hours, look for the pink signs over subway car doors that alert you to women-only cars, designed to prevent groping.


"Pushers" are subway employees paid to physically cram as many passengers as possible into each car and still allow the doors to close.


If you commit suicide by jumping in front a train, your survivors will be charged a disruption fee, the amount of which varies by line.


The central Chuo line in Tokyo sees the most suicides because its fee is lowest and the train itself heads toward Mount Fuji, which offers spiritual significance.


There is an entire station (Tsushimanomiya on the JR Shikoku Line) which opens only two days a year, during a summer weekend when tens of thousands of people descend at once for a riverside festival.


When ranking the busiest train stations on earth, Shinjuku Station in Tokyo is number one (with three million riders per day), and 44 other Japanese stations make the Top 50.


The shortest tunnel is only 21 feet long, which makes for an unusual spectacle: most of the train remains visible the entire time it is inside the tunnel.


Over 10 billion riders have experienced Japan's bullet trains, and not one has died in a crash, leading Japan to claim that bullet trains are the safest mode of travel on earth.


When a bullet train exits a tunnel going 200 miles per hour, it makes a shockwave that sounds like a sonic boom, a blast that could topple a freight train going the other way.


Always looking ahead, Japan continually tries out new trains on a dedicated 12-mile-long practice track, inviting locals to test the latest creation and offer feedback on what may someday be their daily ride home from work.
Ride both local trains and bullet trains between cities when you experience Japan's Cultural Treasures with O.A.T.