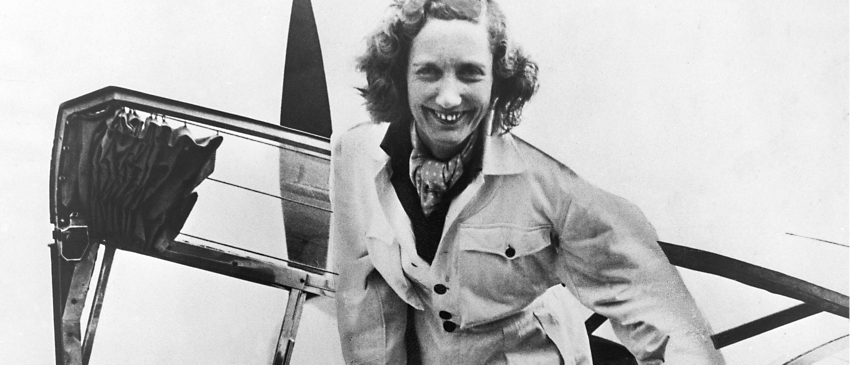 Question: Which minor Out of Africa character was a major figure in real life, the first gutsy woman pilot to fly solo across the Atlantic from east to west?
Answer: "Felicity," inspired by the real-life Beryl Markham
In September 1936, Beryl Markham crashed her tiny plane in a Nova Scotia bog, a terrifying landing that nonetheless made history. She had just completed the first east-to-west solo flight across the Atlantic by a woman (and only the second such flight ever). As the plane had faced headwinds the whole way, it was considered an even more challenging flight than that of Amelia Earhart in the opposite direction. It was a stunning feat for someone who had taken her first flight lesson just five years before.
Before becoming one of the world's foremost pilots, Markham was known as woman who did as she pleased. Largely left to her own devices by her parents once they moved to Kenya from England, she became a racehorse trainer at 18, the first woman to do so in all of Africa. The world of horseracing became her romantic playground, as she met some of Europe's most famous men, and was known to have trysts with her lovers (including Prince Henry) in the stables. Her affair with Prince Henry made waves all the way to the palace, where Queen Mary told him to cut off all contact with Markham immediately.
During the late 1920s, Markham became friends with Karen Blixen (who wrote Out of Africa as Isak Dinesen) and spent a fair amount of time at Blixen's Kenyan farm. Considering that she was already well-known and quite cosmopolitan, Markham was hardly a good model for the Out of Africa character she is said to have inspired: Felicity, a tomboy neighbor who must ask Blixen for romantic advice. (The film also shrunk her from her imposing 6'0" height.)
Why did Blixen depict her so? Perhaps to hide what she (and most others) knew: Markham had taken Blixen's partner Denys Finch Hatton (portrayed by Robert Redford in the film) as a lover. It is reported that Markham was supposed to be with Hatton on the 1931 flight that ended in his death, but she had demurred, citing a premonition. For Blixen to diminish Markham's role in her life—making her less than a peer and then erasing the affair with Hatton—might have been a bit of authorial revenge or a way to take the sting out of the memory.
Blixen left Africa that same year, but Markham stayed on. Surprisingly, instead of letting the death of Hatton scare her away from airplanes, it inspired her to take flying lessons. She had her own pilot's license three months later. And the rest, as they say, really is history.
The Wild Ride of Beryl Markham
Within a year of getting her pilot's license she flew herself to England from Kenya on a 6,000-mile journey with multiple stops.


For several years, she flew hunters on safari, made medical mission trips, and delivered the mail to the bush.


The only east-west Atlantic crossing before hers had started in Ireland, so she determined to start from England; a financier who didn't believe she would do it offered her his own small plane—which she took.


She left a note with reporters before stepping into the airplane. "I am neither an innocent girl from the country, nor a city slicker, but an ocean flyer, in embryo. If I can dispense with the last two words I am more than satisfied."


Her map blew out of the plane's window almost immediately and she relied on knowledge of the sky and position of the horizon to find her way.


Despite flying into storm after storm, the only time she was upset was when she dropped her flask of coffee and it all spilled out.


When she crashed, she had no food or water, sported a bloody gash on her forehead, and had to wade for two hours through a bog to find humans (a pair of very surprised fishermen).


Among the 5,000 people waiting for her at the airport when she finished her trip in New York was a Columbia Pictures exec hoping to offer her a movie deal.


Her 1942 memoir West with the Night was praised by Ernest Hemingway, but it failed to become a bestseller as war news dominated the airwaves.


After the war, she spent thirty years training horses again, but she barely made enough for upkeep on the small cottage where she lived alone.


On the 40th anniversary of her book, Hemingway's son convinced a publisher to reissue West with the Night. This time it was a smash hit and led to a TV documentary series, earning Markham a six-figure income at age 80. It was enough to live comfortably until her death three years later.
See the land that launched Beryl Markham into the air and the record books when you join our Best of Kenya & Tanzania adventure.