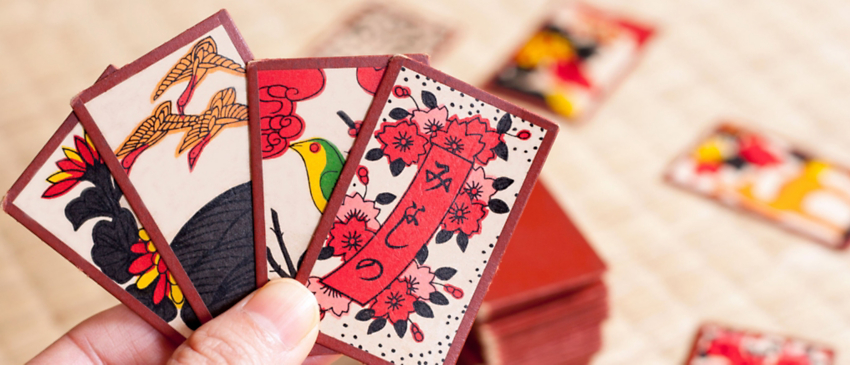 Question: Japanese game company Nintendo unwisely tried to become what other type of business: a taxi service, a chain of by-the-hour "love" hotels, or a maker of vacuums?
Answer: All of the above … and more
Best known today for its electronic game consoles, Japan's Nintendo company actually got its start long before the age of technology, with a simpler gaming model: playing cards. Card playing was imported to Japan from Europe in the 16th century and soon became a craze; unfortunately, so did gambling. When the Japanese government banned western card games in the 17th century, people started making their own Japanese card games with traditional symbols. One game that evolved was hanafuda, with cards featuring floral patterns instead of numbers.
In 1889, Nintendo was founded as a hanafuda card manufacturer, with factories of artists hand-painting cards on mulberry tree bark. The color and variety of cards caught the attention of the Yakuza mob, whose members began featuring the cards in their gambling parlors. The game spread widely after that and suddenly Nintendo was a thriving business.
For over 75 years, Nintendo grew and grew, but the grandson of its founder was convinced that games would eventually not keep the company afloat. In a five-year span during the 1960s, Nintendo tried a wildly disparate slate of new ventures. It operated a fleet of taxis … opened "love hotels" meant for trysts … sold Nintendo-brand vacuums … packaged instant rice … and became a toy maker. The reason most people don't know this? The businesses all failed. And these flops nearly killed the company: In five years, stocks dropped 92% in value.
Cleaning house and going back to games—with a twist—saved the day. In the early 1970s, Nintendo was one of the first companies to embrace electronics and computers for gaming purposes. Before most households even typically had computer consoles, Nintendo was making games for home and arcade play alike. Donkey Kong and Mario Bros made Nintendo a global phenomenon, and the company has led the world of electronic gaming ever since. Last year, Nintendo's Legend of Zelda: Breath of the Wind won the top prize at the international Game of the Year Awards.
But the company hasn't forgotten its roots: you can now play hanafuda with virtual cards on the Nintendo DS console.
It Came from Japan: More Japanese Creations
The answering machine: Japanese businessman Hashimoto Kazuo rigged up his phone with a tape recorder and long-lasting batteries to deal with the endless late-night calls he was receiving from creditors with the wrong number.


Bathroom gender symbols: When Tokyo was hosting the 1964 Olympics, it was worried that most countries attending did not share its alphabet, so it marked restrooms with the gender symbols that have become adopted globally.


Flip flops: Worn by samurai, nobles, and peasants alike, zoori footwear was practical, comfortable, and common in Japan for centuries. It first migrated off island to New Zealand in the 30s, where zoori caught on as "jandals" (Japanese sandals), and then to the U.S., largely thanks to World War II.


Rock-paper-scissors: The Japanese have been playing a version of this game, which they invented and call jankenpon, for as long as 1,500 years, and it is often still used even in disputes among adult men.


Fortune cookies: The written fortune slips themselves originated in Kyoto temples, and were first tucked inside cookies at Japanese-owned restaurants in California in the 1900s. During the World War II internment era, the cookies were co-opted by Chinese restaurateurs who then spread the practice widely.


Leaf blowers: As early as the 1800s, Japanese gardeners were using hand-pumped bellows to clear lawns in the autumn. In the 1970s, an engineer took technology meant to spread insecticide and instead made the first motorized version of a leaf blower.


Camera phones: In 1999, the Japanese company Kyocera built a front-facing camera into their phone as a novelty and offered a model that could hold (a now paltry) 20 pictures. It revolutionized the industry and the company followed up with a model that had video for making video calls—setting the stage for the smart phone era we live in now.
When you explore Japan's Cultural Treasures with O.A.T., you'll find that Japanese ingenuity is timeless.