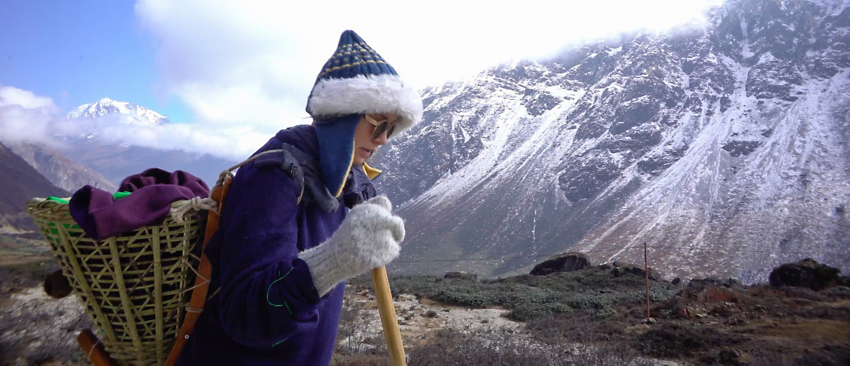 Question: What on earth would make a 28-year-old strap a chair to her back and climb the Himalayas without even a good pair of gloves?
Answer: The example of an early-20th-century female explorer
Some would claim that, with all our modern conveniences, the age of true explorers is over. Elise Wortley, 28, would disagree.
At the age of 16, Wortley read My Journey to Lhasa by Frenchwoman Alexandra David-Neel, who trekked across Asia from 1911 to 1925, a 14-year journey (after promising her husband she'd only be gone 18 months at most). It was an amazing story, culminating in the ultimate coup: David-Neel became the first Western woman to enter Lhasa, Tibet, when it was still a forbidden city to outsiders. That she did so in a time when men got the lion's share of attention (and resources) for their adventures made it even more remarkable.
More than a decade after reading about David-Neel, Wortley noticed that, despite all the advances for women globally, the most well-publicized figures in adventure travel even today are men. She wanted to change that by recreating David-Neel's journeys today, without all the technology many modern explorers have come to rely on. Starting in late 2017, she made her own journey, bringing only the kind of utensils and tools her model would have carried. This extended to her clothing (see below)—no fancy expedition gear for her.
Wortley and her all-female support team trekked from Sikkim, India (near Bhutan) to the border of Tibet. Hiking over peaks, through valleys, and up more peaks, it was a rigorous trek; she recounts an array of falls and mornings waking up to frost on her face. Yet she says the hardest thing was convincing people along the way that she didn't want the gear they kept offering or the help of male guides.
With one of David-Neel's treks under her belt, Wortley still has a lot of catching up to do. India, Japan, Korea, and Mongolia adventures are on the docket, but next up is a May journey from Beijing to Xiling (in what was once Tibet). All these travels have a practical purpose as well as an inspirational one: Wortley is raising money for Freedom Kit Bags, which provides sanitary wear for women in developing areas, including Nepal. That's a legacy David-Neel might never have imagined a century ago.
In 1969, the French explorer applied to renew her passport at age 100, but died before it arrived. Fifty years after her death, Wortley is keeping her travels alive.
What She Carried: Recreating the Travel Kit of Alexandra David-Neel
It was fairly easy for Wortley to come by a vintage tea kettle and traditional hot water bottle, both of which work just as well now as they did in the 1920s.



A wooden bowl and chopsticks were Wortley's simple, sturdy canteen kit, a single set for the whole journey.



David-Neel's description of "cotton undergarments" was vague, so Wortley went with items that were common in the early 1900s, which gave her a lot of coverage but also a lot of chafing.



Yak skin boots (which look a bit like Uggs) were lighter and warmer than she expected, and she got not a single blister, but the soles did soak through easily and she had to dry them by the fire every night.



Replicating David-Neel's yak wool coat wasn't hard, but getting used to the long, shapeless garment was; Wortley tripped over its trailing hems at first, yet came to appreciate that it was not just warm but waterproof as well.



Wortley's mother knitted a yak wool hat of the variety David-Neel had worn, and the result was so soft and warm, Wortley wore it not only by day but every night for sleeping.


To replicate David-Neel's wooden backpack, Wortley cobbled together the frame of an old chair and a wicker basket, making what she called a chairpack, which she tethered to herself with rope.


Her wool mittens were the easiest item to come by—but she eventually stopped wearing them because she needed more serious padding between her chairpack and her skin, and the soothing of her back seemed worth a trade-off with cold hands.



She named her wooden walking stick "Sticky," and found it was a perfect trekking tool that came with a bonus: she threw it into the bonfire on the final night and had one fewer thing to carry home.
Follow in the footsteps of explorers old and new—but without giving up all modern amenities—when you explore Tibet during Imperial China, Tibet & the Yangtze River.