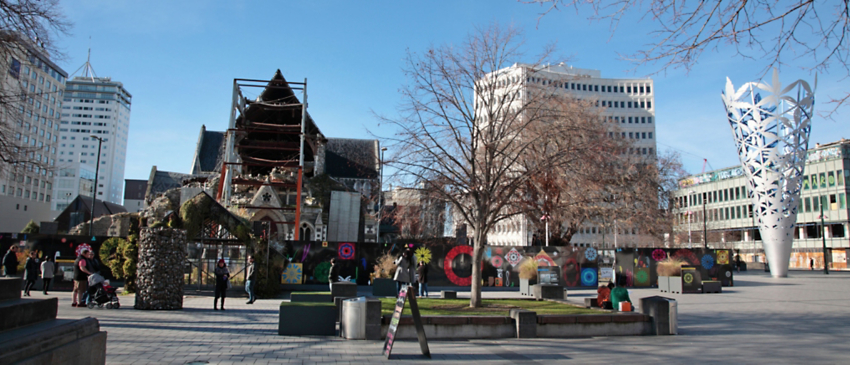 Question: Where did a "fun revolutionary" convince his enemies to declare him the city wizard?
Answer: Christchurch, New Zealand
For Ian Brackenbury Channell, the Wizard of Christchurch, the greatest magic seems to be convincing his opponents to do the opposite of what they want. And he's had plenty of practice.
Born in London, he ended up on the Sociology Faculty of a college in Sydney in the 1960's during a period of student unrest. Unlike most of the other faculty, he embraced the students' cause, launching what he called "the Fun Revolution" with a reform movement known as ALF (Action for Love and Freedom). This got him fired from the department, but he was so popular that he convinced the school to re-appoint him: not to the faculty, but as University Wizard. He then talked Melbourne University into making him their official Cosmologer, and charmed the National Gallery into declaring him a Living Work of Art.
In 1974, he moved to New Zealand to start a new life as a public speaker, albeit in a unique way: by standing on a ladder on Cathedral Square in Christchurch to share his tales and theories. Some of the local authorities wanted him arrested but he developed a following so quickly that business owners around the square worried about losing customers if he disappeared. The city council did a complete reversal and declared the square an official public speaking area.
In 1982, less than a decade after trying to shut him up, the City Council declared him the official Wizard of Christchurch. In 1995, they held a festival in his honor, during which they built an enormous nest atop a library for him and also allowed him to sky dive into the city while performing a spell. By the early 21st century, a small stipend made him a city employee.
The Wizard of Christchurch announced plans to retire after the 2011 earthquake, but when he heard that the local Archdiocese wanted to completely demolish the weakened Christchurch Cathedral, he decided to stay and lead the fight for preservation. Six years later, not only has the building not been demolished, but church authorities finally agreed to consider restoring it to look like the original. It's one more reversal which proves the Wizard may be quite powerful. Certainly, Queen Elizabeth thinks so: she awarded him her prestigious Service Medal.
8 More Wacky Facts about New Zealand
New Zealand is home to the world's only alpine parrot, the nearly two-foot-tall Kea, which is famous for eating windshield wipers off parked cars.
The heaviest insect on earth is New Zealand's giant weta, which looks like a grasshopper on steroids. Weighing 2.5 ounces, it's heavier than the biggest sparrow and twice the weight of a mouse.
New Zealand's Taumatawhakatangihangakoauauotamateapokaiwhenuakitanatahu is the world's longest place name with 57 letters. But it also has longer variants at 85, 92, and 105 letters.
In New Zealand, you can snowboard on an active volcano, Mt. Ruapehu. Skiers last had to be evacuated for an eruption in 2007.
To prove the value of shelter animals, two rescue dogs were taught to drive a car around a New Zealand race track.
Because the Academy Award-winning Lord of the Rings was filmed here, hobbit love runs deep. In 2012, a New Zealand TV station became the only one ever to broadcast the weather report in Elvish.
A 9 year-old girl convinced New Zealand to make her a ward of the state until her parents allowed her to change the ridiculous name they had given her: Talula Does The Hula From Hawaii.
One of New Zealand's most eyebrow-raising crimes was a hostage-taking at a radio station, in which the bomb-wielding assailant wouldn't free the manager until he played "The Rainbow Connection" from The Muppet Show.
New Zealand's famous Ninety-Mile Beach is only 56 miles long. But ocean-lovers can't complain about a lack of beach access, as there is no place in New Zealand more than 87 miles from the sea.
Join O.A.T. to experience the good humor, warm welcomes, and unexpected delights during Australia & New Zealand: An Adventure Down Under.