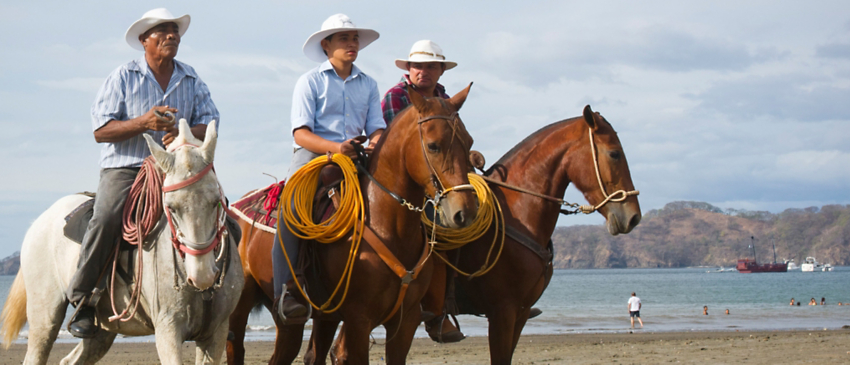 Question: Where are the locals "small," the streets nameless, and the lifespans long and "pure"?
Answer: Costa Rica
You're probably familiar with the famous Costa Rican phrase "pura vida," which literally translates to "pure life." The phrase is quite common in Costa Rican culture—locals use it as a farewell or greeting, as a way to show appreciation, a means of expressing things are going well, and even to symbolize a laid back and carefree approach to life in general. Legend claims the phrase originated from the 1956 Mexican film Pura Vida, during which it was used in a more casual manner. Costa Ricans adopted the new usage of the words from Mexico, and it is now found in their dictionaries and is the country's unofficial motto. Perhaps this relaxed way of life contributes to Costa Rica's average life expectancy of 79 years old, one of the highest in the world.
Although their motto may have come from Mexico, the majority of Costa Rican culture was adapted from Spain after the Spanish colonization of the Americas. Even though Costa Rica's official language is Spanish, different dialects formed, and more notably, Costa Rican slang was born.
There seems to be a slang term or phrase for just about everything, beginning with the people themselves. "Tico" or "tica" (feminine) is used to describe a native of Costa Rica. In Spanish, "-ito" is added to the end of a word to emphasize the small size of the object, but people in Costa Rica tend to add "-tico" to the ends of words instead, thus giving them their nickname.
Another popular slang term is "mae," which is a casual word used in place of "dude." When a woman is pregnant, she is considered "con luz," which means "with light." And instead of a direct translation for the word "soulmate," locals use the phrase "media naranja," or the other half of your orange.
Costa Ricans have definitely distanced themselves from the Spanish language with their creative slang, and in addition, have also created a unique culture that is truly their own:
Women in Costa Rica won't take their husband's last name after they are married. Children take the last name of their father and usually a second last name that belongs to their mother. Many Costa Ricans also have two first names, giving them four names in total. That's a lot to fit on a driver's license or credit card!
The literacy rate in Costa Rica is more than 97%, and in more rural areas where schools aren't as accessible, children can listen to lectures over a national radio station. The country's national anthem is also broadcast by all Costa Rican radio stations daily at 7am.
Costa Rica has not had a standing army since it was abolished after their last civil war in 1949, although there is a public security force. It is also home to the oldest democracy in Central America—one that included their first female president, Laura Chinchilla Miranda—from 2010-2014.
Street names and addresses are uncommon in Costa Rica—instead, people often provide the distance from a landmark or other notable structures when giving directions. "150 meters passed the fruit market" might not sound like an address to some, but in Costa Rica, it's a general practice.
Experience the unique culture of Costa Rica when you join O.A.T.'s Real Affordable Costa Rica.