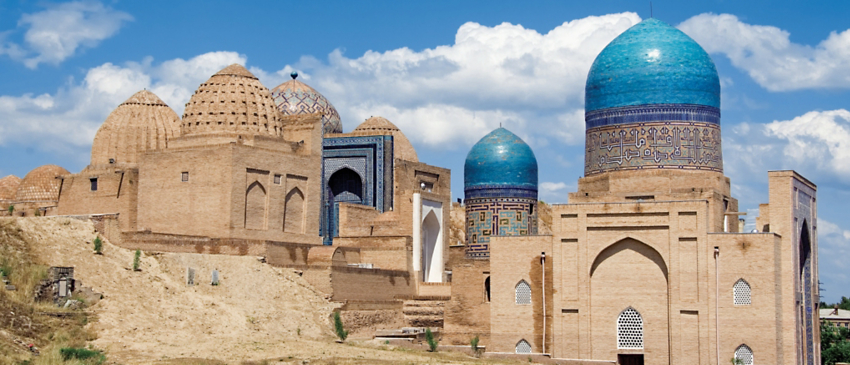 Question: What ancient land's award-winning wines are celebrating their 150-year anniversary this year? (Hint: It's not in Europe.)
Answer: Uzbekistan
Step aside France and Italy. If you ask an Uzbek tippler, they'll tell you that the wines of other countries leave a bitter taste in their mouths—at least comparatively. If you didn't know that Uzbekistan had its own wine culture, you might be surprised to learn its first winery is now celebrating its sesquicentennial.
By the mid-19th century, there were home winemakers in Uzbekistan, but there was no winery to bottle and export their goods. Russian businessman D. M. Filatov sampled some of the homemade offerings and was startled to discover how sweet the wines were. Turns out that the grapes grown in the region were nearly twice as high in fructose as their European counterparts. Seizing his chance to make a wine like none on the market, he opened the nation's first winery in 1868. His industry peers were skeptical at first—right until Filatov wines won gold and silver medals in the next two world wine competitions in Paris and Antwerp.
Filatov expanded to brandy, winning a gold medal at the 1883 International Wine and Brandy Exposition in Paris. With such acclaim, demand was steady, and Filatov passed his winery on to his children and their children. Sadly, during the Soviet era, they were forced to give up their business—but not before Filatov sealed up his best vintages inside a wall. In a happy turn of events, the Soviets soon discovered that they needed an expert to run the winery, and brought in Michel Khovrenko, a winemaker and chemist who began experimenting with more grapes and styles of wine.
When the Soviet era ended, the winery kept going, and now sells wine, cognac, and vodka. It has won 80 international awards and, though it poses no threat to some of the bigger wine-producing titans of Europe, it has its devout followers. And those wines hidden by Filatov? They have been found and opened, and were still deliciously drinkable—an outcome as sweet as Uzbek grapes.
11 Things to Know About Non: The Other Culinary Star of Samarkand
Non (pronounced like naan) is the Samarkand word for "flat cakes," which are soft breads cooked on the clay walls of a tandoor oven.


If a loaf of non falls away from the oven wall while baking, it is considered sacred (because god has entered the house and the cake is bowing to showing respect).


Legend says that when the Emir of Bukhara tried to make non at home, using only items from Samarkand—including the recipe, the water, the flour, and even the oven— the bread still didn't taste right because he couldn't bring home the local air.


To keep the breads special, the leavening used in Samarkand's classic obi-non isn't used for anything else, and if a substitute is employed, it cannot be called obi-non.


Each region has special non variants with their own ferments, which are treated with great respect (for instance, no one steps over a crock of ferment or points their feet at one).


Among many varieties, shirmoi non are made from quick-fermenting pea and anise broth, while Gala Osiegi non are made with cream, onion, and sesame oil.


In the 1970s, the Soviets ordered the mechanization of non-making, but they could never replicate what people wanted, no matter how many versions they made, and when nobody would buy their breads, they stopped production.


Uzbek people would never cut a non (they tear it by hand) or turn the pieces so the decorated side is face down, which is seen as disrespecting the bread.


When a traveler leaves on a journey, they bring a piece of the non with them, leaving the rest of the flat cake at home to guarantee that they will return and reunite the pieces.


At weddings, parents of the bride and groom literally break bread together, tearing the non and pledging to support the happy couple.


Like westerners might swear on their mother's graves, all the most serious pledges are sealed over non, since breaking your promise then dishonors not only the other party but the most sacred symbol of the nation.
Savor the non you won't find anywhere else during O.A.T.'s The Stans of Central Asia: Turkmenistan & Uzbekistan.