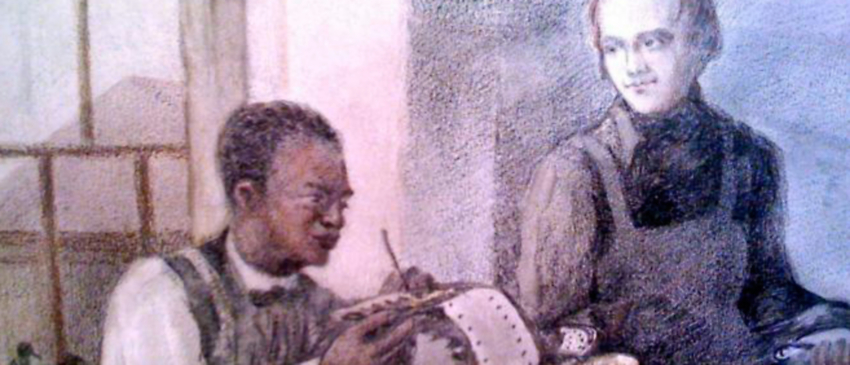 Question: How did a freed slave make On the Origin of Species possible?
Answer: By teaching Charles Darwin taxidermy
"Darwin's Finches" as they are often called, are among the most famous fowl of all creation. According to the famed naturalist, after his voyage to the Galápagos, each island's goldfinches had adapted to suit their environs (their beaks, especially, changing to match the food supply). This was the root of his theory of natural selection, an idea that would one day change the world. But none of this would have been possible without the help of a freed slave who didn't make the journey.
John Edmonstone, a Guyanese slave in the late 18th century, had often accompanied conservationist Charles Waterton on jungle excursions. Edmonstone learned how to skin and stuff bird samples on site, hollowing them out first to preserve body shape, yielding lifelike taxidermy. When slavery was made illegal in 1807, he set up business as a taxidermy teacher and taxidermist for a local museum. Though he specialized in birds, his collection varied, including a 15-foot boa constrictor.
Teenage Charles Darwin took daily lessons from Edmonstone for months and they grew close enough that Darwin described him as an intimate. Hearing Edmonstone's stories about the jungle sparked more desire to explore the world and its fauna. When he made his famous Beagle voyage, he employed Edmonstone's techniques to preserve the finches and other specimens crucial to his work. Some historians argue that this friendship was a key reason Darwin was an Abolitionist.
In truth, Darwin's own work doesn't fully bear this out. He believed that there were slavery patterns in the natural world (ants being one of his focuses) and he actually wrote little about the topic in humans. In fact, he corrected the text of his famed The Descent of Man, and Selection in Relation to Sex, to soften his reference to "the great sin of slavery," changing it to read "Slavery, although in some ways beneficial during ancient times, is a great crime." While this shows him as a theorist less progressive than he has often been credited, it is nonetheless true that he singled out Edmonstone in his autobiography and, thanks to that, shone a light on a Guyanese man without whom we would see the world less clearly.
Fascinating Facts about Darwin's Galápagos
San Cristobal
The lush island's Mount Pitt was Darwin's first view of the Galápagos, a glimpse of its peak rising on the horizon three days before they landed


Darwin went ashore on San Cristobal, spotted the "dull colored birds" that would become the subject of his writing and the giant tortoises he would attempt to ride


San Cristobal's Laguna el Junco is the only freshwater lake—and the only source of fresh water—anywhere in the Galápagos


It is home to 10 kinds of finch, those giant tortoises, and blue-footed boobies
Floreana Island
At the time of Darwin's voyage, Floreana was an English-run penal colony for Ecuador


On Floreana, Darwin discovered that each island's tortoises could be discerned simply by the color and pattern of their shells


By the end of the 19th century, the tortoises of Floreana were extinct, due to being consumed by whalers, pirates, and explorers (Darwin being among those who feasted on them)


One species that remains is the green sea turtle, which continues to nest on Floreana beaches
Santiago Island
Darwin and the ship's physician from the Beagle spent a week on Santiago, the longest time spent on any one island


Ecuadorian locals took him to salt flat where he found fish, snails, reptiles, and birds, but was surprised to discover almost no insects


It was on Santiago that he realized how distinct the eco-life of each island was, and that not every creature on one island lived on the other


Santiago is still home to the marine iguanas (found only there) and Sally Lightfoot crabs that Darwin witnessed
Isabela Island
Darwin surveyed the east coast of Isabela, which was not only the largest island, but bigger than the rest of the islands combined


Isabela is home to the Sierra Negra volcano, which has the second largest caldera on earth


Though Darwin catalogued mainly land animals, Isabela is known also for the sea life, with the highest concentration of humpbacks, sperms, minkes, and orcas in its waters, and the only penguin that lives (just) north of the equator
Isla Darwin
The smallest island in the archipelago (less than half a square mile) was named for the scientist, a dubious honor as it has no dry landing sites—and Darwin himself never set foot on it
Enter the world that Darwin experienced when you join O.A.T. for Machu Picchu & the Galápagos.