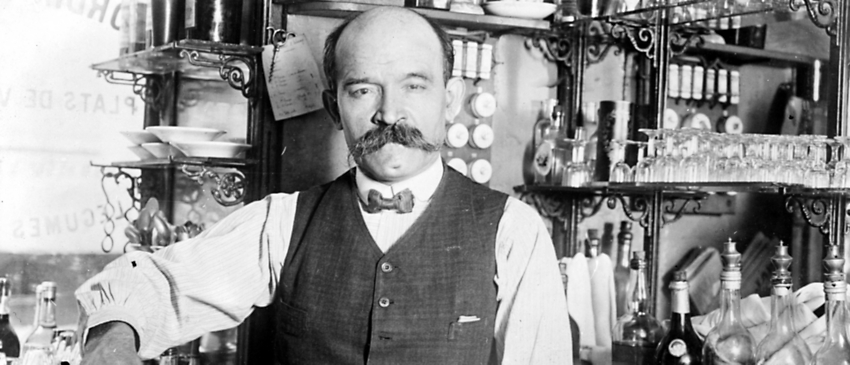 Question: What one surprising perk did Parisian waiters go on strike for in 1907?
Answer: The right to grow mustaches.
"[A] man without a mustache is no longer a man," moans a Frenchwoman whose husband has shaved in Guy de Maupassant's short story, "The Mustache." This reflected a belief cultivated in the 19th century that facial hair was a sign of virility and masculinity. That tradition had arisen from a rule requiring most French soldiers to wear mustaches (a rule so strict that soldiers who were not hirsute wore fake ones). From the military, this linking of manliness to mustaches spread outward, so that it was accepted by the upper classes first and then Frenchman at large.
So why did restaurants ban waiters from growing their own 'staches? At that time, the dining scene in Paris was all about recreating the experience of dining in the home of nobility. In the upper echelons of society, the servants were made to remain clean-shaven so that they could be easily distinguished from their rich employers. Keeping waiters clean-shaven reduced their status to preserve for diners the illusion that they were themselves wealthy masters.
In April of 1907, waiters had enough and thousands went on strike to protest their lack of choice. They picketed restaurants, heckling their former co-workers who remained, and the police started arresting them for their interruption of the dining fantasy experience. Critics of the striking waiters argued that these mustaches were unclean, and others groused that, if the men won, they'd eventually strike again for the right to shave instead.
In the end, with the support of the working class behind them, and having badly disrupted the fine dining economy, the striking waiters prevailed. They returned to their jobs, their pride quite visible even behind new mustaches.
Paris Fashion History in 13 Fast Facts
In the mid-1600's, King Louis XIV placed a high premium on fashion in his court and set the bar for fashion in the nation, including almost single-handedly making huge wigs a trend.


By the 1670's, with Louis' encouragement, the first fashion press was born, and promoted the idea of changing fashion seasons.


The 1800's brought the opening of the first (albeit high end) department stores, where customers could seek clothes at their own discretion instead of visiting dressmakers.


As demand increased, the first couturiers (or fashion designers) became famous, among them Charles Frederick Worth, who invented the fashion show and whose label was the first to become a status symbol.


Early 20th-century Parisian designers rejected corsets and petticoats, launching a wave of bias-cut dresses in flowing material.


Coco Chanel came on the scene in 1925, promoting understated elegance, and becoming famous for the advice to "look in the mirror and take one thing off."


Christian Dior took Paris by storm in 1947 with "New Look" dresses: cinched waists, full skirts, and supported busts.


That look reigned among the wealthy for twenty years, but younger fashionista rejected it decisively in the 1960's, embracing street style and hippie-influenced casualwear known as baba cool.


Yves Saint Laurent bridged the gap in 1966 with ready-to-wear fashion that made designer labels (somewhat) affordable and accessible, and popularized the tuxedo suit for women.


In the 70's and 80's, other designers capitalized on the Yves Saint Laurent model, including Pierre Cardin, who was known for dramatic shapes, and who brought men's fashion to the same level.


The biggest fashion news of the 1990's was the consolidation of more than a dozen luxury brands—among them Louis Vuitton, Christian Dior, Pucci, Fendi, and Givenchy—under one house, LVMH.


By the turn of the 21st century, many of world's great designers were working in Paris houses, including Britain's Alexander McQueen, American Marc Jacobs, and Japan's Kenzo Takada.


Parisian influence shows no sign of waning: 2019 Fashion Week launched multiple notable trends, including mini-bags, fringe, and loose, wide-legged pants.
Discover fashionable Paris for yourself when your join O.A.T. for New! French Impressions: From the Loire Valley to Lyon & Paris.