A Hot & Sour Superstition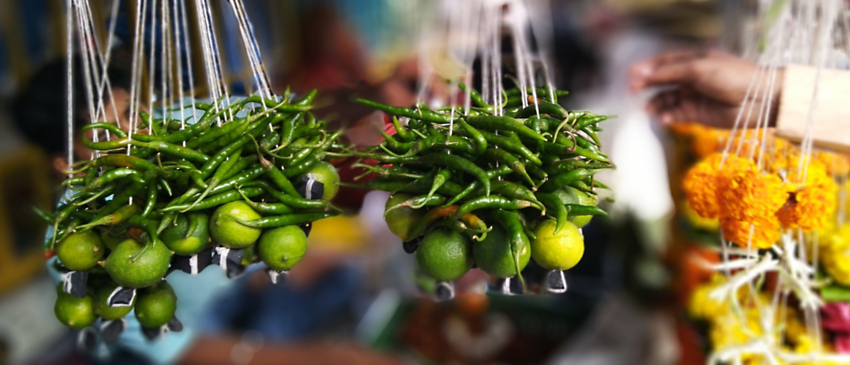 Question: What edible decoration, rooted in local folklore, scares off an evil twin and tests for poison all at once?
Answer: Nimbu-mirchi, a totka of India
While you've probably heard of Lakshmi, the Indian goddess of good fortune, you may not be familiar with her evil (but not very creatively-named) twin, Alakshmi. Household shrines to Lakshmi contain sweets and fruits, her favorite treats, to invite her inside. But since Alakshmi favors things hot and sour, a string of green chilies (mirchi) and a lemon (nimbu) are hung in the doorway to stop her there and keep her bad luck out. The ancient practice has expanded to workplaces, shops, and restaurants as well, and you'll see them all over India, but especially in the north.
Nimbu-mirchi strings are an example of totkas, Vedic folk remedies that run the gamut from homespun practical advice to old wives' tales. There are literally hundreds and hundreds of totkas, some regional only, and others embraced more commonly across the entire subcontinent. Many come with a mythic backstory like the tale of the two sister goddesses, but they are most often rooted in traditional practices of the past.
That's the case with the nimbu-mirchi totka. In the days of the caravans, chilies and lemons were packed for the road as first aid equivalents. Lemons were squeezed into water as a dehydration cure and chilies were used to test if a snake bite was venomous. Because both ingredients played a role in keeping travelers alive, they came to be associated with protection and safety, which dovetails nicely with the Alakshmi legend. When you see nimbu-mirchi today, it is doubtful the owner needs to ward off either snakes or deities, but when it comes to a centuries-old totka, it's better to be safe than sorry.
10 More Totkas from India
To cure a migraine: Take a hunk of jaggery (brown sugar) and stand in a crossroad facing south. Break the sugar into two parts and throw on the ground. Repeat for four days, not speaking to anyone during that time.


To lower high blood pressure: Sleep with a cup of milk next to your head on Sunday night, then pour that milk onto an acacia tree on Monday. Do this for five weeks in a row.


When job hunting: Purchase a locked steel lock on Friday but do not open it; leave it at a religious site of your choice and when someone figures out how to open it, you will get a job.


To improve business: Place a small amount of wheat flour on the floor on both sides of your business entrance without anybody seeing you do this. Do this 40 days in a row. If you are seen, start over.


For defeating enemies: After your morning bath, write the word "ram" in a notebook using only red pen as many times as you can in one sitting, before you eat breakfast. However many days it takes to get to 125,000 rams, offer the notebook at a shrine, with laddoo (sweets).


To win true love: Collect sand that has been walked on by the object of your affection then fold it with lentils and cloves into a piece of paper, before asking the gods for help. Keep the parcel safe inside your house until you are a couple, then throw it away.


When you're a newlywed: Wear yellow clothes on Thursday and then only white clothes on Friday; keep this practice going through the early months of your marriage to guarantee it will last.


To get rid of a lisp: Consume ground cinnamon while doing deep breathing exercises daily until the lisp lessens or disappears.


To stop smoking: Rinse caraway seeds then soak in a mixture of lemon juice and salt. After two days, dry out the mixture and then suck the seeds instead of smoking until you have no more desire to smoke.


To get money: Tie a red ribbon to the front door of your house and do not untie it until all of financial worries are over—which may mean leaving it on the door in perpetuity.
Discover vibrant cultures and ancient traditions during O.A.T.'s Heart of India adventure.