Traveling through Turbulence: Our Readers Respond
Posted on 3/10/2020 12:00:00 AM in The Buzz
When the world is rocked by uncertainty, every traveler questions their plans—but not all choose to stay home. We asked our readers to tell us about the times they kept going, in spite of world events.
Update From the Field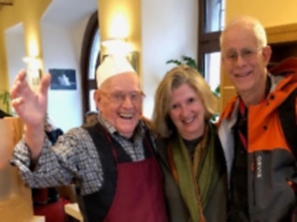 Martha and I are in Trieste on the next to last day of your Allure of the Adriatic trip and were reading your letter from the weekly Scoop about traveling experiences during uncertain times. Here is ours fresh today.
As all the main sites are shut down here because of the virus, we branched off from the group to experience a little time with the locals. We first met a charming Ecuadorian floral shop owner who lives here with her Italian husband.
She recommended a lunch spot that we went to and were the only "tourists" (everyone else went back to the ship). So we ate with locals and the owner pictured embraced us as we were leaving!
So for us, we say, "When in Rome do as the Romans!"
Thanks to: B & Martha T., 3-time travelers & 4-time Vacation Ambassadors from Boomer, NC
---
Not Like the Media
We too are world travelers and have "taken to the road" twice with O.A.T. during questionable times. On our first trip to South Africa, Mugabe was in the process of taking the farms away from the white owners. There was much unrest in Harare, the capital of Zimbabwe, and there were government notices to re-consider traveling to that area. We decided to go anyway. Our original group was a full 16 people but when we arrived, only seven of the group remained.
The only thing we remember was that our home visit to one of the farms was canceled and O.A.T. provided an alternate venue in the city. One disconcerting event was when I noticed an armed military man standing on a hill not far away and when I was about to take his photo, he waved his finger "No."
Our memories of that trip were so great, we returned to Africa with O.A.T. two more times and want to go again.
Our second event was on our trip to Turkey with O.A.T. There were stories of mass demonstrations in Istanbul and warnings to consider not traveling to that area. We had learned to have faith in O.A.T.'s evaluation of events such as this and we went anyway. The only demonstration we saw was the beginnings of a gathering of people to complain about the fact that some trees were going to be cut down to build a shopping mall. It was not at all like the warning printed in the media.
Those tours turned out to be two of the best we've ever traveled with O.A.T. My wife and I appreciate O.A.T. and Grand Circle's review of world events and we have learned to trust your decisions on warnings and cancelations.
Thanks to: Frank & Edna C., 13-time travelers & 12-time Vacation Ambassadors from Indian Harbor Beach, FL
---
Safer on the Road
We have traveled several times during uncertainty.
Our first trip with Grand Circle was six weeks after 9/11, which was to China. As I recall almost half the scheduled group canceled. We had a great time, especially with our Program Director Diana.
In October of last year, we went to Egypt. Many friends thought we were nuts. We had a great time.
In a week and a half, we are doing Hidden Gems of the Dalmatian Coast & Greece and expect another great time.
With all the terrorism going on many think the world is a dangerous place. Well it is, but I'm more concerned about the dangers here. Shootings take place randomly on the streets, in malls, churches, public gatherings to name a few. I actually feel safer traveling out of the country, at least with Grand Circle.
Thanks to: Roger K., 7-time traveler from Arlington Heights, IL
---
"Mum will Go"
I went to India after the Mumbai bombing [in 2008]. My family were concerned about my going on this trip but as my son said, unless O.A.T. cancels the trip, Mum will go. He was correct and because others were not so inclined we had a very small, adventurous group with us. We were so welcomed, especially in Mumbai where we had a meal at the restaurant, seated just under the bullet holes in the wall from the terrorist attack. So my advice is to trust O.A.T., not anyone else, if an emergency situation arises in your planned trip. As we know, newspaper and TV reports tend to focus on the most newsworthy, not the facts.
Thanks to: Katherine B., 26-time traveler from Chapel Hill, NC
---
Continuing On
Our first Christmas Markets trip was scheduled in December after 9/11.
We were to travel with two other couples. In October, one of the couples decided that they didn't feel safe flying or traveling overseas. We four decided to continue on, figuring that we were probably safer at this time of heightened security.
When we arrived overseas, we were inundated with an outpouring of locals expressing their sympathy to us and their support for the U.S.!
Had we canceled, we would have missed these treasured moments.
Thanks to: Gordon & Jean W., 30-time traveler from Houston, TX
---
In Good Hands
My husband and I just returned from a trip to Vietnam January 25-February 12. Our guide, Giang Pham, was amazing in so very many ways. One of them was how on top of the coronavirus issue she was, as it was unfolding. Giang made sure our group was always informed about the latest concerns and issues and provided masks and hand sanitizer, and switched from utilizing refillable bottles to disposable ones. While we couldn't not be aware of the issue, Giang helped to assure none of us worried about it.
Though this was only her second O.A.T. trip (we only know because we asked thinking she had led many O.A.T. groups) Giang seemed like an expert. She had an easy rapport with local guides and people she met for spontaneous interactions, so that it seemed they were old acquaintances. She unfailingly credited the O.A.T. organizations and her mentors and supervisors for providing advisory and cautions. In regards to the coronavirus she reassured us, provided caution, and rebooked several travelers return flights (sometimes more than once) to avoid quarantined cities/countries. She offered help with our return flights, even though we had booked those ourselves.
Overall, we were thrilled with the trip, and are still feeling the excitement of having been really immersed in Vietnam, thanks to Giang's leadership and her encouraging, outgoing, and inclusive style. We have told many friends who are potential O.A.T. travelers, that they can't go wrong in Vietnam if Giang is their Trip Leader.
Vietnam was our first O.A.T. trip, and everything exceeded our expectations. We will certainly travel with O.A.T. again.
Thanks to: Emily R., first-time O.A.T. traveler from San Luis Obispo, CA
---
Never in Harm's Way
In March 1974 we traveled to Israel, not with a commercial tour company, and went to the Golan Heights and into the Sinai. Again in January 2011 we traveled to Israel at the height of the Intifada. We took precautions in both cases avoiding getting into crowds and staying mostly in centers of population.
More recently traveling with O.A.T. we were in Kiev as the country was preparing to change government and the Russians were on the verge of invading Crimea. Our Trip Experience Leader took us to meet street demonstrators and we had lengthy conversations with a few who had some English. Two months later we landed in Thailand as protesters were marching on the streets against the government. We actually got off an elevated train directly into a demonstration as we toured on our own, talk about Learning and Discovery. As we were leaving Bangkok with our group, Lucky, our Trip Experience Leader, took the bus right through the edge of the protesters' encampment so we could see it for ourselves. We never felt threatened or endangered and felt that O.A.T. would not knowingly put us in harm's way.
I have often said I will not let terrorists set my itinerary. On the other hand, going into a place with a high risk of contagion with a disease that is dangerous especially to older people is something I would avoid, since it is merely a matter of waiting for better times.
Thanks to: Paul G., 13-time traveler from Aguanga, CA
---
An Outpouring of Support
My wife and I had planned a self-guided trip to Germany to take place (obviously unknown at planning time) within days after the twin towers disaster on 9/11. Our transportation and hotel accommodations were, for the most part, reserved and paid for. Friends implored us to not take the trip because of perceived further terrorism. However, we were packed and went anyway. To my way of thinking, taking the trip was akin to the belief that the safest day to fly is the day after a major airline crash. And we were right. Not only was there no trouble, but all of Europe was void of other tourists. In almost all locations, we rarely ran into other Americans.
Upon discovering we were Americans, the German people were incredibly sympathetic. Town halls had "books of remembrance and sympathy" displayed on the street for citizens to express their sorrow over 9/11. Restaurant and hotel employees hugged us and brought out beverages and toasted us. American flags were everywhere. In two cases, the chef or cook came out from the kitchen and hugged us. It was one of the most memorable trips we've ever taken during "times of uncertainty."
Thanks to: Tony S., 10-time traveler & 9-time Vacation Ambassador from Bend, OR
---
Having Faith
I am traveling with you for the first time at the end of March.
I am thrilled to be going to Italy to hunt truffles and experience Tuscany and Florence, etc. I have not had a vacation in many years (although I once traveled quite frequently and a dear friend encouraged me to book with O.A.T.).
We all take risks each day. I will leave Florida and drive to Boston to depart for Italy. I hope that if interference must occur, it is announced before my long drive up to Boston.
The Gods of Travel seem to be against me, yet I believe that this trip with O.A.T. may turn that trend around! I sincerely appreciate the enthusiasm of your staff.
More people have died here in the U.S. of the flu than have died of this new virus. I appreciate your caution yet (with all the world) I pray that life can continue to be filled with joy and wonder rather than fear.
I place my faith in you and O.A.T. and I believe it is well placed.
I hope that we participate, will not acquiesce to fear, and stop searching for an escape from all the negative news that is so abundant!
Thank you for all you do.
Thanks to: Elizabeth H., first-time O.A.T. traveler from St. Petersburg, FL
---
Safe and Secure
Thank you for the notice about future travel plans with the coronavirus. We have a trip scheduled to the Italian Riviera with O.A.T. in June, so we shall see.
You asked about still traveling with adverse situations ... yes, we have! In October 2001, we traveled on our very first trip with O.A.T., to Turkey, only a couple of weeks after 9/11. Many people had canceled their plans, so we had a very personalized, 8-person, wonderful trip with the planes only half-full. It was our best trip with O.A.T., and we have been on over a dozen trips since. We had no problems—the press and politicians over-exaggerate on many things. We felt a high level of security and safety with O.A.T. throughout the trip.
Thanks to: Terri & Jay T., 10-time traveler from Fort Jones, CA
---
"Life is to Be Experienced"
I distinctly remember the horrors of 9/11 as it hit the news waves. I had a trip planned with O.A.T. later that month and after much consideration I decided to go ahead and take my trip. My friends and family were scared for me, thinking I was crazy to be traveling in light of what happened. In my own mind, I felt that this would be the safest time to travel because the attacks just happened and the likelihood of it happening so soon was, in my mind, a negligible occurrence.
I went on my trip, being mindful not to stand out in the crowd and not advertise that I was an American. Living in Germany when terrorist attacks were a fact of life, I learned to live with caution, but most importantly I learned not to display anything that would single me out as being "American." We learned precautionary measures like hiding our American ID cards, passports and most importantly to dress more like a European and not the dead giveaways of dressing where we could be spotted as being American. Having lived in times of terrorism, I have learned to be cautious and smarter in my travels.
While the coronavirus is a different type of threat to traveling, awareness and precautions are still the answer. Since I have caught many a cold or viral infection while traveling I have learned to stay away from people that are coughing and sneezing. Since most of the germs I've caught are from people coughing and sneezing on the airplane, I have added another means of safety: I now wear a mask when I'm on the plane (something I learned from the Japanese people while living in Japan) and if someone sneezes or coughs I move away from them. However, sometimes it is unavoidable if while you are walking someone sneezes or coughs in your direction. In this situation, I quickly move away so I don't catch the drift from their mouth or nose.
There will be many things that can and do keep people staying home instead of traveling, but life is to be experienced. Traveling is my deepest pleasure and if I do my research and I am mindful and careful about the exposure to the threats, whether it's terrorism or viruses, then I can continue to travel and continue to learn from the experiences.
Thanks to: Katherine S., 12-time traveler & 2-time Vacation Ambassador from Port St. Lucie, FL
---
A Silver Lining
I feel like every single trip I have made abroad entailed a foreboding of problems, e.g. epidemics (swine flu in 2007), political issues (France transportation strikes in May of 2018, unrest in Catalonia last fall), or terrorism (9/11, England in 2017). And, while not a known uncertainty, there was an unfortunate, disruptive interpersonal "surprise" that was all our own but really set us back on our heels in Turkey.
I was scheduled to fly to Spain on September 12, 2001. I was meeting my young adult daughter there to travel and study Spanish. Of course my flights were canceled. A little less than a week later, planes were flying again and I headed out. The 747 from Chicago to Heathrow was disconcertingly light on passengers and we were all very quiet. I was one of a very few leaving home rather than going home. I carried a sense of dread with me the entire three weeks I traveled in Spain, and I think the whole world had that dread too.
But here is the good part. Tourism was so light that I had the Alhambra to myself! I strolled up and down that gorgeous place freely without any crowds. This past October I was back at the Alhambra and we were shoulder to shoulder with other people, one-way traffic only.
At Sagrada Familia in Barcelona we also had the place to ourselves. We were able to climb the spiral staircase at our leisure and peer into the developing nave without anyone pushing from behind. This year we went back and the place was, again, crowded with tourists like me. Same for the Giralda tower at the cathedral in Seville.
I am grateful for stability that allows us to travel free of anxiety. But when few others are traveling, you may be able to get a lot more out of your trip. No guarantees, but it could happen.
Thanks to: Shirley M. from Boston, MA, who we hope to welcome on her first trip soon