Top 5: Where Our Travelers Want to Go Now
Posted on 2/28/2017 12:01:00 PM in The Buzz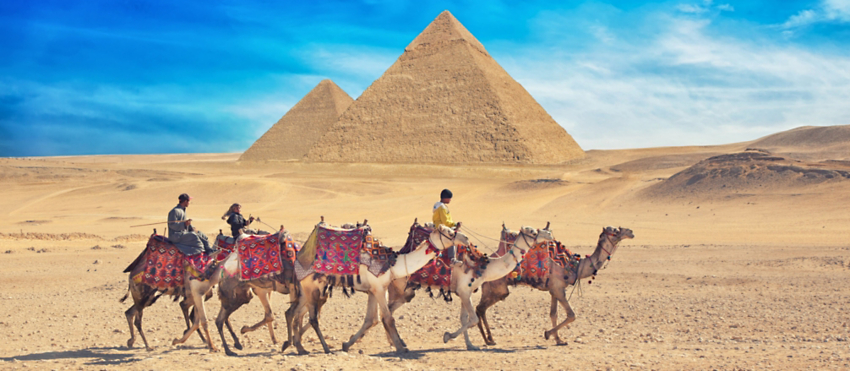 By Mark Frevert, Chief Architect, Overseas Adventure Travel
Amongst our travelers, I may not be a household name like Harriet Lewis, but I've met thousands of you in the 30 years I've been working closely with she and Alan. My main goal—which I pass on to everyone who works here at O.A.T.—is to put myself in your well-traveled shoes, and to understand what you want from an adventure. What types of experiences resonate with you? I'm consistently impressed by your appreciation for authenticity, and for seeking out the "real deal" wherever you are in the world—especially in places where Americans don't go. It's what I look for in my own travels—which I look forward to telling you about in future editions of The Inside Scoop.
Today, though, I want to share something that always piques the interest of our readers: Where are our travelers interested in going right now? I'm always closely monitoring our travel trends, and what I've seen recently (namely, #1 on this list) might come as a surprise to some—but not to me, because I know that our travelers care more about culture and history than they do about what they see in the media. Other destinations below are enduring favorites that have been close to the top for years.
Here are our most popular adventures with travelers departing in the fall and winter of 2017.
Our Top 5 Adventures by Land and Sea
Israel: Tel Aviv, Jaffa, Haifa, Tiberias, Golan Heights • Egypt: Suez Canal, Giza Pyramids, Luxor & Valley of the Kings • Jordan: Aqaba, Wadi Rum, Petra, Madaba, Mt. Nebo, Dead Sea, Bethany Beyond the Jordan • Allenby Bridge Border Crossing • Israel: Jerusalem Optional extensions: 5-night Palestinian Discovery; 4 nights in Jerusalem & Masada, Israel
The announcement of this adventure last month marks our first return to Egypt since the Arab Spring—and within days, it became our most popular new Small Ship Adventure in the past eight years. The classic antiquities of Egypt are a major draw, but I'm personally fascinated by Wadi Rum and the exploits of Lawrence of Arabia. Because we're traveling by small ship—our 89-passenger M/V Clio—we have the one-of-a-kind experience of transiting the Suez Canal by convoy. On land, we divide into small groups of no more than 25 travelers, each with its own dedicated Program Director.
This year is an especially poignant time to visit the region, as 2017 marks two seminal historic events: the 100th anniversary of Arab Revolt and the fall of Aqaba, led by T.E. Lawrence; and the 50th anniversary of the controversial Six-Day War between Israel and its neighboring Arab territories.
Dubrovnik • Sarajevo • Karanac • Zagreb • Plitvice Lakes • Opatija • Ljubljana Optional extensions: 4 nights pre-trip in Tirana, Albania; 4-nights post-trip in Serboa: Novi Sad & Belgrade
I remember traveling to the former Yugoslavia in 1990, just prior to the Yugoslav Wars. Back then, it was one of our most popular destinations—but just a year later, Americans wouldn't dare travel to the region … much like Egypt and the Red Sea after the Arab Spring. Now, it's so rewarding to see these Balkan nations re-emerging, each with its own proud identity. It really is like seeing history unfold. I give our Trip Experience Leaders immense credit for giving an honest portrayal of the past while celebrating the promise of the future.
Casablanca • Rabat • Fez • Sahara Tented Camps • High Atlas Mountains • Marrakesh • Casablanca Optional extensions: 5 nights pre-trip in Tangier, Chefchaouen & the Berbers of the Rif; 4 nights post-trip in Essaouira & Casablanca
Morocco is a classic destination for adventurous travelers—it's practically synonymous with exoticism. We can all conjure visions of camel caravans crossing the blazing orange dunes of the Sahara, and labyrinthine bazaars filled with ornately woven carpets, a rainbow of spices, and hanging metal lanterns. Morocco's proximity to Europe made it an easy draw for American and European writers and artists in the first half of the 20th century, including Paul Bowles, William S. Burroughs, and Henri Matisse. Our travelers prove that it continues to inspire today—at a time when I believe it's more important than ever to experience Muslim culture firsthand.
Lima • Cuzco • Machu Picchu • Galápagos • Quito Optional extensions: 6 nights pre-trip in the Amazon Rain Forest of Pero or 5 nights pre-trip in Bolivia: La Paz & Lake Titicaca; 5 nights post-trip in Ecuador: The Andes & Devil's Nose Train or 4 nights pre-trip in Colombia: Villa de Leyva & Bogota
"Sustainable tourism" is a buzzy phrase these days—but at its core, all it means is traveling responsibly and protecting our destinations for generations to come. How do we balance our desire to explore fragile places with our responsibility as global citizens to preserve them? Our answer lies with our regional office in Cuzco and local Trip Experience Leaders, who possess both a fierce love of country and an understanding of environmental regulations. Machu Picchu is one of the world's most celebrated manmade wonders, and the fragile ecosystem of the Galápagos has already been threatened by—and saved from—the ignorant missteps of early visitors. To be able to see both on one journey, and to do so with a clean conscience, is an incredible gift.
Tokyo • Hakone • Kanazawa • Kyoto Optional extensions: 3 nights pre-trip in Tokyo; 3 nights post-trip in Hiroshima
Japan happens to be one of Harriet Lewis's all-time favorite destinations, because the Japanese culture is so dramatically different from our own. The people live by a strict code of rules, rituals, and respect—which can be daunting at first, but comforting once you embrace it. The entire country is a fascinating juxtaposition of ancient and ultra-modern—where bullet trains meet Buddhist temples. What other country can count vending machines and toilets amongst its tourist attractions?
You're receiving this message because your web browser
is no longer supported
We recommend upgrading your browser—simply click the button below and follow the instructions that will appear. Updating will allow you to accept Terms and Conditions, make online payments, read our itineraries, and view Dates and Prices.
To get the best experience on our website, please consider using:
Safari (for Mac or iPad Devices)
Update Browser