Top 5 Most Popular Scenic European Adventures Opening in 2021
Posted on 8/24/2021 12:00:00 AM in The Buzz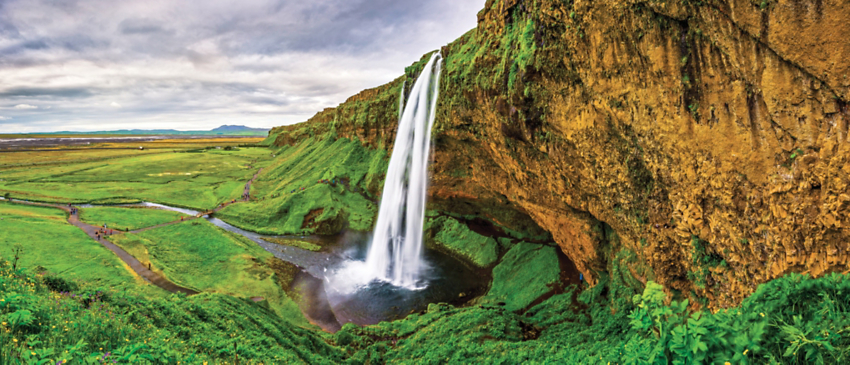 From the pastoral landscapes of Scotland to the sparkling glaciers of Iceland, Europe offers a diverse array of spectacular landscapes and scenery. Natural wonders collide with ancient ruins and enchanting towns for views that both inspire and excite. In this list, we're counting down our top five adventures in Europe with scenery that will truly take your breath away, including a few highlights for each.
Wherever you dream of traveling, know that you can reserve with confidence with our Risk-Free Booking Policy: For any reservation made by 12/31/21, you can transfer to another departure date for any reason—up until 24 hours prior to your original departure—and we will waive any change fees.
1. Enhanced! Untamed Iceland —13-day O.A.T. Small Group Adventure (Average group size: 13)
Our most popular independent film:
Overseas with David Conover: Iceland
Join filmmaker David Conover as he explores Iceland's landscapes, chats with locals about Icelandic culture, and glimpses into the center of the Earth.
Travelers reserved through 2023: 2,526 | First 2021 departure date: July 1
Iceland is a magical island of pure and unspoiled natural beauty. One of the least-populated nations on Earth, Iceland is a verdant paradise of electric green valleys punctuated by craggy mountains, steaming hot springs, boiling mud pools, and lava fields said to be inhabited by elves. On this adventure, we appreciate the full scope of Iceland's wild land that makes it unlike any other place in the world.
Scenic Highlights:
Snæfellsnes Peninsula: Often referred to as "Iceland in miniature" Snæfellsnes Peninsula boasts a famous glacier-peaked volcano, black-sand beaches, and rock formations—all of which exemplify the natural beauty of Iceland.
Seljalandsfoss Waterfall: Iceland is a land of waterfalls galore, and Seljalandsfoss is one of the most dramatic. Situated along Iceland's Ring Road, melting glacier water pours over a rocky cliff, creating a 180-foot waterfall shrouded in great clouds of mist.
Thingvellir National Park: Positioned on a major rift between two tectonic plates—the Eurasian and North American—Iceland's fascinating geological processes play out right in front of you with canyons, caves, streams, and springs.
View itinerary
2. Northern Italy: The Alps, Dolomites & Lombardy —15-day O.A.T. Small Group Adventure (Average group size: 13)
Our most popular independent film:
Smart Travels with Rudy Maxa: Italy's Veneto and Dolomites
Immerse yourself in the beauty and culture of northern Italy's Veneto region and the Dolomites alongside Emmy Award winner Rudy Maxa.
Travelers reserved through 2023: 2,129 | First 2021 departure date: August 1
Witness the awe-inspiring landscapes and romance of the Lombardy Lakes, snow-covered Alps, and towering pinnacles of the Dolomites during this adventure through Northern Italy. With an enchanting juxtaposition of Italian and bordering cultures, the region offers scenic woodlands, vineyards, and valleys dotted with medieval villages.
Scenic Highlights:
Lecco: This waterfront commune offers scenic views of the crown jewel of Lombardy—Lake Como. Since Roman times, the lake has been a popular destination for aristocrats and wealthy merchants and its shores are still nestled with dazzling palaces and colorful villas from this era.
Merano: Located in the autonomous region of South Tyrol, Merano is an alluring Alpine town. Cradled within a mountain-lined basin, the town also is scattered with apple orchards and vineyards and was used as a Hapsburg-era spa town for Austrian royals to unwind.
Bernina Express Train: One of the few rail journeys designated a UNESCO World Heritage Site, the Bernina Express Train is the world's highest Alpine crossing and the steepest. Panoramic alpine scenery unfolds over bridges and viaducts, through tunnels, and past glaciers, villages, alpine meadows, and vineyards.
View itinerary
3. New! Scotland Revealed: Legends, Lochs & Highland Landscapes —15-day O.A.T. Small Group Adventure (Average group size: 13)
Our most popular independent film:
Bare Feet: Hogmanay in Scotland
Let an adventurous traveler lead you to Scotland's hidden gems—including a traditional Hogmanay festival.
Travelers reserved through 2023: 1,641 | First 2021 departure date: October 1
Rugged coastlines, rambling hills, and unspoiled isles—these settings have provided the background for Scotland's long and legendary history. On this adventure, we trace the coast of Scotland all the way down to its capital city, taking in the country's striking landscapes which have inspired generations of poets and artists. From the Highlands to the islands, Scotland is filled to the brim with scenic hideaways, inlets, and lochs.
Scenic Highlights:
Inverness: Dubbed the capital of the Scottish Highlands, Inverness is a quaint city of modest stone homes and a castle that appears to be straight from a storybook. The famous Loch Ness runs through the city and during our time there, we'll cruise on the loch, soaking up its serenity.
Isle of Iona: This tiny island in Scotland's Inner Hebrides is only one and a half miles wide and three miles long but is a peaceful paradise of silver beaches and green vegetation. A walk along one of the beaches here can bring about sightings of otters, seals, and dolphins.
St. Andrews: Scotland's oldest university and one of the oldest colleges in the world, the University of St. Andrews, is found here and well as the birthplace of golf. Even if you have no interest in the game, St. Andrews is filled with impressive medieval ruins, magnificent university buildings, idyllic white sand beaches, and more.
View itinerary
4. Irish Adventure: Dublin, Belfast & the Northwest Counties —16-day O.A.T. Small Group Adventure (Average group size: 13)
Our most popular independent film:
Smart Travels with Rudy Maxa: Ireland's West Coast
Be charmed by the Celtic culture that abounds on Ireland's west coast with Emmy Award winner Rudy Maxa.
Travelers reserved through 2023: 1,514 | First 2021 departure date: September 16
With brilliant green hills, dramatic cliffs that rise from the Atlantic, picturesque beaches, and ample charming towns and villages, the Emerald Isle dazzles all who visit. Thousands of years of history are built upon this island, including ancient ruins, and castles which all add to its draw. During our Irish Adventure, we'll explore Ireland's long, and sometimes controversial history, while also enjoying its true natural splendor.
Scenic Highlights:
Giant's Causeway: A UNESCO World Heritage Site since 1986, Giant's Causeway is a landscape formed by volcanic eruptions dating back millions of years. Here, hexagonal basalt columns line the coast, forming natural stairs leading from igneous rock cliffs into the sea.
Connemara: Referred to as a "savage beauty" by Oscar Wilde, sparsely populated Connemara offers plenty of natural scenery. It's a patchwork of bogs, lakes, and mountains adorning the interior peninsula with secluded beaches, coves, and seaside villages along the coastline.
Aran Islands: Off the coast of Counties Galway and Clare, the rocky and wind-buffeted Aran Islands are a hidden gem of raw, desolate beauty. They are comprised of three islands—Inishmore, Inishmaan, and Inisheer—all of which have dramatic jagged coastlines and grassy rolling fields.
View itinerary
5. Back Roads of Iberia: Spanish Paradores & Portuguese Pousadas —16-day O.A.T. Small Group Adventure (Average group size: 13)
Our most popular independent film:
Smart Travels with Rudy Maxa: Madrid
Join Emmy Award winner Rudy Maxa in the extravagant city of Madrid, "the next thing to heaven."
Travelers reserved through 2023: 1,456 | First 2021 departure date: September 1
From the remains of a Roman colony, centuries of Moorish rule, and the Age of Discovery, Spain and Portugal are home to extraordinary beauty. On this adventure, we'll explore Spain and Portugal's off-the-beaten-path allure from its fairytale landscape of lush forests to its rolling olive groves, and turreted palaces. Stroll through vineyards, hilltop citadels, ancient ruins, and much more.
Scenic Highlights:
Évora: One of Portugal's most beautifully preserved medieval towns, Évora is an enchanting village and UNESCO World Heritage Site. This quaint hilltop town above the Alentejo plains is filled with striking architectural works and an enchanting town square.
Úbeda Olive Groves: Situated in the Jaén province on a plateau between the Guadalquivir and Guadalimar rivers, Úbeda is bordered on all sides by numerous olive groves that produce some of the world's best olive oil. Here, green olive groves dot the rolling hills and stretch as far as the eye can see.
Ronda: Few places can boast a more dramatic setting than Ronda, one of the oldest cities in Spain. The town is divided by a 360-foot-deep ravine—El Tajo—which is spanned by three stone bridges, and the Old Town features a labyrinth of medieval streets and Moorish-style homes.
View itinerary