Top 5: Most Popular Adventures in the World's Happiest Countries
Posted on 7/20/2021 12:00:00 AM in The Buzz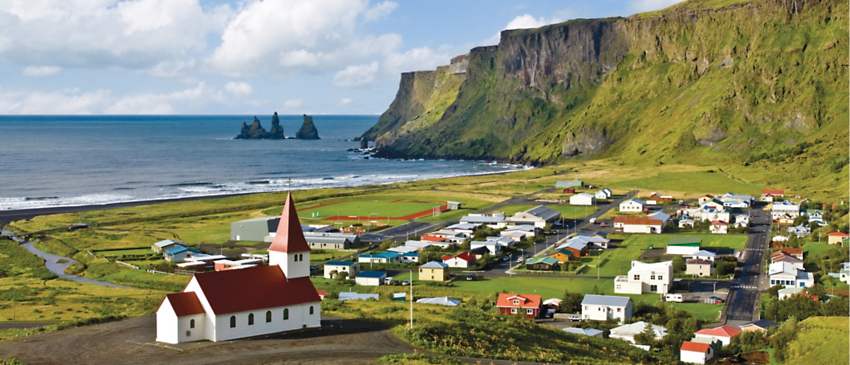 While happiness is difficult to quantify, each year the United Nations Sustainable Development Solutions Network releases its World Happiness Report—which ranks each U.N. member state on based on GDP per capita, social support, life expectancy, freedom to make life choices, generosity, and perceptions of corruption. In a unique twist for today's times, the 2021 report factored in each country's response to the Covid-19 pandemic.
While we have already resumed operations in Iceland, and hope to in more destinations in 2021, we understand many travelers are planning further ahead. We have opened 2023 departures of many O.A.T. adventures—and you can reserve any 2021, 2022, or 2023 adventure with confidence with our Risk-Free Booking Policy through 12/31/21.
1. Untamed Iceland —12-day O.A.T. Small Group Adventure (Average group size: 13)

Our most popular independent film
Overseas with David Conover: Iceland
Join filmmaker David Conover as he explores Iceland's landscapes, chats with locals about Icelandic culture, and glimpses into the center of the Earth.
Travelers reserved through 2023: 2,391
Proving that people don't need abundant sunshine and warm weather to be happy, Icelanders are actually happier because their environment requires them to be resilient—it's a source of national pride. Another popular theory behind Icelandic morale: the practice of community bathing. Geothermally heated public pools serve as community gathering places, fostering social interactions between otherwise distant neighbors. In fact, a high percentage of Icelandic respondents said they had a fellow citizen they could count on during difficult times—which no doubt made a world of difference for many this past year.
View itinerary
2. Fjord Cruise & Lapland: Norway, Finland & the Arctic Circle —18-day O.A.T. Small Ship Adventure (Average group size: 22)
6 nights aboard a 400- to 1000-passenger Havila Norwegian Coastal Voyage ship
Our most popular independent film
My City: Stockholm
Join a friendly local as she introduces us to a newer, more diverse Stockholm and takes us through daily life in this vibrant city.
Travelers reserved through 2023: 1,212
Both Norway and Finland—like all of the Nordic countries—repeatedly earn high marks in happiness. This is because they all share the same access to higher education, quality healthcare, and work-life balance. This year, Finland took the top spot for the fourth year in a row, most notably due to its exemplary education system and high regard for teachers, all of whom are required to earn a state-funded master's degree. What's particularly impressive about Finland is just how far it has come: In the 90s, the country made headlines as one of the unhappiest in the world, thanks to lingering Soviet influence, economic depression, high alcohol consumption, and high suicide rates.
View itinerary
3. Grand Baltic Sea Voyage —14-day O.A.T. Small Ship Adventure (Average group size: 22)

10 nights aboard the privately-owned 89-passenger M/V Clio or 98-passenger M/V Corinthian
Our most popular independent film
Rudy Maxa's World: St. Petersburg, Russia
Join Emmy Award winner Rudy Maxa as he explores St. Petersburg, from its enchanting canals to the famed Hermitage Museum.
Travelers reserved through, 2023: 1,172
Of the seven countries visited on this adventure, three ranked in the top 10 for world happiness: Denmark, Sweden, and Finland. Denmark's cultural philosophy of hygge has taken the U.S. by storm. Here, we often mistake it for "cozy," like a blanket or a pair of warm socks. But in Denmark, it's about intimate, high-quality social interactions—which in turn reduce stress and strengthen trust between people. And while Sweden is known for being expensive, with some of the highest personal income tax rates in the world, those taxes translate to excellent healthcare, education, public transport, and clean streets. And five weeks minimum of paid vacation time doesn't hurt either.
View itinerary
4. Pure New Zealand —16-day O.A.T. Small Group Adventure (Average group size: 13)

Our most popular independent film
Smart Travels with Rudy Maxa: New Zealand's North Island
Follow Emmy Award winner Rudy Maxa through New Zealand's North Island, from Auckland to the Bay of Islands and beyond.
Travelers reserved through 2023: 1,020
New Zealand edged out neighbor and happiness rival Australia in 2021—perhaps in part due to New Zealand's internationally lauded pandemic response under the leadership of Prime Minister Jacinda Ardern. But year after year, New Zealanders earn high marks for making the most of their country's stunning landscapes and wide open spaces, embracing the outdoors through every kind of sporting activity imaginable. And wherever they venture, they feel safe doing so, as the country is largely free of violent crime. No wonder the Kiwi lifestyle is so famously laid back.
View itinerary
5. New! Arctic Expedition: Untamed Norway & Svalbard —16-day O.A.T. Small Ship Adventure (Average group size: 22)

9 nights aboard the privately chartered 175-passenger M/V Ocean Diamond
Our most popular independent film
Svalbard, A Journey to the Top of The Earth
Witness the icy wonderland of the Arctic, from its crystalline icebergs to rare animal species that call it home, including puffins and polar bears.
Travelers reserved through 2023: 691
While Norway has slipped in rankings since coming in at the top in 2017, its people continue to enjoy a thriving economy and social support from the government—and, consequently, a high level of trust in their leaders. Norway has an especially strong appreciation for nature, literally giving the public freedom to roam through a law called allemannsretten, or, "every man's right." Everyone has access to uncultivated land, be it public or private, so long as they show respect to the landowners. Speaking of respect for the land, Norway has pledged to be the first country to ban fossil fuel-powered cars by 2025.
View itinerary