Top 5: Harriet's Favorite Adventures for 2022
Posted on 8/31/2021 12:00:00 AM in The Buzz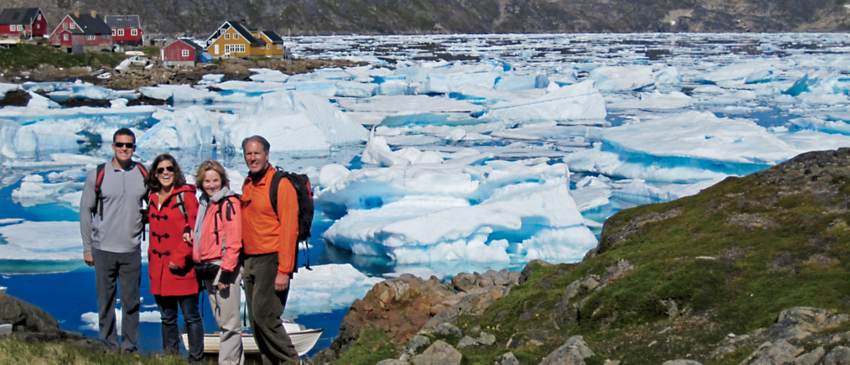 With our return to travel so tantalizingly close, we've all been dreaming about the next adventures on our horizons. Below, Harriet Lewis reflects on some of her favorite destinations, all of which are featured on popular O.A.T. adventures. From places she hopes to revisit, to her favorite family trips, these are her top recommendations.
While we plan to resume operations on select adventures in 2021—including Untamed Iceland, which resumed in July—we understand many travelers are planning further ahead. We have opened 2023 departures of many O.A.T. adventures—and you can reserve any adventure with confidence with our Risk-Free Booking Policy through 12/31/21.
1. Enhanced! Untamed Iceland —13-day O.A.T. Small Group Adventure (Average group size: 13)

Our most popular independent film:
Tough Trucks: Iceland
Journey by truck across Iceland to explore the back roads, glaciers, and volcanic terrain of this Nordic island.
Why Harriet recommends this adventure:
"Iceland is a stunningly beautiful country. But what impresses me most about the landscape is how deeply it's ingrained in the identity of the Icelandic people. They have literally harnessed the power of the land, getting nearly 75% of their renewable energy from hydro-power. And on a figurative note, centuries-old folk tales imagining the creation of some of the most impressive natural formations feature a colorful cast of trolls, giants, and elves. Speaking of elves, more than half the country actually believes in the existence of huldufolk—'hidden folk' who live in rocks and cliffs and retaliate against any who disturb them.
I last visited Iceland in 2010, right after the eruption of the Eyjafjallajokull volcano canceled flights all over the world. I made a point of learning how to pronounce it—it was a fun way to interact with locals. That trip has a special place in my heart because Alan, Edward, Charlotte, and I visited together as a family. Now that both of my kids have kids, we don't have many opportunities like that anymore!"
View itinerary
2. Morocco Sahara Odyssey —16-day O.A.T. Small Group Adventure (Average group size: 13)

Our most popular independent film:
Grannies on Safari: Discovering the Wonders of Morocco
Join the Grannies on Safari in Morocco—from the bustling medinas of Fez to the Berber villages of the Atlas Mountains.
Why Harriet recommends this adventure:
"Just as I treasure the trips I've been able to take with my children, I appreciate the adventures that marked certain milestones in my life. I went to Morocco after Charlotte went off to college, and both of my kids were out of the nest. I loved getting lost in the colorful souks, browsing stall after stall of colorful textiles and jewelry—so much of it reminded me of things I used to wear in the hippie phase of my youth. Hearing the call to prayer echo through the streets is so hauntingly beautiful.
If you need a place to reflect during a transitional time in your life, I can't think of a better place than the desert. Watching the sun rise over the dunes of the Sahara made me feel so connected to the Earth and my place in it—I could practically feel the energy it took for the sun to rise. It doesn't take long for that sun to completely evaporate the morning chill, and that sand gets hot. I found the best way to get down from the dune was to slide … just like I was a kid again."
View itinerary
3. Northern Italy: The Alps, Dolomites & Lombardy —15-day O.A.T. Small Group Adventure (Average group size: 13)

Our most popular independent film:
Smart Travels with Rudy Maxa: Italy's Veneto and Dolomites
Immerse yourself in the beauty and culture of northern Italy's Veneto region and the Dolomites alongside Emmy Award winner Rudy Maxa.
Why Harriet recommends this adventure:
"I visit Italy almost every year, either with Alan, my friends, or on my own. While this summer I'll be going with Alan, it's also one of my favorite places for a girlfriend getaway. What I love about Italy is that there's always something new to love—even if I'm revisiting an old favorite like Rome. But really, there is no one Italy. Every region is incredibly distinct, from cultural traditions and local cuisine to architecture and scenic beauty.
This adventure is an especially great choice for someone who's visited better-known parts of Italy, like Tuscany and Umbria. The north of the country draws influences from neighboring Switzerland and Germany—you'll taste it in the cuisine and hear it in the music—and the Alpine scenery is absolutely breathtaking."
View itinerary
4. Hidden Gems of the Dalmatian Coast & Greece —16-day O.A.T. Small Ship Adventure (Average group size: 22)

11 nights aboard our privately-owned 50-passenger M/V Athena
Our most popular independent film:
Smart Travels with Rudy Maxa: Croatia's Dalmatian Coast
Discover Croatia's Dalmatian Coast—including its crown jewel of Dubrovnik—with Emmy Award winner Rudy Maxa.
Why Harriet recommends this adventure:
"I was actually able to visit Greece on business last summer, so I have poignant memories of traveling during the pandemic. I will never forget the conversations I had with restaurant and hotel workers, and how hopeful they were for the future even though tourists were away. I stood on the Acropolis with just a handful of people—an incredible experience without the usual crowds, but so bittersweet. The people of Greece really know how to enjoy life, so it will be an especially joyful place to be when all of this is behind us. I can picture myself dancing after dinner in a town square outside a little taverna.
The centerpiece of this adventure is cruising by small ship along Croatia's Dalmatian Coast and the Aegean coastline of Greece. There's a mix of well-known highlights like Dubrovnik—a magical city—and Kotor, Montenegro, and lesser-known ports like Hvar. I love traveling by small ship, falling asleep in one place and waking up in another, sitting on deck and watching the world go by."
View itinerary
5. The Baltic Capitals & St. Petersburg —16-day O.A.T. Small Group Adventure (Average group size: 13)

Our most popular independent film:
Rudy Maxa's World: St. Petersburg, Russia
Join Emmy Award winner Rudy Maxa as he explores St. Petersburg, from its enchanting canals to the famed Hermitage Museum.
Why Harriet recommends this adventure:
"This was a really special trip for me, because I have family roots in Lithuania. I had an amazing chance encounter when Alan and I got lost on the road, and stumbled upon a family home to ask for directions. The woman who answered the door looked exactly like my grandmother. We ended up spending the afternoon with her, looking at old photos.
The complicated history of this part of the world is still very palpable. Some stories are triumphant, like the Singing Revolution of the 1980s that led to independence from Russia. Others can be painful to hear, like the atrocities committed by the KGB—which are documented at the Museum of Genocide Victims in Vilnius, Lithuania, housed in the former KGB headquarters. Reading today's headlines, I continue to be amazed at what humans are capable of doing to one another. These are lessons from the past that we cannot ignore."
View itinerary