Top 10 Trips for 10-Time Travelers
Posted on 7/25/2017 12:01:00 PM in The Buzz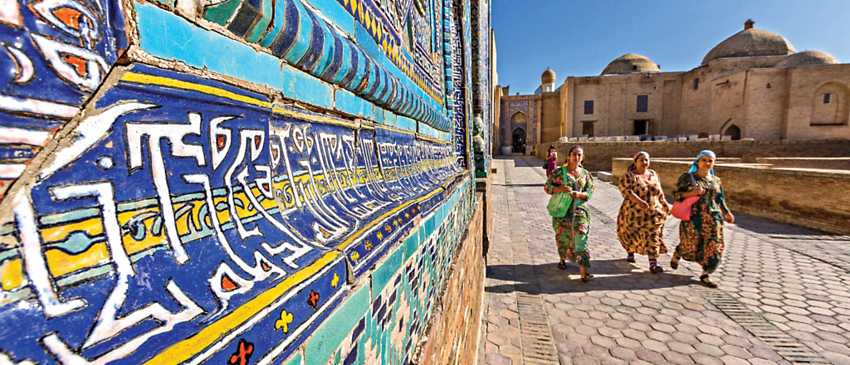 In monitoring travel trends, different types of trips appeal to different types of travelers. For example, our most popular trip for travelers joining us for the first time—many of whom may be new to group travel, or even to international travel in general—is our Great Rivers of Europe River Cruise. The ease and comfort of river cruising makes it accessible for travelers of all levels of experience.
But what about travelers who have joined us on 10 trips or more? We know that the majority of them also travel extensively on their own—so to find new experiences, they look further off the beaten path. Case in point: It doesn't get much more remote than the #1 trip on this list. And it's no coincidence that there are several newly announced adventures featured here as well, as our most experienced travelers tend to be first in line when we introduce new destinations.
Top 10 Trips for 10-Time Travelers
Ashgabat, Turkmenistan • Uzbekistan: Nukus • Khiva • Bukhara • Samarkand • Tashkent Optional extensions: 7 nights in Kyrgyzstan & Kazakhstan; 6 or 7 nights in Tajikistan: Khujand & Dushanbe
For a well-heeled traveler seeking new frontiers, Central Asia beckons as one the most ancient and mysterious corners of the globe. Discover Turkmenistan's white-marbled capital of Ashgabat and Uzbekistan's ancient city of Khiva. Then explore the medieval streets of two of the Silk Road's most iconic cities—Bukhara and Samarkand, Tamerlane's ancient capital. In Tashkent, relive the romance of traders laden with precious silks and spices in the historic land where Uzbek hospitality still reigns supreme.
ABOARD OUR PRIVATELY OWNED 50-PASSENGER M/V ARTEMIS Italy: Venice, Ravenna • Republic of San Marino • Italy: Urbino, L'Aquila, Tremiti Islands, Monopoli, Alberobello, Otranto, Riace • Malta: Valletta, Hagar Qim, Marsaxlokk, Mdina Optional extensions: 5 nights in Ljubljana & Trieste; 4 nights in Rome, Italy
Many travelers return to Italy again and again—and this journey across the Adriatic and Ionian seas offers a unique perspective on the hidden gems of Italy's eastern coast as well as the island nation of Malta. Begin in the cobbled squares and famous canals of Venice before setting sail on the sparkling Adriatic. In an intimate group of no more than 25 fellow travelers, explore places Americans rarely get to experience, such as the Tremiti archipelago … lose yourself in tiny whitewashed port towns … and connect with local culture and traditions.
Reykjavik • Stykkisholmur • Akureyri • Selfoss Optional extensions: 3 nights in Worlds of Fire: Iceland's Westman Islands; 4 nights in Greenland: Gateway to the Arctic
This adventure showcases Iceland's natural beauty and Viking heritage from a truly Icelandic perspective—through its inhabitants. Meet hardy locals who carve a living from both the land and sea in farming communities and fishing villages. In the beautiful capital city of Reykjavik, witness the creativity of a city that harnessed the power of nature to provide sustainable heat and electricity to its inhabitants. Raft on the Hvita River, watch for whales, and journey to within 40 miles of the Arctic Circle at Akureyri.
ABOARD A HURTIGRUTEN NORWEGIAN COASTAL VOYAGE SHIP Norway: Oslo, Flam, Bergen, Alesund, Trondheim, Rorvik, Bodo, Svolvaer, Tromso, Kirkenes • Finland: Ivalo, Helsinki Optional extensions: 4 nights in Copenhagen, Denmark; 3 nights in Stockholm, Sweden
An active part of Norway's maritime heritage, Hurtigruten's fleet of 400- to 1000-passenger steamer ships regularly sails into local harbors to deliver supplies and travelers to hard-to-reach towns. In a small group of no more than 25, we'll board this unique mode of transit, cruising along Norway's coast near the top of the world—crossing the Arctic Circle—and stepping ashore to discover small, colorful cities and quiet fishing villages. Sail through majestic fjords, carved by glaciers throughout the Ice Age. Then disembark to explore the Lapland region.
Milan • Tirano • Franciacorta • Verona • Bressanone (Dolomites) • Bassano del Grappa Optional extensions: 4 nights in Genoa & Cinque Terre; 4 nights in Venice
Another option for travelers looking to explore a new side of Italy, this scenic region of woodlands, vineyards, and lush valleys is home to an enchanting juxtaposition of Italian and Austrian culture. On this journey, meet fishermen and farm families, see what puts the sparkle in Franciacorta wines, and experience the legends of the Ladins, a unique culture hidden deep in the valleys of the Dolomites. And ride through the majestic Alps into Switzerland aboard the legendary Bernina Express.
Palermo • Mazara del Vallo • Piazza Armerina • Ragusa • Catania Optional extensions: 5 nights in Puglia: Italy's Undiscovered Heel; 5 nights in Calabria: Southern Italy's Heartland
Although technically part of Italy, Sicily has an identity all its own—as any Sicilian will proudly tell you. Traveling here is to discover an island with more than 3,000 years of history. Experience the isle's full enchantment on a journey from the bustling streets of Palermo and striking Greek temples of Agrigento to the Baroque beauty of Ragusa and Catania. Hear the rumbling groans of Mount Etna. Visit quaint fishing villages. And discover Sicily's rural authenticity with a night in an agriturismo—a traditional farmhouse.
South Korea: Seoul • Daegu • Gyeongju • Japan: Tokyo • Toba • Kyoto Optional extensions: 6 nights in Eastern China: Shanghai & Suzhou; 3 nights in Hiroshima
Ancient kingdoms and modern cities await adventurers exploring South Korea and Japan. From Seoul, where the "Miracle of the Han" buzzes with life, to Gyeongju, the lakeside resort where the mountains meet the sea, South Korea offers treasures both man-made and natural. Imperial Japan boasts gems of its own, from glittering Tokyo to maritime Toba, as well as graceful temple-filled Kyoto. Exploring these two empires in one journey offers an experience like no other.
Hwange • Kafue • Chobe • Okavango Delta • Victoria Falls Optional extensions: 4 nights in Thornybush Game Reserve; 4 nights in Cape Town & the Cape of Good Hope
While travel trends come and go, this safari ranks among our most popular adventures year after year. Observe elephants in Chobe National Park … enjoy a warm welcome when your small group visits a village near Hwange National Park … feel the rumble of Victoria Falls roaring in the distance … and exchange stories with your travel companions around a fire under a star-filled sky. Experience small lodges and tented camps, game-viewing drives and guided walks with our sharp-eyed Trip Experience Leaders, and local village visits.
Casablanca • Rabat • Fez • Sahara Tented Camps • High Atlas Mountains • Marrakesh • Casablanca Optional extensions: 5 nights in Tangier, Chefchaouen & the Berbers of the Rif; 4 nights in Essaouira & Casablanca
Morocco enthralls even the most experienced adventurer. Tradition infuses its labyrinthine medinas. Village oases rise like mirages from the desert. And the mighty Sahara seems to stretch to infinity. In the intimacy of an O.A.T. small group, meet Moroccan people, experience their traditions, and taste the secrets of their flavorful cuisine. Discover the beauty of mosques and sample regional specialties during Home-Hosted meals. And camp for two nights under the stars in the Sahara.
Tokyo • Hakone • Kanazawa • Kyoto Optional extensions: 3 nights pre-trip in Tokyo; 3 nights post-trip in Hiroshima
The Japanese culture is so dramatically different from our own. The people live by a strict code of rules, rituals, and respect. The entire country is a fascinating juxtaposition of ancient and ultra-modern—where bullet trains meet Buddhist temples. We see both sides as we explore more than 2,000 years of Japanese history and culture, from ultra-modern Tokyo through the former imperial capital of Kyoto, and all the way back to Kanazawa's unique samurai architecture.