Top 10: Rules of Global Etiquette
Posted on 3/5/2019 12:00:00 AM in The Buzz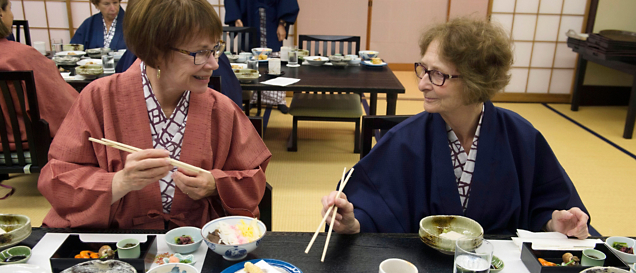 Navigating the ways of unfamiliar cultures can be part of the joy of traveling—but it can also be the source of embarrassing faux pas. What traveler hasn't unintentionally broken a rule, run afoul of superstition, or raised a taboo subject in conversation? While no one list can prevent them all, we're counting down 10 cultural considerations—some fascinating, some fun—that we'd want to know before visiting some of our most popular destinations.
10. Morocco: Take care when taking photographs
Morocco is a beautifully photogenic country, with stunning landscapes from mountains to deserts and vibrantly colorful souks and squares. But take special care when photographing people. Some hold a deep-rooted superstition that photographs can be used later in witchcraft—but most simply fear feeling used or being taken advantage of by tourists.
Whatever the reason, always ask for permission before photographing people in Morocco. Your Trip Experience Leader can help facilitate the request, but even on your own, you can easily use pantomime to get your point across. Most strangers on the street will decline—but you never know when someone will say yes. Others, especially in heavily touristed places like Djemma el Fna Square in Marrakesh, will ask for a fee in return for their photo.
Regardless, never take a chance on surreptitiously "stealing" a portrait without permission. Even if you think you can get away undetected, it shows disrespect for the culture.
Explore Morocco during …
Morocco Sahara Odyssey—16-day O.A.T. Small Group Adventure

9. Botswana: Master the three-part handshake
Throughout Southern Africa, you'll make a big impression on locals if you learn to greet them properly. After saying "hello"—"dumela rra" to a man and "dumela mma" to a woman—move into the three-part handshake:
Extend your right hand—always the right hand—with your left hand cupped underneath your elbow as if it were injured. Clasp hands and shake once.
Keeping your hand beneath your elbow at waist level, grasp the other person's thumb while shifting your grip to the top of their hand—as if you're about to arm wrestle.
Return to the initial handshaking position for one final shake, and release.
Explore Botswana during …
Ultimate Africa: Botswana, Zambia & Zimbabwe Safari—17-day O.A.T. Small Group Adventure
New! Southern Africa Safari & Lake Kariba Cruise: South Africa, Zimbabwe & Botswana—18-day O.A.T. Small Group Adventure
8. Croatia: Be sensitive about Serbia
Croatia is still a very young nation, officially recognized in 1992—but even before the most recent conflicts, the country was largely controlled by others since the twelfth century. As a result, its people still harbor complicated feelings about independence and the struggle for national identity, particularly amongst the older generation. Be careful about drawing comparisons between Croatia and other former Yugoslav states—especially regarding Serbia, because there are still tensions between the two nations. For example, despite similarities, their language is simply "Croatian," not "Serbo-Croatian," as it has been erroneously called in the past. Croatians are very proud of their country, so take care to respect it as a unique entity.
Explore Croatia during …
Crossroads of the Adriatic: Croatia, Montenegro, Bosnia & Herzegovina, and Slovenia—18-day O.A.T. Small Group Adventure
Allure of the Adriatic: Italy & Croatia—12-day O.A.T. Small Ship Adventure
Hidden Gems of the Dalmatian Coast & Greece—16-day O.A.T. Small Ship Adventure
7. Argentina: Master your mate
Upon arriving in Argentina, you might notice locals carrying square leather shoulder bags. Each one contains a thermos of hot water, a hollow calabash drinking gourd, a metal straw called a bombilla, and yerba mate leaves. Make no mistake, this is more than the makings of a mere cup of tea. Mate is the national drink of Argentina—and the centerpiece of a beloved ritual.
Whether you're in a park, a market, or a private home, wherever Argentinians gather together, they're likely drinking mate. In each group, one person is dedicated the cebador—the leader who prepares and serves the mate. This person drinks from the gourd first, ensuring the drink's quality. Then, the gourd and bombilla are passed amongst everyone.
When it's your turn, you can drink all the tea in the gourd, which will have been refilled just for you. Remember not to move the bombilla: it must rest against the bottom of the gourd to filter out the tea leaves. When you're finished, pass the gourd back to the cebador.
The first time you drink mate, the natural caffeine might go to your head—and it may taste unpleasantly bitter. Just remember that for centuries, mate has been drunk in good health—and good friendship.
Explore Argentina during…
The Wilderness Beyond: Patagonia, Tierra del Fuego & the Chilean Fjords—15-day O.A.T. Small Ship Adventure
Chile & Argentina: The Andes to Patagonia—18-day O.A.T. Small Group Adventure
Antarctica's White Wilderness—14-day O.A.T. Small Ship Adventure
New! Antarctic Circle Expedition: Journey through Antarctica—17-day O.A.T. Small Ship Adventure
6. Sicily: Sicilian, not Italian
Locals think of themselves as Sicilian first and Italian second; when Sicilians visit the Italian mainland, they say they're off to "Il Continente." Although the Strait of Messina separating Sicily from the rest of Italy is only 2.5 miles wide, the cultural gap couldn't be greater. Sicily, for example, has its own distinct dialect. And Arab and Spanish influences lend unique flavors to local cuisine. In general, Sicilians are fiercely proud about what makes their island different from the mainland—except for one infamous distinction: the mafia, or Cosa Nostra, is still very much alive here. While your O.A.T. Trip Experience Leader will candidly discuss this reality with you, never bring up the mafia in conversation with a local.
Explore Sicily during…
Sicily's Ancient Landscapes & Timeless Traditions—16-day O.A.T. Small Group Adventure
New! Mediterranean Cultures & Islands: A Voyage from Barcelona to Athens—19-day O.A.T. Small Ship Adventure
Italy's Western Coast & Islands: A Voyage from Rome to Valletta—17-day O.A.T. Small Ship Adventure
Italian Coastal Odyssey: Hidden Italy, Sicily & Malta—28-day O.A.T. Small Ship Adventure
5. India: Things might get personal
While the caste system has become increasingly old-fashioned and outdated in modern India, Indians are accustomed to knowing where they stand in relation to someone's social position. So while you'd never think of asking a stranger about their family, job title, or even their salary, Indians don't consider these questions the slightest bit intrusive. Of course, you're certainly not obligated to answer anything you don't want to—but it helps to know that the questions come from a very different mentality than we're used to. You can also use this openness as an opportunity to ask similar questions of Indians and learn more about their culture.
Explore India during…
Heart of India—16-day O.A.T. Small Group Adventure
4. Peru: Respect Amerindian culture
Nearly half of the Peruvian population is of Amerindian descent—either purely indigenous or mixed with European ancestry. While a large proportion of Amerindians in the Andean highlands can trace their roots back to the Inca Empire, don't assume that they all do—and even so, this ancient heritage is just a small facet of modern Peru's cultural identity, so be sure to treat it as such. When referring to Amerindians, "indios" is considered derogatory, but "indigenas" is acceptable. On the flip side, never be offended when a Peruvian refers to you as "gringo" or "gringa": it is simply their term for a foreigner and not meant as an insult.
Explore Peru during…
Machu Picchu & the Galápagos—17-day O.A.T. Small Ship Adventure
Real Affordable Peru—11-day O.A.T. Small Group Adventure
3. China: The way of Confucius
Confucianism is not a religion, but a system of social and political ethics—and understanding its tenets can go a long way toward understanding the Chinese people. For example, Confucius taught that in a harmonious society, every person must understand and respect his or her rank—and that of everyone above them. In today's China, this translates to enormous reverence for authority and age. In a Confucian society, individual needs and desires are sacrificed for the greater good. While modern Chinese society is evolving, bragging—even in the face of great accomplishment—is frowned upon. And while a Chinese person might compliment you effusively, they won't readily accept any praise heaped upon them.
Explore China during…
Imperial China, Tibet & the Yangtze River—22-day O.A.T. Small Group Adventure
2. Egypt: The sanctity of Ramadan
The month-long festival of Ramadan is the holiest period of the Islamic calendar—and travelers to the Middle East seek it out and avoid it in equal measure. While it always falls during the 9th month of the Islamic calendar, which is lunar, it varies according to our solar Gregorian calendar. In 2019, it takes place between May 6 and June 4—but Muslims begin their observance at sundown on May 5.
Many travelers avoid Ramadan because they believe food and alcohol won't be available while Muslims fast during the day. In reality, visitors are by no means expected to participate in the fasting, and hotels and many restaurants will continue to serve food all day. Just be respectful of those who are fasting, and refrain from openly eating or drinking on the street. Alcohol is extremely difficult to come by, though major hotel chains attempt to stock up in advance.
Despite the logistical challenges, Ramadan is a festive time in Egypt—and you'll certainly want to participate in at least one iftar meal, when the daily fast is broken. Or, take the opportunity to walk the streets of Cairo during iftar: you'll never see the city more deserted.
Explore Egypt during…
Suez Canal Crossing: Israel, Egypt, Jordan & the Red Sea—18-day O.A.T. Small Ship Adventure
New! Egypt & the Eternal Nile by Private, Classic River-Yacht—16-day O.A.T. Small Group Adventure
1. Japan: Rules on rules
Japan is famous as a society of rules—which can provide a strange comfort to travelers seeking to navigate an unfamiliar culture. Still, it's a lot to keep track of:
Never stick your chopsticks vertically in your bowl, as it resembles a funeral rite.
Don't wear shoes indoors—unless they are designated "indoor slippers," and even these must be changed for designated "toilet slippers" when using the bathroom.
If you buy food from a vending machine, stand there and eat it immediately. The Japanese don't eat on the go.
Shower before using a public bath, and be prepared to be turned away if you have a tattoo.
Don't blow your nose in public.
Don't pour your own drink.
Don't tip.
The list goes on and on … but if you get overwhelmed, this is the most important rule to remember: the Japanese don't expect you to know them all, and they'll be gracious if (or when) you screw up. The important thing is to show respect by trying.
Explore Japan during…
Japan's Cultural Treasures—15-day O.A.T. Small Group Adventure
South Korea & Japan: Temples, Shrines & Seaside Treasures—18-day O.A.T. Small Group Adventure