Top 10 Extensions for 2018
Posted on 12/5/2017 12:00:00 AM in The Buzz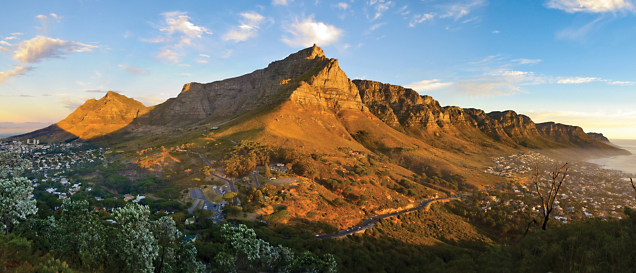 Adding an extension to Cape Town, South Africa—crowned by the dramatic specter of Table Mountain—adds a cosmopolitan contrast to O.A.T.'s Ultimate Africa safari.
Our travelers aim to make the most of their time abroad, which for many, includes adding one of our optional pre- or post-trip extensions. Whether you'd like to spend more time in an iconic city before or after your tour or visit an additional destination that isn't covered during our main itinerary, our extensions allow you to further your explorations by giving you more free time for discovery. Find out which extensions our travelers are adding in 2018.
Top 10 Extensions for 2018
Sip South African wine and frolic with penguins at Boulders Beach. With Table Mountain as its backdrop, a bevy of bays at its feet, and the lushest foliage this side of paradise, Cape Town arguably occupies one of the most spectacular natural settings on Earth. Here is your chance to revel in it—and to witness the amazing social transformation of the "Rainbow Nation."
View Southern Africa: South Africa, Zimbabwe, Namibia & Botswana itinerary >>
2. Tokyo—Optional 3-night pre-trip extension on our Japan's Cultural Treasures O.A.T. adventure
Capital of Japan only since the 19th century, Tokyo has blossomed into the world's largest metropolis, yet maintains an astonishing blend of the ultra-modern with centuries-old temples and shrines. Join us and explore bustling local markets, visit serene gardens, see traditional homes of Tokyo's Yanaka district, and kick off your travel in Japan.
Discover a vibrant confluence of medieval charm and modern, avant-garde grandeur on an optional pre-trip extension to one of Europe's greatest cities. Located in the northeast corner of the Iberian Peninsula, Barcelona's grand boulevards and narrow Barri Gotic alleyways are an invitation to discovery that reveals a wealth of cultural and historical gems. From its coastal views to Gaudi's fairy-tale architecture, Barcelona is a city you will not soon forget.
View Spain & Portugal in Depth itinerary >>
Before you travel to the Holy Land, experience another facet of the region's centuries-old culture in Jordan. You'll explore Roman ruins in Amman and stroll ancient city streets in Jerash. And discover the Nabataen "Lost City" of Petra, described in poetry as a "rose-red city half as old as time."
View Israel: The Holy Land & Timeless Cultures itinerary >>
With its spectacular mountain scenery, a healthy sub-Alpine climate, crystalline lakes and rivers, and idyllic little medieval towns—Slovenia truly is an amazing corner of the world. Explore Lake Bled and Lake Bohinj, situated in an area with infinite unspoiled natural treasures—including stunning cliffs and majestic mountains. You'll also venture to smaller, more out-of-the-way towns and historic villages.
View Hidden Gems of the Dalmatian Coast & Greece itinerary >>
Kenya's Masai Mara Game Reserve is a gem of wild beauty. Rolling grasslands yield to breathtaking views of the distant Great Rift Valley escarpment. Enjoy exclusive game-viewing drives in this 45,000-acre private camp, where legendary wildlife abounds. Rich in wild fauna, Masai Mara celebrates Africa at its most untamed.
View Safari Serengeti: Tanzania Lodge & Tented Safari itinerary >>
Though it occupies an area of less than one square mile, the history and spiritual significance of Jerusalem is immeasurable. From the ancient desert fortification of Masada—built by Herod the Great—to the archaeological splendor of the City of David, journey to this holy capital to discover the sacred sites that inspire historians and the religious faithful alike.
View Suez Canal Crossing: Israel, Egypt, Jordan & the Red Sea itinerary >>
Like Rome, it sits on seven hills and has been called the "Athens of the North" for its architectural gems and scholarly traditions—but Edinburgh is a city with a spirit all its own. With a fascinating history and vibrant contemporary culture, Edinburgh is one of Europe's most memorable capitals. Explore the city that has been home to such luminaries as Sir Arthur Conan Doyle and Robert Louis Stevenson, and discover its cobbled streets, world-famous museums, and, of course, iconic Edinburgh Castle.
View Maritime Jewels of the British Isles & Ireland itinerary >>
Experience the Transylvania region of Romania—a castle-dotted landscape whose well-preserved, Old-World character evokes an era of bygone, macabre figures both mythical (Count Dracula) and actual (Vlad the Impaler) from the historic resort town of Sinaia, known for centuries as the "Pearl of the Carpathians."
View Eastern Europe to the Black Sea itinerary >>
Discover the beauty of Lucerne, Switzerland, set on the shore of Lake Lucerne with stunning views of the Alps. Spend four nights in this center of Swiss culture and wander the narrow cobblestone streets to admire the spires, turrets, covered bridges, and fountains for which the city is famous.