Top 10: Associate Travel Memories
Posted on 1/1/2019 12:00:00 AM in The Buzz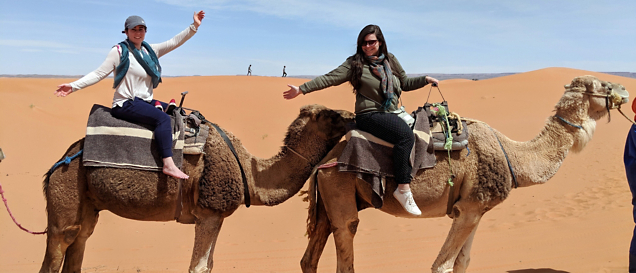 Encouraging our associates to travel is part of our corporate culture—after all, every adventure helps us to better understand the travelers we serve, no matter what our role within the company. As we look forward to another year of new discoveries, we asked some of our associates to share their favorite travel memories from 2018. Perhaps you'll follow in their footsteps!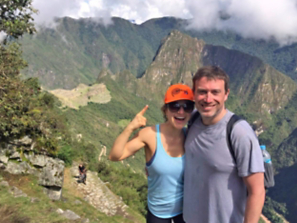 "This was my first O.A.T. trip and the first time my husband and I were away from our 4-year old for more than one night.
"It was an unforgettable and once-in-a-lifetime experience. We have so many wonderful memories. Machu Picchu was obviously amazing but what I really loved the most and think about still are the people and culture. My favorite memory is having lunch at Maria's house. We helped her cook in her kitchen, toured her house and saw how she lives, and got to meet her family. It reminded me of how important family is and how love is all you need.
"The farmer's markets taught me so much about the importance of food as fuel and income. I was also very inspired by the cuisine and loved learning about all the 4,000 different potato varieties.
"Freddy, our Trip Experience Leader was also amazing. It was nice to be taken care of 100% and having open and honest conversations with him about Peru."
— Amanda Iacono, Vice President of Culture & Wellness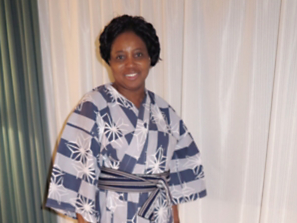 "By 2017, I'd taken 13 O.A.T. and Grand Circle trips combined. My friends mentioned they wanted to go to Japan in 2018 and asked if I would join them. Japan wasn't on my bucket list, but of course I was excited that they wanted me to join them on a trip and I immediately said yes.
"I returned from Japan the middle of November and I'm still in awe. After every trip I'd taken up to that point, I always returned with a favorite or a highlight. After visiting Tokyo, Hakone, Kanazawa, Kyoto, and the post-trip to Hiroshima, I could not choose a favorite because I loved everything about Japan. Japan has a fascinating and multifaceted culture and every place was absolutely unique in its own way and so were the people. Late October and November presented us with beautiful foliage and from the grounds of our hotel in Hakone we had a breathtaking snow-capped view of Mount Fuji.
"Hiroshima was not to be missed. A visit to the Atomic-bomb Museum was an unapologetic look at the history that led up to and culminated in a catastrophic moment in the history of humanity.
"I was most impressed by the modes of transportation on this trip: the bullet train, local buses, taxes, express train and small boats. This was an unforgettable adventure and I can truly say it was my favorite trip."
— Mary Ann Lawrence, Director of Community Service & Culture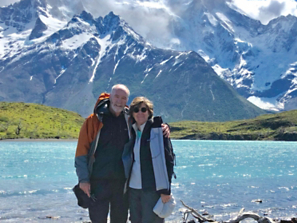 "My husband Peter and I are just back from O.A.T.'s new trip, Exploring South America. We traveled over 5,000 miles and every stop was spectacular. I would not have missed a thing. I loved Rio (and felt perfectly safe), Iguassu Falls, Buenos Aires, El Calafate, our cruise on the Skorpios III, Santiago, and Valparaiso. I had so many fantastic pictures, it was hard to choose. I picked this picture at the end of a beautiful hike in Torres Del Paine National Park because the sun was out and the colors were spectacular! Don't miss going into Rio a day or two early. We stay in a beautiful hotel right on Copacabana Beach!"
— Maggie Nevins, Travel Advisor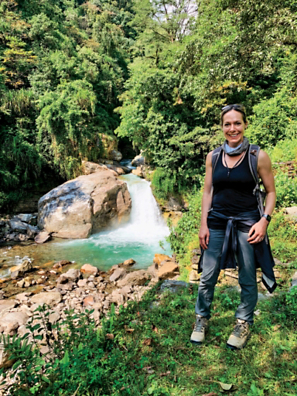 "I decided to take this trip because it came highly recommended by my coworkers—and they told me it's very different from most O.A.T. adventures, so I wasn't sure what to expect.
"It's so hard to choose a favorite trip, but Nepal definitely ranks in my top three. The scenery was breathtakingly gorgeous, especially during the three-day trekking portion in the Annapurna foothills. I loved how often we were outdoors, traveling by foot or by raft instead of a bus. The rafting was so much fun! During our treks, we rarely encountered other tourists—just locals going about their lives, many of whom were happy to stop and share with us.
"It was also fascinating to still see evidence of the 2015 earthquake in Kathmandu. Yes, the roads are bad—but don't let that deter you! On the positive side, we saw artisans painstakingly restoring monuments in Patan Durbar Square—careful to uphold traditional carving techniques. The people are hopeful and resilient, and I have faith that the country will recover."
— Laura Chavanne, Creative Director of Relationship Marketing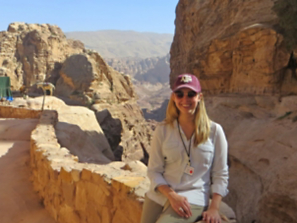 "From floating in the Dead Sea, to cruising the Suez Canal, and touching the Western Wall in Jerusalem, this trip was packed full of major highlights. But the two stand-outs for me were exploring Petra (I highly recommend hiking up to the less-visited Monastery during free time) and visiting the beautiful Old Winter Palace Hotel in Luxor (Agatha Christie wrote Death on the Nile there—as a writer, I was bound to love it). I was also shocked at how few tourists we saw in Egypt. We practically had Karnak Temple and the Valley of the Kings to ourselves, so I felt like I was able to linger and really absorb the grandeur of both places."
— Sarah West, Copy Manager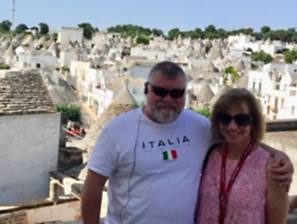 "My husband and I went on the Undiscovered Adriatic Small Ship Adventure this past June. Although I had been to Italy many times, this adventure took me to cities I'd never been and we got to experience another side of Italy. We especially loved the medieval town of San Marino and the whimsical trulli houses in Monopoli. Stopping for a cappuccino in late afternoon to watch the locals coming back from the beach, or enjoying a drink in an outdoor café overlooking the bustling harbor in Siracusa, Sicily—I'm relaxed just remembering the warmth and easy pace of this amazing trip."
— Diane Rooney, Senior Vice President of Creative Marketing Services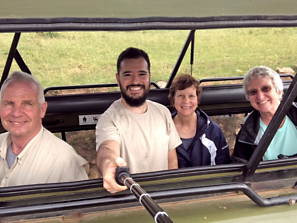 "I took O.A.T.'s Safari Serengeti: Tanzania Lodge & Tented Safari adventure with the pre-trip extension to Kenya's Masai Mara Game Reserve in March, and words can't even describe how amazing the experience was. From meeting the incredibly welcoming Maasai tribespeople in their traditional villages, to taking in the unforgettable landscapes and wildlife of the region, every moment seemed to surpass the one just before it. I bonded with everyone in my small group over just how awestruck we were each day, and I've never returned from a trip with so many incredible pictures. I'll remember this trip forever, and can't wait to return to Africa."
— Zack Gross, Senior Copywriter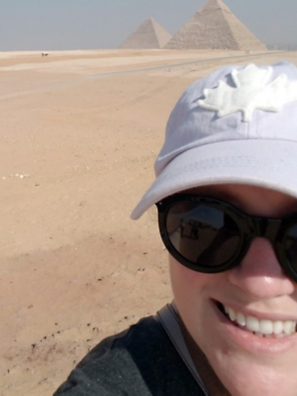 "I just returned from an unforgettable trip to Egypt & the Eternal Nile by Private, Classic River-Yacht last month, which far exceeded all my expectations. Growing up hearing about ancient Egypt and the mysteries of the mummies and temples could not have prepared me for how incredible it was to see everything first-hand. The first day, we climbed inside the Great Pyramid and the trip just got better from there! It's almost impossible to adequately describe just how vivid and awe inspiring everything was. Every day I had to pinch myself to prove that I wasn't dreaming. What surprised me the most about this tour was how safe it felt to be there and how welcoming the Egyptian people were. Every home-hosted visit felt like visiting family. I'm already dreaming of when I can go back."
— Jess Andersen, Director of Traveler Relations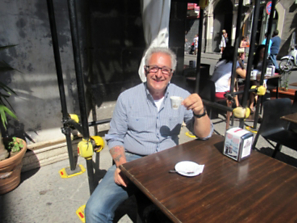 "Several months ago, I was living la dolce vita on O.A.T.'s Sicily's Ancient Landscapes & Timeless Traditions adventure. I loved every minute of it—from stirring a huge bubbling pot of fresh ricotta at a family farm in the Sicilian countryside to taking an adrenaline-fueled ride in the ancient hill-town of Modica aboard tiny vintage Fiats—with just inches to spare on either side of the narrow streets.
"I also love that O.A.T. never shies away from controversial topics. To learn about Italy's refugee problem, we sat down to talk with refugees from Africa. And while I am slowly losing the pasta and cannoli weight I gained on the trip, the give-and-take discussion we had with a special guest in Palermo about the Sicilian Mafia is something that will stay with me forever. In fact, I enjoyed Sicily's food, wine, history, and culture so much that I had to go back to Italy. Just a few weeks ago I returned from Tuscany & Umbria: Rustic Beauty in the Italian Heartland. And I gained back all that weight, of course."
— John Bregoli, Senior Copywriter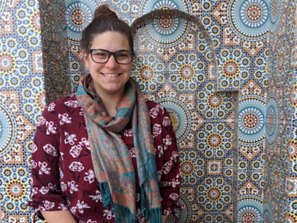 "I was fortunate enough to see the most stars that I have ever seen in my life in the heart of the Sahara Desert. My friend and I woke up around 4:00am and stepped outside of our tent on a clear night to be surrounded by a sky full of stars and nothing but silence—the entire experience felt unreal.
"While in the Sahara, I also hiked up a sand dune just before the sun was about to set. Although walking up sand can be tough, you can get some incredible views of the colors setting over endless dunes.
"I visited the Andalusian Gardens in Rabat and spent the afternoon playing with kittens and sipping on tea, all with lovely views of the water and the city around! This was one of my favorite areas to explore in Morocco.
"And although it is chaotic, I had an absolute blast wandering around the main market, Jemaa-el-Fnaa, in Marrakech. Listening to all of the vendors negotiate with locals and seeing the interesting products for sale was a great way to dive in and feel like a local. Plus, there was some great ice cream and snacks to grab along the way!"
— Jackie Cifarelli, Director of Video Marketing