The Quest to Become a Maasai Warrior
Posted on 9/17/2019 12:00:00 AM in The Buzz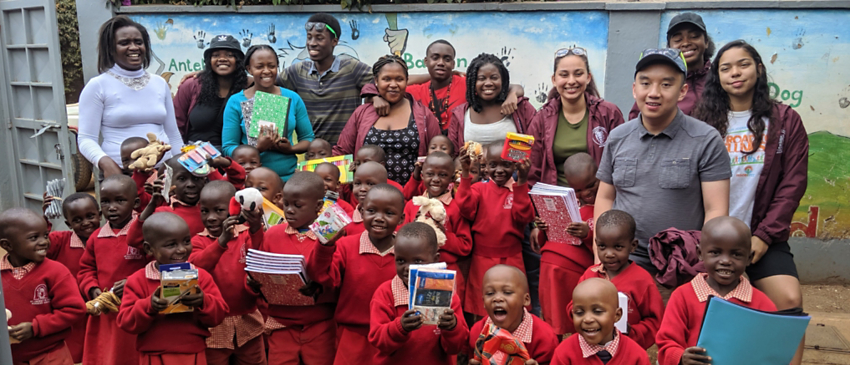 Each year, as part of our Next Generation Leaders program, we offer summer internships to promising high school graduates from Boston's inner city. By the end of the program, they head off to college with newfound life and leadership skills—many of which they put into practice during an annual trip to Kenya and Tanzania.
You can learn more about the program in a recent article from The Boston Globe, featuring interviews with young leaders and Harriet Lewis.
Read Article Here
By Joshua Curtiss, Next Generation Leader Class of 2019
One of the main purposes of the trip to East Africa was to give all of the Next Generation Leaders (NGLs) some real world opportunities to achieve their personal goals. We tackled specific areas of growth so that we could become stronger leaders. One of mine was to learn how to improvise under pressure.
Through getting caught up in the day-by-day objectives of our trip, my personal goals had slipped to the back of my mind. Regardless, when the O.A.T. van made an abrupt stop in a Maasai countryside, everything, including my mindset, changed.
We were in Tanzania. I had first thought we were dropped off in a village, but I did not see any houses. All I saw was a plane of flaxen and basil-hued grass that went for yards and yards, a small group of Maasai locals, and goats—everywhere. I got out of the 4x4 safari land cruiser with the other 10 NGLs, and we all began preparing to interact with the Maasai people to learn about their way of life. Suddenly, Angie (one of my two bosses) turns and tells me to catch a goat.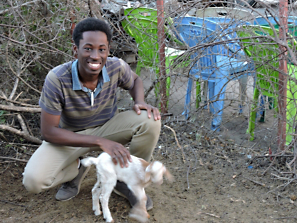 "Why do I gotta catch a goat?" I asked suspiciously, thinking the goats might be feral.

"Because." she said flatly.

"But why?" I asked her

"Just do it. You know what … you owe me $5 if you don't catch a goat."
Looking back now, she said this to have me practice improvising under pressure. And that small threat was enough to send me running like a madman. I didn't know this demand would be the most impossible task of my life.
After a long time, I stopped. I was exhausted, and I had made no progress. Finally, I came to the idea that I needed a more effective strategy. I decided to lure the goat with grass. There was only one issue: most of the vegetation in the area was accompanied by thorns and spikes. So in order to get some help, I asked one of the Trip Experience Leaders to translate the question to a Maasai villager:
"How do I feed the goat without messing up my hands?"

I was brought to a Maasai woman with a yellow shirt, and this was her response:

"You must be a weak warrior."

So, of course, I had to defend myself. First, I told her she was wrong, and I added that people don't chase goats in America. Her cruel words stung so sharply that it was enough to send me running back out into the field with my energy completely restored. Unfortunately, I was unsuccessful. The only way I was able to catch a goat was through the help of three Maasai children—who basically did all of the work for me.
Over the next few days the shame of not reaching my goal alone, and the incident as a whole, inspired a question: What other things does a Maasai man have to do to be considered a warrior?
So, that's the one of the first things I asked when we visited a village led by Chief Lobolu. He told me three things:
Jump the highest among men


Have several wives


Kill a lion.
But, after telling him my goat story, the Chief didn't think I was ready just yet. In order to prove myself, I competed with another NGL to catch a rooster … which we both failed to do.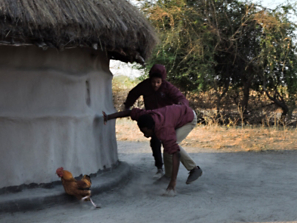 What began as a simple mission to catch a goat caused me to learn so much more about the Maasai people and their culture. Although I did not manage to fulfill the traditional requirements of a Maasai warrior, I did not leave feeling defeated.
Thanks to these adventures, I came home to America with a greater feeling of erudition and gratitude, especially due to my first-hand experience with the struggles Maasai men face in their efforts to meet their society's social norms. It felt as if I was a part of the tribe myself. In the end, the experiences gave me food for thought when I contrasted them with my own experiences, and those of other men in communities throughout America.
Experience Maasai culture firsthand when you join O.A.T. for Safari Serengeti: Tanzania Lodge & Tented Safari.