Test Driving Bicycles
Posted on 8/29/2017 12:01:00 PM in The Buzz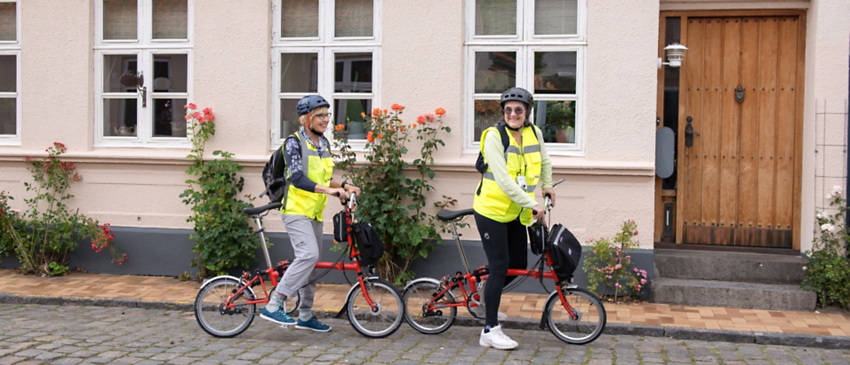 Bicycling is a fun, freeing way to explore—and stay fit—during travel. While bikes are often available for rent in larger cities, they're harder to find in the smaller ports we visit by river and small ship. And space constraints onboard our vessels make it difficult to store bicycles for traveler use.
Our nautical team discovered a solution: foldable Brompton bicycles. "The Brompton was conceived as 'a product that increases people's sense of independence and increases people's sense of freedom,' and we feel this perfectly matches our own goals," says Alastair Newton, Director of Nautical and Land Planning. "They are handmade in London and considered to be the #1 folding bike, which we chose due to the challenge of storing them onboard. This means they can be made available at every stop, not just the big towns where bikes can be rented."
In 2016, the Brompton won the Editor's Choice Award from Bicycling magazine, earning very promising reviews—especially for those who might be skeptical about the concept of a folding bike: "The 16-inch wheels and all the joints may look intimidating and not totally trustworthy at first, but they are. Besides around town we've taken Brompton over cobbles, up steep hills, and down winding descents and they never feel unsafe or nervous. They're responsive and nimble and fly up climbs."
This summer, the team has been testing the bikes with travelers on four ships: M/S River Adagio, M/V Arethusa, M/S Provence, and M/V Clio. Bikes are reserved at reception, where travelers also receive route suggestions. A crew member teaches riders how to safely unfold and fold the bike, and provides helmets, safety vests, and a GPS tracker with an "S.O.S." button that alerts the ship in case of an emergency. Travelers also receive a leaflet with safety tips, and information on cycling regulations in the country they're exploring.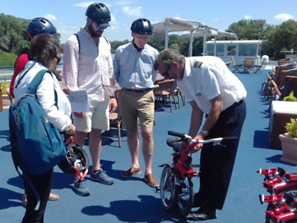 We've been asking travelers for feedback on the bikes—and if they're well-received overall, we'll consider introducing them on more of our ships and itineraries. The first reports came in from Corinne Viala, Hotel Manager of the M/S Provence, where five travelers went riding in Avignon during Cruising Burgundy & Provence to the Cote d'Azur. "They biked along the bank of the river, then crossed the Rhone by a free shuttle boat to reach Barthelasse Island. They enjoyed the beautiful fields, farm houses, gardens, fruit trees, and sunflowers," says Corinne. "They were pleasantly surprised by the quality of the bikes and equipment."
"I used a bike myself on The Great Rivers of Europe," says Alastair. "I found it very easy to ride, nippy and stable." He also notes that locals tend to be intrigued by the bikes, which prompts them to approach our travelers to talk about them. "Some travelers have enjoyed that aspect," he says. Others have enjoyed the opportunity to "have a go at riding a bike again."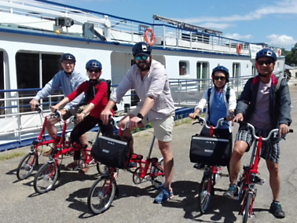 While it's too soon to say whether we'll be bringing bikes onboard all of our ships, we appreciate the feedback from all of our travelers who have experienced them so far. Have you ridden one of our folding bikes this summer? Do you enjoy cycling during your travels? Tell us what you think in an email to [email protected].
Perhaps you'll gain a new perspective on Europe's rivers by bicycle when you join us for The Great Rivers of Europe.