Taking the Plunge
Posted on 2/12/2019 12:00:00 AM in The Buzz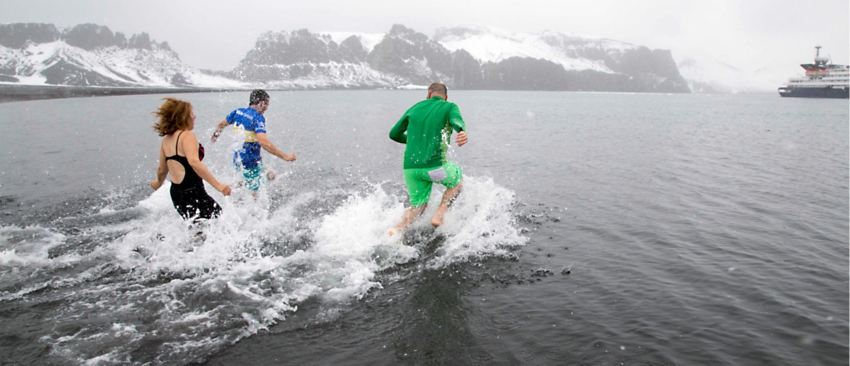 By Magdalena Zoroza, O.A.T.'s Executive Vice President of Argentina, Chile & North America
We always aim to offer a polar plunge to our travelers on a trip to Antarctica. It is a once-in-a-lifetime experience and it is usually a highlight of the trip. I would say that 60% of our travelers do it while the others have fun watching them from the shore.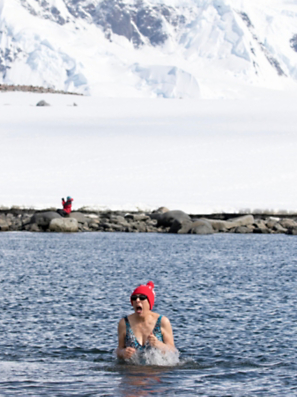 The way it works is that the Expedition staff chooses the best available beach in the itinerary where the plunge can be done (always, as with everything in Antarctica, it is weather permitting). The day before, the plunge is announced on board and travelers are invited to participate. That means getting ready with your bathing suit underneath your warm clothes and some shoes that can get wet because usually the terrain is very rocky.
Once the time comes and everybody is ashore, the Expedition team marks a section of the beach where the polar plunge will take place. One by one or in couples, our travelers start trying it. You can hear everybody cheering and clapping for them, some take photos or videos or just observe.
The water is freezing cold and once you get in, you stop feeling your legs. But, that is the beauty: once you return to the shore you feel totally invigorated, light, and extremely happy. I guess we all feel young again for trying something that most people would consider crazy. You can see the smiles in the faces and the sparkle in the eyes of the people who try it. For me, it is always one of the best moments in Antarctica.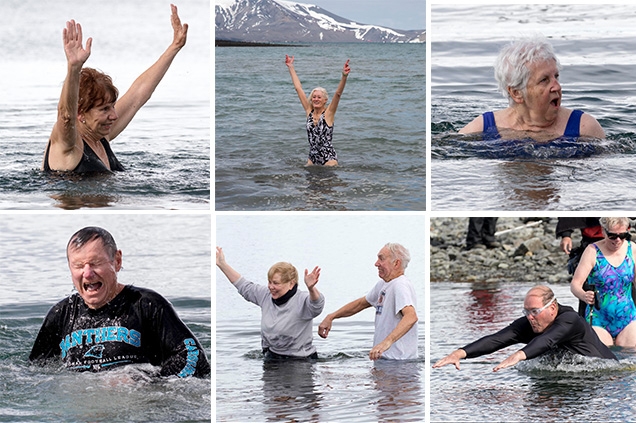 That evening, the Expedition leader will deliver a commemorative "Polar Plunge Certificate" to all who have done it. It indicates where and when it happened and the temperature of the water (around 35 degrees Fahrenheit).
Perhaps you'll brave the polar plunge when you join O.A.T. for Antarctica's White Wilderness.