Such Great Heights: Inspiring Mountaineers
Posted on 9/27/2016 12:01:00 PM in The Buzz
While still a college student at Oregon State University, Stacy Allison fell in love with mountain climbing, an activity she'd never before tried. By 21, she was ready for her first major ascent: Alaska's Mount Huntington, which boasts 5,000-foot drops on all sides. Just 200 feet from the summit, her climbing partner's ice ax broke and they were stuck: in such steep, unforgiving terrain, there was no way for her to ascend solo or for two climbers to continue with only one axe. They turned around.
Unfazed, Allison started tackling the world's most challenging peaks, from Mt. McKinley to Dablam, the Nepali Matterhorn. On September 29, 1998, she made headlines as the first American woman to summit Mt. Everest (and only the third woman ever). Not one to rest on her laurels—or rest at all, really—she has made a career as a mountain expedition leader, including countless summits of K2, the world's second highest peak.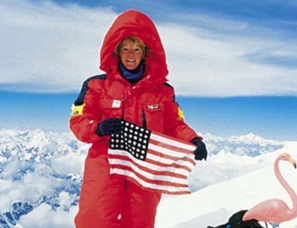 Mt. Everest has been the crowning glory for many of the world's greatest climbers. Here are some of the most inspiring Everest-topping mountaineers across the years.
1950s: Our good friend, Sir Edmund Hillary—who served as an Honorary Director of Grand Circle Foundation until his death in 2008—and his climbing partner Tenzing Norgay together did what no one else yet had: they summited Everest. New Zealander Hillary and Nepali Norgay never said who stepped first on the crown, preferring to share the glory. Hillary went on to become one of the world's most famous adventurers, and men's sons followed their fathers' footsteps up Everest.
1960s: Nowang Gombu Sherpa became the first person to climb Everest twice. In 1963, he guided the first American, Jim Whittaker, to reach the top, surviving both strong winds and an ice collapse to reach the pinnacle. Despite that harrowing trip, he returned two years later for his second summit; the peak had only even been successfully climbed 17 times total by the time he had climbed it twice.
1970s: Introduced to mountain climbing at age 10 by a schoolteacher, Junko Tabei founded an all-woman mountaineering club after she graduated from college. In 1975, she left her husband and child at home while she became the first woman ever to reach the peak of Everest—despite being buried by an avalanche at one point. She kept on climbing, becoming the first woman to summit the highest peaks of all seven continents. Now 76, she climbs 3-4 peaks a year and runs a Himalayan preservation trust.
1980s: Stacey Allison was not the only big name in the 1980s. Reinhold Messner, the first climber to summit all 14 of earth's "Eight-thousanders"—peaks over 8,000 meters (26,000 feet or more)—accomplished the feat of being the first to reach Everest's peak without the use of bottled oxygen, and the only solo ascent of the North Face.
1990s: Ang Rita Sherpa became a mountain porter in Tibet at 15 and never stopped climbing. Once he summited Everest, he was hooked, leading Germans, American, Slovaks, Norwegians, and others to the peak. In 1996, he was the only person ever to have climbed Everest 10 times—never with added oxygen—and to do so in all four seasons. Practiced or not, he never knew what to expect: on one Korean expedition, the team got lost and spent the night doing aerobics to keep from freezing to death.
2000s: Ming Kipa, a shy girl from a Nepal village, became the youngest person to climb Everest when she reach the summit at age 15 in 2003. It was a family affair: her older brother and sister made the climb as well, though they had to "sneak" in from the Chinese side as Kipa was not legally old enough to climb under Nepalese law. The decade ended with American Jordan Romero breaking Kipa's record: he summited at age 13.
Today: Just this year, Kipa's older sister Lhakpa Sherpa made her seventh ascent of Everest, the most of any woman in the world. Now living in the U.S. and working as a housekeeper, the mother of three has told the press that she works long hard hours to support her children, but that she climbs for herself. She told the BBC she intends to summit Everest 10 times.
On your Nepal & the Mystical Himalayas adventure with O.A.T., you'll be surrounded by the mountains that have inspired so many, and might elect to join an optional flight past Everest to see the "goddess of the skies." See what life is like at the top of the world in this short film: