Staying Connected: Update from Tanzania
Posted on 4/28/2020 12:00:00 AM in The Buzz
By Sandra Vaughan, East Africa Project Manager
I am a home worker and have been for many years. Wherever I have my laptop and internet I can work, but a big part of my job is visiting eight schools and three villages. That stopped overnight. I am used to being away from home once a week and overnighting in Tarangire or Karatu or Amboseli. That stopped overnight. Working full-time also stopped overnight.
Scared? Yes, I am. Worried for the future? Yes, I am. Will worrying help? No it won't.
I live at home in Arusha, Tanzania with my mum who just turned 84. She's 90% blind and so she needs 100% protection. I am married with two girls, but they are all grown up and living in the U.K. Shania is just finishing her second year of university (online as the universities are closed) and Malindi lives in London (very scary) and works for a travel company. My better half Colin works in South Sudan (yikes) and comes home every three months. He is meant to be home in six weeks, but there is a lot of uncertainty surrounding this.
I am thankful I can rent a big house in an area not overbuilt so we don't live on top of one another. I also have a large yard and a vegetable garden and am surrounded by trees. Working part-time has renewed my love for gardening. Last week we picked over 20kgs of guavas off one tree and so I made fresh juice and Guava compote.
This week I picked the salad rocket (Arugula) I had growing and made rocket pesto. Yesterday I planted runner beans and lettuce and picked fresh strawberries for breakfast.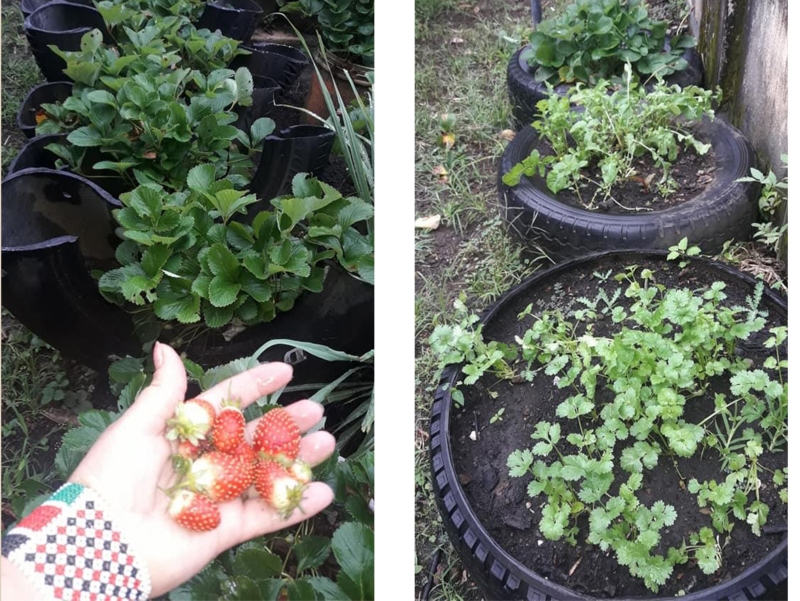 Tanzania is way behind the rest of the world when it comes to safe practices with dealing with COVID-19. We are told Business is as usual. Go to work. Go to Church. Pay your taxes. The streets are full of people. Shops are open. Banks have been made to open longer hours, but many of us self-isolate and practice social distancing. Many restaurants are closed to protect staff. Tourism is dead. Unemployment exploding. Crime on the rise. On the 11th, our airports were finally closed. No passenger flights in or out. But the scariest is medical. I live at least six hours from a decent hospital which includes a border crossing. As a result, I pay $50 per person for an air evacuation insurance policy so if either Mum or I get real sick we can be medially evacuated to Nairobi.
Life goes on. I am grateful for technology. I touch base with all the head teachers every week. I have been aggressive in relaying safe facts and figures about Corona so they in turn can teach the children and parents in the villages they have gone back too. I can video call Boston and keep in touch with Jan and Barbara from GCF. Technology has meant I can stay in touch with friends and family daily. I can reach out to the friends I haven't heard from in a while. I can be informed on what's going on worldwide.
I am not stuck at home. I am home staying safe but keeping active and still practicing my values like Learning and Discovery.