Sicily: Minor Bumps & Major Good Times
Posted on 4/30/2019 12:00:00 AM in The Buzz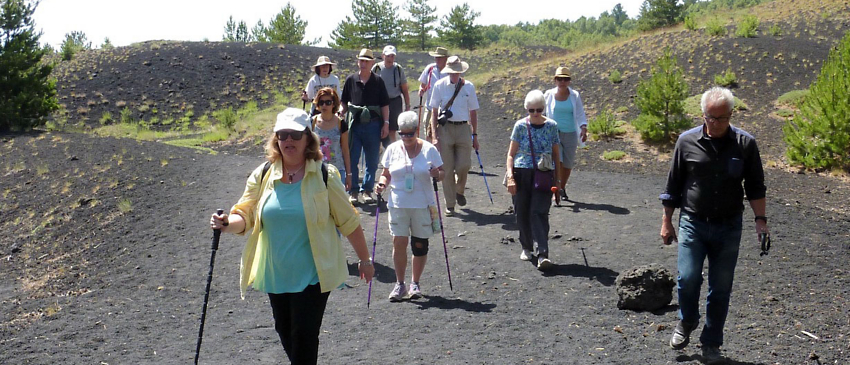 By John Bregoli, O.A.T. Senior Copywriter
This past summer, I took O.A.T.'s Sicily's Ancient Landscapes & Timeless Traditions adventure. As a long-time Grand Circle employee, I often travel solo. But for this one, I decided to go with the growing trend of "sharing experiences" and bring a travel companion along—my cousin Ken. He loves Italy and I wanted him to experience it the "O.A.T. way." It was not an auspicious start, however.
Our flight at Boston's Logan Airport to Newark was delayed, which precipitated a chain of events that made us miss two connecting flights in Europe. Long story short, we made it to Palermo about twelve hours after the rest of the group—and without our luggage. While we were in the "Lost and Found" at the Palermo airport, however, we received good news. Our bags had been located in Rome. "Not to worry," the man at the desk said, "they will definitely be on the next flight to Palermo." "Molto bene," I thought, we'll probably get them later that night. Nope, we didn't see them for another four days.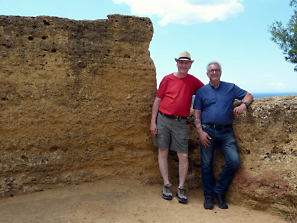 I mention all this because you would think that someone who has worked at O.A.T. for 15 years would know enough to pack an extra outfit and some toiletries in his carry-on for just such a scenario. But you would be wrong. Novice traveler Ken, however, dutifully pored over the pre-trip literature provided to him and brought along a change of clothes. In fact, he could have survived two weeks in Sicily and a side trip to Capri with the wardrobe he managed to stuff into his carry-on (it was like I was traveling with Diana Ross). On the other hand, I did have a good excuse (not that I needed one) to purchase a nice new pair of Italian shoes and several shirts in Palermo. But who cares, really? We were in Sicily. And we loved every minute of it.
One happy "family" in Palermo
Whether it was Palermo's dazzling architecture, the great food, or all that wine (OK, it was definitely the wine), our group bonded quickly. And right out of the gate, one of my favorite experiences of the entire trip took place on our second evening—when we gathered in a small room in the hotel lobby to learn about the dark history of organized crime in Sicily. These may be poorly chosen words, but that Mafia discussion just blew me away. While I later discovered that one or two travelers were taken aback by learning about the Cosa Nostra from the two gentlemen who delivered this jaw-dropping presentation, I was very proud that "our thing" at O.A.T. is exposing travelers to controversial topics like this in such a unique manner. And I also got a good laugh when I jokingly asked them if they "knew a guy" who could find our lost luggage.
I also wanted to give a special shout out to our own "capo"—I mean Trip Experience Leader—in Sicily. I have been on many, many O.A.T. adventures and while the Trip Experience Leaders have been universally excellent, Silvia Rignanese was simply the best of the best (capo di tutti i capi?).
Almost swimming with the fishes in Catania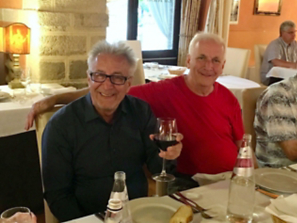 My cousin Ken and I got along splendidly the entire trip (in fact, we ended up taking O.A.T.'s Tuscany & Umbria adventure together a few months after returning from Sicily). The only time that things got a little tense was our visit to the Catania fish market. I loved this place, with its stalls packed with everything from tarocchi (blood oranges) and cuttlefish to fancy cheeses and gutted goats. And there was something oddly familiar about all of those Sicilian vendors furiously waving their hands about while barking out prices to anyone who cared to listen (oh wait, I know—it was just like all of the Bregoli relatives gathered in one room together).
The trouble started with the fried sardines and calamari. They were selling them out of big paper cones, fresh out of the hot oil and lightly salted. We decided to share an order. Big mistake. When we got down to the last few sardines, it almost came to blows. It was a valuable lesson, however. You just can't share food here. It's too good—which is why I gained ten pounds during my two weeks here. But it was worth every cannoli, plate of pasta, drizzle of olive oil, and glass (after glass) of Sicilian wine. My all-time favorite between-meal treat was arancini. I downed so many of those succulent fried risotto balls that I should be grateful for only gaining ten pounds,
Mount Etna—it's a slippery slope
Another highlight was the lovely day we spent on the slopes of Mount Etna. Often seen spewing plumes of ash and smoke high above the island, Europe's highest and most active volcano took a well-deserved break that day. So, instead of sulfur-spewing fumaroles, our group was treated to pleasant breezes, bright blue skies, and great views of the surrounding vineyards and rolling hills. After driving about halfway up the 11,000-foot-high mountain, we began hiking along the black sand from old lava flows. This lunar landscape in a sea of green had some trails that were quite steep, and one of the travelers began slowly sliding down some of the slippery beads of lava. We all kind of froze in place—knowing that it wasn't going to end well. But good old Ken (who is a police officer back in our home town of Braintree, MA) grabbed the traveler's arms and saved the day. "Serving and protecting" is in his blood, I suppose. If he stayed in Sicily, he'd probably make a good Carabinieri, come to think of it.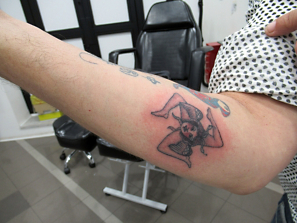 While I finally lost the weight I gained, the fond memories I have of Sicily will stay with me forever—as will the tattoo of the Sicilian flag that I got on my arm in Palermo.
If you've been to places like Rome and Florence and thought, yeah, I've seen Italy, take it from that crazy German Goethe, who nailed it when he said: "To have seen Italy without having seen Sicily is not to have seen Italy at all."
See for yourself why Sicily is a world apart from the Italian mainland when you join O.A.T. for Sicily's Ancient Landscapes & Timeless Traditions.