Red is the Color of Comfort
Hungary's Love Affair with Paprikash
Posted on 10/3/2017 12:01:00 PM in The Buzz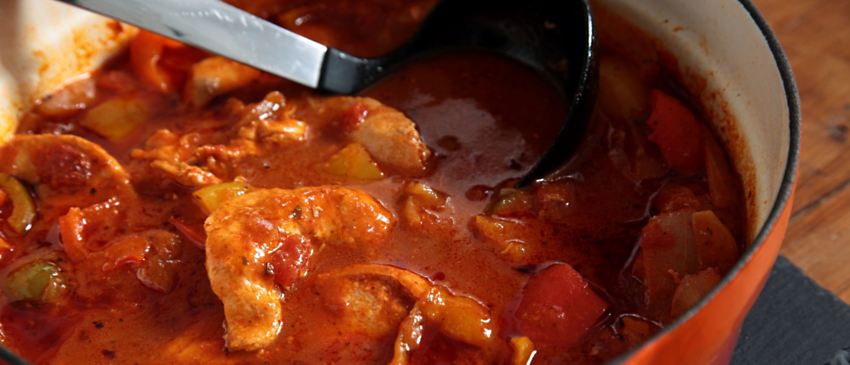 When a Hungarian thinks "comfort food," chances are pretty good that they there are thinking paprikás csirke, which we know in English as chicken paprikash. Named for paprika, the spice that not only flavors the dish but provides its red hue, it has occupied a place of honor in home kitchens and restaurants alike for several centuries.
Like goulash, paprikash was a food with origins in the countryside. The southern part of Hungary is home to the countless pepper farms, especially in Kalocsa and Szeged, so the primary ingredient was plentiful. With chickens in no short supply, the dish was the perfect use of a farm's resources.
Though the dish was typically served with nokedli dumplings (spaetzli), wide noodles became a common substitution, and the dish can be prepared with other meats (veal being a popular choice) or even mushrooms for vegetarians. In fact, it seems like just about every corner of Hungary has its own slight adjustment to the recipe, so that there isn't an agreed-upon "perfect" paprikash.
However, one thing that might surprise Americans, who have only encountered the dish in restaurants in the United States, is that a classic paprikash has no tomatoes. While most U.S. recipes do include tomatoes, that was because the first chefs trying to bring the dish here found paprika hard to come by. They added in tomatoes to create the red color and that version caught on; even many Hungarian-Americans enjoy it this way now. But a classic paprikash would never include an acidic vegetable to an otherwise creamy dish.
What most recipes do have in common is that meat and onions are browned, flavored with plenty of paprika, and enriched with sour cream—a mouthwatering combination, no matter whether it's your grandmother or a favorite café serving it up.
Chicken Paprikash
We think you'll really appreciate using fresh paprika. The difference in flavor and color is clear. So forget the tin you've had in the cupboard for years and buy fresh paprika from a spice store or get a new, unopened tin from your local market.
Ingredients
For paprikash:
5 tablespoons butter
2 pounds chicken thighs and breasts (boneless and skinless, or bone-in with skin)
1 medium onion, chopped
1 ½ cups chicken broth
3 tablespoons Hungarian sweet paprika
½ teaspoon Kosher salt
1 teaspoon freshly ground black pepper
2 tablespoons all-purpose flour
1 cup sour cream
For nokedli:
2 ½ cups all-purpose flour
1 teaspoon salt
2 eggs
¾ cups water
1 tablespoon melted butter
Instructions
Prepare the chicken:
1. Lightly dust chicken pieces with flour.
2. Heat a large skillet over medium heat. Melt 4 tablespoons of the butter. Add chicken, paprika, salt, and pepper, and sauté until the chicken is lightly browned. Remove chicken from pan.
3. Add 1 tablespoon butter to pan and sauté onions until they are translucent.
4. Return chicken to the pan and add the chicken broth.
5. Simmer over low heat until chicken is cooked through and tender. For boneless chicken, this could be a half hour; for bone in, it will likely be longer.
Prepare the nokedli:
6. While chicken is simmering in broth, bring a large pot of water to a boil.
7. Whisk together flour and salt in a medium bowl.
8. Make a well in the middle and add the eggs, water, and butter. Stir until the thick batter is smooth.
9. Drop a teaspoon of batter at a time into boiling water with a spoon until you have used half the batter.
10. Stir the bottom of the pot with a spoon, so that the dumplings rise to the top. After the dumplings rise to the top, let them boil about 2 minutes more.
11. Remove to a large colander and drain, then repeat the process with the remaining batter. Toss with a little butter or oil to keep them from sticking while you finish the recipe.
Assemble the paprikash:
12. When the chicken is tender, remove it from broth and set aside.
13. Stir 2 tablespoons of flour to the broth in the pan and boil until the mixture has thickened. Stir in the sour cream to finish sauce, which should be smooth and velvety.
14. Return the chicken to the pan and coat with the sauce.
15. Serve atop the nokedli or egg noodles.
Want to keep it simple? Buy spaetzli or egg noodles and skip steps 6-11.
Savor the flavors of Hungary, Slovakia, Austria, and Czech Republic when you join us for Romantic Blue Danube: Budapest to Prague.