Recipes: Danube Delights
Posted on 7/4/2017 12:01:00 PM in The Buzz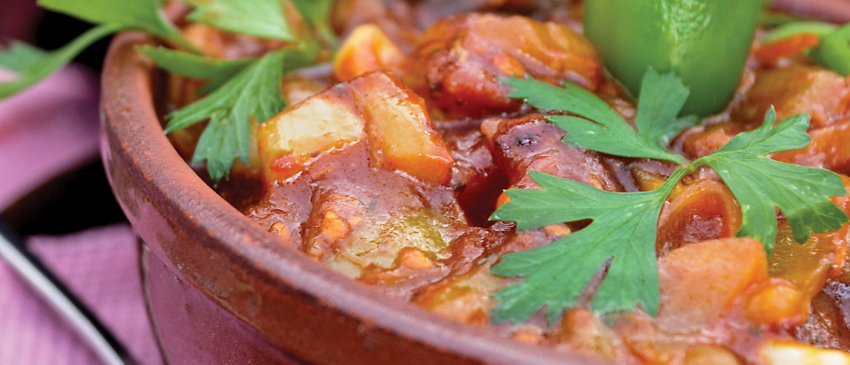 Bulgarian cuisine is known for its simplicity, focusing on very few fresh, local ingredients and treating them with respect. Within this general guideline, popular national dishes are very diverse, drawing on influences from Russian, Greek, and Middle Eastern cuisine. By understanding each dish's roots, a meal becomes a history lesson.
In many respects, these two dishes couldn't be more different, from both flavor and historical context. Cool, crisp, and fresh, shopska salad was introduced in the mid- to late-20th century as an effort to showcase the culinary flavors and creativity of socialist Bulgaria. Kavarma, on the other hand, is widely recognized as one of the longest-standing traditional Bulgarian dishes—a hot, savory dish reflecting a careful, slow-cooked style.
Paired together over the course of a cozy meal, however, the two dishes beautifully showcase a philosophy behind Bulgarian cuisine: when you do simple things well, you will yield incredible results.
Shopska salad couldn't be easier to make. It's merely tomato, cucumber, roasted red pepper, onion, sirene cheese (a briny white cheese belonging to the feta family), and optional black olive. But the flavors marry together beautifully: sweet tomato and fresh onion cozied up to crisp cucumbers and roasted red peppers, with the bright lemony cheese as a crowning element. Each flavor stands out as the dish offers layers of fresh complexity.
Kavarma is served in an earthenware pot called a guveche that arrived in Bulgaria by way of Turkey. While your choice of meat can be used in preparation, our kavarma is chicken-based, with tender morsels playing nicely off the savory, onion-accented stew. We recommend large bread rolls to sop up every last bit—and a tall, cold glass of local beer.
Shopska salad
Options abound for your preparation of shopska salad. While many recipes, including the accompanying recipe, call for chopping and mixing ingredients, you can also slice the ingredients and place them side by side on the plate, creating a tasting plate approach.
Ingredients:
4 tomatoes, chopped
1 cucumber, peeled and chopped
2 bell peppers, roasted and chopped
1 onion, chopped
2 Tbsp. fresh parsley, chopped
½ cup olive oil
¼ cup red wine vinegar
½ cup sirene (or feta) cheese, crumbled
Salt, to taste
Pepper, to taste
Preparation:
Combine tomato, cucumber, pepper, onion, and parsley in a large bowl. Toss until well mixed.
In a small jar, combine oil, red wine vinegar, salt and pepper. Cover and mix well until blended.
Pour dressing over vegetable mixture, and toss again until mixed. Serve immediately or refrigerate until ready. Before serving, generously sprinkle cheese on top.
Serves 6
Chicken kavarma
Kavarma comes in many forms—this recipe features chicken, but pork and veal are also popular in Bulgaria. For the slow-cooked effect, you can utilize a Dutch oven or a slow cooker.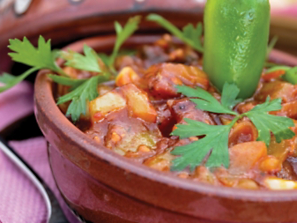 Ingredients:
1 ½ lbs. chicken breast, cubed
½ cup white wine
1 onion, diced
1 bell pepper, diced
½ cup water
2 tomatoes, diced
½ cup sunflower oil, divided
½ tsp. ground cumin
1 bunch parsley, finely chopped
Salt, to taste
Pepper, to taste
Preparation:
Preheat oven to 250 degrees Fahrenheit.
Heat ¼ cup of sunflower oil in a heavy skillet and heat until shimmering, but not smoking. Season the chicken with salt and pepper and cook until lightly browned. Add wine to deglaze the pan, lower heat to simmer, and cook for 5 minutes. Remove chicken mixture from skillet and set aside.
Heat remaining ¼ cup of oil. Sauté onion and bell pepper until soft, about 5 minutes. Add water and cook over medium heat for about 10 minutes, or until most of the liquid has been absorbed.
Add cumin and tomatoes and simmer for another 5 minutes.
Combine vegetable mixture and chicken and transfer to a Dutch oven. Cover and bake in oven for 3 hours.
Salt and pepper to taste. Garnish with parsley before serving. Best paired with bread.
Serves 4
Enjoy the diverse flavors of Bulgaria during our Eastern Europe to the Black Sea River Cruise.