Recipes: Cherry Blossom Picnic
Posted on 3/14/2017 12:01:00 PM in The Buzz
It's mid-March, which means the entire country of Japan is officially on hanami watch: Cherry blossom season has begun. While the southernmost region of Japan blooms in February, the blossoms begin spreading in earnest to the rest of the country in late March. The exact dates vary from region to region and year to year, so pinning down the perfect place and time to plan your hanami picnic can be quite a challenge—but fortunately for the Japanese, specialized meteorologists keep a close eye on petal progression, sharing their findings on special maps that are shown on the news, published on websites, and posted in markets. Much like predicting the weather, perfection cannot be guaranteed, but no one can accuse Japan of not trying.
Once the trees are blanketed in soft clouds of pink, revelers waste no time in gathering friends and family beneath them for a celebratory picnic. While the two traditions go hand-in-hand, never forget which one carries more weight: The derogatory phrase "hana yori dango" literally means "dumplings over flowers," criticizing those who enjoy food and drink without fully appreciating nature's display. It's something you won't have to worry about when you prepare these classic hanami picnic snacks in your own kitchen.
Onigiri: Rice Balls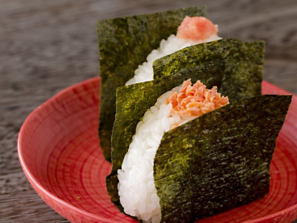 Think of these simple snacks as Japan's answer to a sandwich: you can fill them with virtually any filling you'd like, from simple protein to fish roe to pickled plums. Here, we use easy-to-find (and already cooked) smoked salmon, mixed in with the rice vs. stuffed inside to simplify preparation.
Ingredients:
2 cups short-grain white rice
8 ounces smoked salmon, flaked or chopped into bite-sized pieces
2 Tbsp black sesame seeds
Salt, to taste
2 sheets nori (dried seaweed sheets), cut into 8 strips
Preparation:
Cook rice according to package directions. It should yield about 6 cups cooked.
While rice is hot, mix with salmon and sesame seeds.
Place a small bowl of water nearby to keep hands moist, which will prevent the rice from sticking. Using about 3/4 of rice at a time (you should have enough for 8 balls), squeeze rice into a slight conical shape—or, if that proves difficult, feel free to buck tradition and settle for spheres.
Wrap a strip of nori around the middle of each ball.
Enjoy immediately, or wrap in plastic to eat at room temperature under a blooming cherry tree.
Serves: 4
Karaage: Japanese Fried Chicken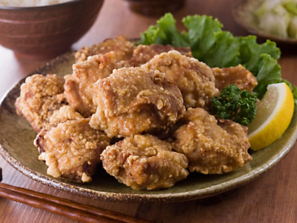 These lightly crispy two-bite nuggets are considerably easier than American-style battered fried chicken—and a bit lighter, though we're not exactly calling it diet food.
Ingredients:
2 lbs skin-on, boneless chicken thighs, cut into bite-sized (or two-bite-sized) pieces
2 Tbsp ginger, grated
2 cloves garlic, grated or crushed
4 Tbsp soy sauce
2 Tbsp sake
4 tsp sugar
2/3 cup potato starch
Vegetable oil for frying
Lemon wedges for serving
Preparation:
Combine ginger, garlic, soy sauce, sake, and sugar in a bowl, and whisk until well incorporated. Add chicken and toss to coat. Refrigerate for at least 1 hour.
Pour two inches of oil into a deep pan and heat until 360 degrees Fahrenheit—if you don't have a thermometer, you can drop in a bit of flour: if it sizzles, you're ready to fry.
Toss chicken in potato starch.
Ready your tongs and a drying rack lined with a paper bag or paper towels.
Drop 3-5 pieces of chicken at a time into the oil. It should take about 90 seconds to achieve a light golden brown color; if it browns too quickly, add more chicken—just 1 or 2 pieces at a time—to lower the temperature.
Transfer cooked chicken to drying rack.
Between batches, use a strainer to remove starch clumps.
For crispier chicken, fry each batch a second time for 45 seconds.
Serve with lemon wedges.
Enjoy the flavors of Japan in any season when you join O.A.T. for Japan's Cultural Treasures.
You may also like…
A Taste of Delicious Tokyo
Follow a food writer on a culinary tour.
Petal Patrol
Learn more about hanami season in Japan.
Waving Goodbye Until Out of Sight
Join a solo woman traveler in Japan.