Recipe: Zaru Soba
Posted on 5/1/2018 12:00:00 AM in The Buzz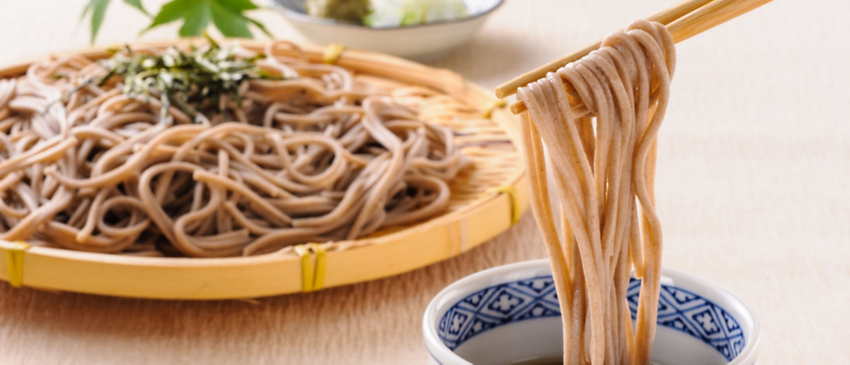 While the winter months call for rich noodle soups made with ramen or udon, the Japanese turn to this chilled soba dish as soon as the weather gets warmer. Not only is zaru soba light in flavor, the buckwheat-based noodles are relatively healthy, too. During the Edo period between 1603 and 1868, soba gained popularity because it was found to prevent beriberi—a disorder caused by a thiamine deficiency. While thiamine had yet to be discovered at the time, we now know that soba is rich in the vitamin, whereas white rice—backbone of the typical Edo diet—contains none.
The word zaru means "strainer," for the Edo-style bamboo tray used to both drain and serve the noodles. While it makes for a beautiful presentation if you have one, a regular plate works just fine—but never skip the straining step when preparing any soba dish. Excess starch will negatively impact the flavor of the noodles.
When purchasing soba, you'll generally find two kinds: ju-wari and hachi-wari. Ju-wari is made from 100% buckwheat, and has a stronger flavor but a drier, crumbly texture. Hachi-wari contains 20% regular wheat flour, which is milder in flavor but easier to cook and chew. In this dish, it comes down to your preference—unless you avoid gluten, in which case ju-wari might become your new favorite noodle.
Zaru Soba
While you can make your own dashi stock from bonito flakes and kombu (kelp), dashi powder is readily available in the Asian section of most grocery stores. If you can't find nori pre-shredded, full sheets are easy to find and can be shredded with a sharp knife.
Ingredients:
1 1/2 cups dashi, prepared from dashi powder
1/2 cup mirin
1/2 cup light soy sauce
1/4 tsp sugar
8 oz dried soba noodles
2 scallions, thinly sliced
Shredded nori (kizami), or nori sheets sliced very thin
Wasabi
Preparation:
In a medium saucepan, bring dashi, mirin, soy sauce, and sugar to a low boil. Remove from heat and set aside to cool.


Prepare soba according to package instructions, stirring occasionally to prevent sticking. Rinse well in a colander under cool running water. Chill in ice water for 2 minutes and strain one more time.


Divide sauce between four small bowls. Divide noodles between four plates. Top each with a sprinkle of nori and serve scallions and wasabi alongside.


Instruct each guest to add scallions and wasabi to their sauce according to taste. Using chopsticks, dip one bite at a time—and remember that in Japan, slurping is encouraged!
Serves 4
Seek out zaru soba and other traditional delicacies when you join O.A.T. for Japan's Cultural Treasures.