Recipe: Yudofu (Hot Tofu)
Posted on 2/5/2019 12:00:00 AM in The Buzz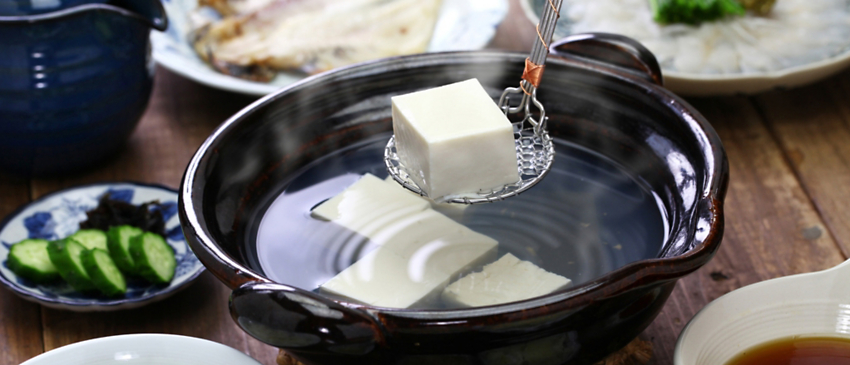 In the U.S., we often vilify tofu as a tasteless diet food—or a vegetarian meat substitute that never lives up to the real thing. The latter is just unfair: tofu cannot and should not be expected to fill in for chicken or steak. It can, however, be delicious in its own right—especially if you take a cue from Buddhist monks in Kyoto, Japan.
Kyoto is the epicenter of shojin-ryori cuisine, which has existed in Japan since Buddhism arrived in the country in the sixth century. Literally, shojin translates to "focus and go forward," and ryori is a term for cooking or cuisine. For Buddhist monks, the very act of eating is an exercise in meditation and reflection. As Buddhism prohibits the killing of animals, true shojin-ryori eschews all meat. It uses only local and seasonal ingredients to connect the body with nature, and focuses on balance versus strong, pungent flavors. Each meal centers around the number five, which holds spiritual significance in Buddhism: five colors (white, green, yellow, black, red); five flavors (sweet, sour, salty, bitter, umami); five preparation methods (raw, stewed, boiled, roasted, steamed).
Tofu is an essential ingredient in shojin-ryori—but in Japan, it's a far cry from the chalky blocks you might pick up at your local supermarket. Artisan craftspeople make tofu by hand, and restaurants serve it fresh. If you can find handmade tofu at a specialty store near you, by all means use it in this recipe. But regular silken tofu works perfectly fine.
Today, as diners throughout Japan have embraced elements of shojin-ryori outside of temple settings, non-vegetarian ingredients have made their way into dishes like yudofu. We like the addition of bonito flakes for flavor, but you can certainly leave them out. On a cold night, if you're looking for a meal that nourishes both body and soul, yudofu might make you a tofu convert.
Yudofu (Hot Tofu)
Ingredients
1 sheet kombu (dried kelp)
4 cups water
1 tsp bonito flakes
1 cup shiitake mushrooms, stemmed and quartered
1 block silken tofu, cut into 1 1/2-inch cubes
1 scallion, thinly sliced
Grated ginger (optional)
Soy sauce and ponzu, for serving
Instructions
In a large saucepan, place kombu in water and steep for at least 30 minutes, up to 4 hours.


Place pot over low heat, careful not to bring to a boil. Add bonito flakes and mushrooms. Simmer until mushrooms are just tender, about 3 minutes.


Add tofu and simmer until just heated through, about 3 minutes more.


Divide tofu and broth between two bowls and sprinkle with green onions and ginger (if using).


Serve alongside small bowls of soy sauce and ponzu for dipping—or, add the sauce directly to the bowl, to taste.
Serves 2
Savor the delicate balance of Kyoto cuisine when you join O.A.T. for Japan's Cultural Treasures.