Recipe: Turkish Pide
Posted on 6/23/2020 12:00:00 AM in The Buzz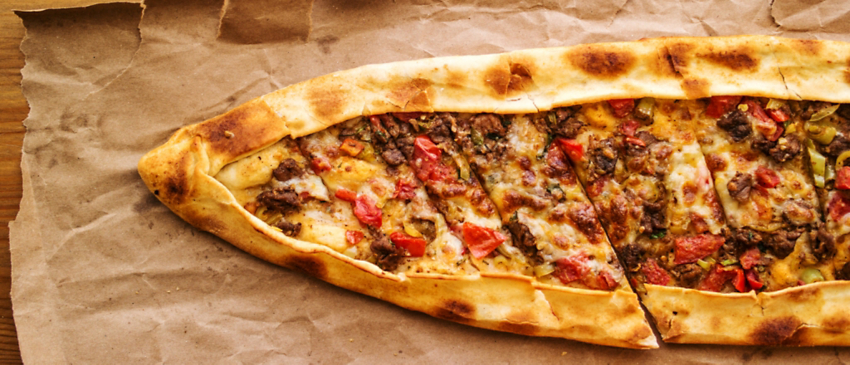 With 90 million people spread across its continent-straddling 900-mile length and regions as diverse as the Mediterranean coast and Taurus mountains, it is no surprise that Turkey has no single cuisine. But there is at least one unifying influence that has undeniably affected Turkish cuisine from East to West: the Ottoman Empire.
The sultans loved to eat. At one point, a whopping 1,700 cooks worked in the official palaces, with specific single-focus laborers dedicated to making bread, vegetables, rice, soup, seafood, syrup, jam, dessert, or drinks. Beyond the palaces, thousands upon thousands more chefs cooked in the kitchens of the ruling elite.
With demanding clients, these cooks continually sought the best of the best ingredients from all corners of the land, uniting the nation to craft their menus. The dishes that most pleased the sultans became popular and soon filtered back into the non-elite community, assuming places of pride in the same home kitchens where humbler versions might have originated.
The tradition of filled dishes—dumplings, pastries, and stuffed vegetables—predated the Ottomans. Manti (dumplings served with yogurt) and borek were filled with meat or vegetables, while dolmas were vegetables like pepper and cabbage stuffed with ground meats, rice, and pine nuts. It was also the sultans who popularized simit, sesame seed rings (akin to bagels) sporting a crunchy crust and chewy interior.
Simit is just one type of loaf popular in a land that bills itself as the Breadbasket of the World. The staple white bread, ekmek, is made fresh twice daily. Bread shows up even in main courses, like pide (pronounced pee-DAY). A 20th-century spin on tokalak, a favorite of the Ottomans, pide is a stretched-dough flatbread shaped into little boats and filled with meats, cheeses, or vegetables.
With a simple dough, pide is easy to make and easy to personalize. Try a traditional recipe (like the one below) and then experiment with your own fillings. Quick tip: move the individual rolled dough pieces to the pan where you will cook them before filling or pinching, so you don't have to try and move a filled pide.
Lamb or Beef Pide
Ingredients:
For the dough:
3 cups flour (whole wheat is preferred)
1 Tbsp instant yeast
1 tsp sugar
2 tsp salt
1 & 1/3 cup room temperature water (keep more on hand)
¼ cup plus 2 Tbsp olive oil (Set aside 2 Tbsp for finishing)
For the filling:
3 Tbsp olive oil
8-10 ounces ground lamb (or beef)
1 onion, diced fine
1 green bell pepper, diced fine
1 red bell pepper, diced fine
1 tsp salt
1 tsp black pepper
1/2 tsp red pepper flakes
1/2 tsp cumin
¼ cup chopped parsley
Preparation
Mix dry ingredients: flour, yeast, sugar, and salt.


Add the liquids (1/4 cup of oil and the water) a little at a time.


Combine in a mixer with dough hook or by hand until you have a soft dough. If the dough is not cohering, add the remaining water a little at a time.


Cover the dough with plastic wrap and let rise one hour.


Meanwhile, heat 3 Tbsp olive oil in a skillet over medium-high heat.


Brown the beef and onion, till the onions begin to soften.


Add green and red bell pepper, salt and pepper, cumin, and pepper flakes.


Cook 8-10 minutes, until vegetables are tender, but meat is not dry, and then cool.


Preheat the oven to 350. Line baking sheets with parchment.


On a floured surface roll the dough into a log at least a foot long. Slice the log into 16 pieces and roll individual balls.


Roll a ball into a thin oval, transfer to parchment, and layer cooled filling into center of the oval.


Pinch each end of the oval together to make a boat shape (think a wide canoe) around the filling. Sprinkle with parsley.


Repeat for each dough ball.


Brush each "boat" with the remaining olive oil. Bake on tray for 20 minutes. Serve warm or at room temperature.
Feast like a sultan when you join our new Turkey's Magical Hideaways Small Ship Adventure.