Recipe: Turkish Delight
Posted on 3/3/2020 12:00:00 AM in The Buzz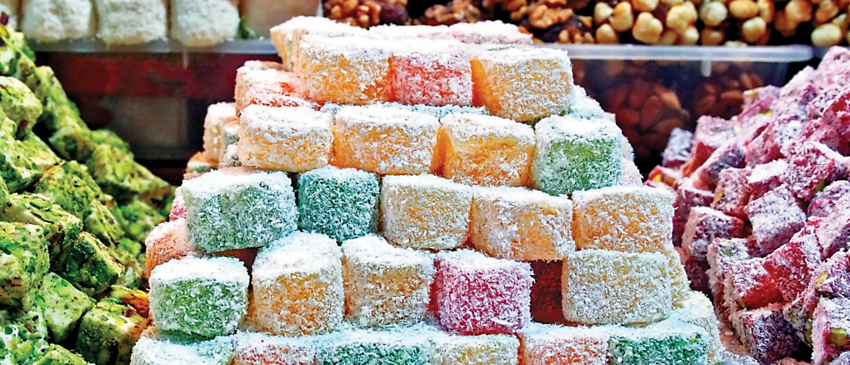 If you read The Chronicles of Narnia as a child, you might recall Edmund's obsession with Turkish delight. For Americans, sampling lokom, the Turkish name for the aromatic gel candy, might require a trip to the Middle East (or at least a Middle Eastern market). To make the pride of Istanbul at home doesn't require very many ingredients, but it demands patience: you'll be stirring for 50 minutes. If you have the time and the Zen attitude, you'll have an authentic delicacy that will transport you.
A few tips make all the difference in your end result. For one thing, you have to stir in the same direction the whole time, which will affect how the gel sets. When pouring the hot mixture into a pan to cool, grease and flour the pan first, instead of lining it with plastic wrap, as some recipes suggest. It's nearly impossible to remove the plastic wrap after without slicing off hunks of the candy itself.
Lokom (Turkish Delight)
Ingredients:
2 cups granulated sugar
3 1/4 cups water (divided into 2 1/2 cups and 3/4 cup), plus a small bowl of cold water
1/2 tsp cream of tartar
1/4 cup cornstarch, plus 2 Tbsp.
1/2 tsp rose water or other flavoring
Optional: 4 mastic crystals, crushed
Optional: Food coloring
1/4 cup pistachios, roughly chopped
1/4 cup almonds, roughly chopped
2 Tbsp. confectioner's sugar
Instructions:
Fill a small bowl with cold water and keep it on hand.


Grease and flour a small, rimmed baking sheet (ideally 7x9, but 9x13 will work, affecting only the thickness of the candy).


Mix sugar, 2 1/2 cups water, and cream of tartar in a heavy cooking pot and bring to a boil, stirring to dissolve the sugar.


Whisk 1/4 cup cornstarch in 3/4 cups water over medium-low heat to make a smooth paste.


Whisk the paste into the sugar mixture until smooth (which make take a few minutes).


Switch from whisk to wooden spoon, and stir, raising heat enough to bring the mixture to a boil.


After the mixture reaches a boil, turn heat to low and stir in one direction for around 50 minutes. When the spoon leaves clear marks on the mixture, test it for readiness.


Lift out a teaspoon of the mixture and set it in the cold water. If it cools into a firm but pliant lump, you are ready for the next step.


Stir in the flavorings of choice (orange blossom, rosewater, and vanilla are all common). If desired, add mastic bites for texture and a few drops of food dye for color, stirring and cooking for one minute more, then fold the nuts in last.


Pour into the prepared tray and smooth the surface. Let rest at room temperature until cool.


While the lokom rests, mix confectioner's sugar and 2 tbsp. cornstarch in a shallow bowl.


Once cooled, cut the candy into cubes, tossing them into the sugar-cornstarch mixture to coat.


Eat right away or store them for later, but don't keep them in an airtight container, or they'll sweat.
Discover the delights of Turkey during our New! Turkey's Magical Hideaways adventure.