Recipe: Swedish Coffee Bread
Posted on 4/3/2018 12:00:00 AM in The Buzz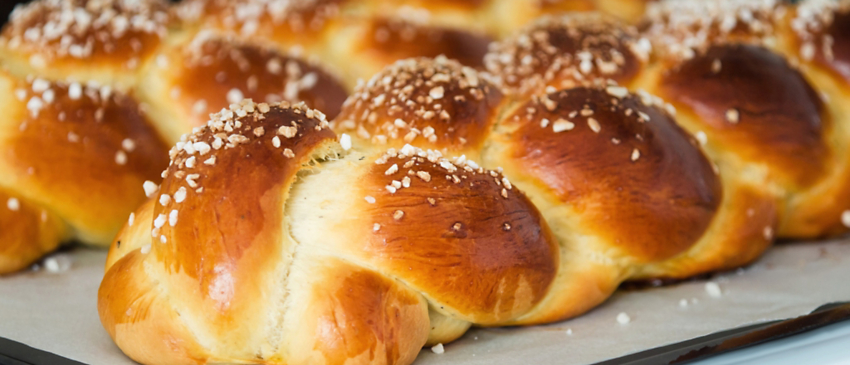 The Swedes have perfected the art of the coffee break. Known as fika—literally, "to drink coffee"—the tradition is more about taking time to connect with friends and family than it is about food and drink. But since the Swedes have also perfected the art of baking, the sweet breads that always accompany a warm beverage are definitely a welcome bonus.
Recently, an O.A.T. associate named Liz Whiting made her mother's Swedish coffee bread recipe, and was kind enough to share it with her caffeine-loving coworkers. The office coffee at our fika may have been terrible, but everyone raved about the bread—so we asked for the recipe to share here in The Inside Scoop.
Called bulle in Swedish, this braided bread looks as good as it tastes. While cardamom is relatively unappreciated here in the U.S., the Swedes use it like we'd use cinnamon. The spicy-sweet flavor and fragrance is unique but totally accessible—something you might find yourself reaching for to spice up your own baking.
Thanks to Liz's mom for sharing her recipe, complete with the helpful tips she's learned in her years of practice. Do you have a family recipe that might remind your fellow travelers of journeys abroad? We'd love to feature it. Email it to [email protected].
Aunt Astrid's Coffee Bread
Ingredients:
3/4 stick (6 Tbsp) butter
1 1/4 cups milk
6 cups flour, divided
1/2 cup + 2 Tbsp sugar
2 tsp salt
2 Tbsp SAF Gold Instant Yeast (or 2½ packets Fleishman's Rapid Rise yeast)
1 1/2 tsp ground cardamom
2 eggs
4 Tbsp butter, melted
Pearl sugar
Preparation:
Melt 6 Tbsp butter in 1 1/4 cup milk in a 2-cup Pyrex measuring pitcher in the microwave (or scald the milk in a saucepan then add the butter). Cool slightly.


Combine 4 cups of flour, all the sugar, salt, yeast and cardamom in a small bowl and whisk to mix.


Pour the warm milk/butter mixture into the bowl of a stand mixer, then add the dry ingredients along with the two eggs.


Mix using the paddle attachment until thoroughly mixed, then attach the dough hook.


Mix in the remaining 2 cups of flour, one at a time, with the dough hook until the dough holds together. Continue to knead with the dough hook for 3-4 minutes.


Remove the dough ball from the mixer bowl and place the dough ball in a buttered ceramic 3-quart mixing bowl, turning it over to ensure it's buttered on all sides. Cover the bowl with plastic wrap, making sure the dough has room to rise.


Place in a warm place to rise until doubled in size.


Butter a 9"x13" baking pan. (I use my Nordic Ware 9x13x2 pan, rather than Pyrex, but not sure it matters.)


When doubled in size, gently dump the dough out of the bowl onto the counter. Press out any big bubbles. Because the dough is buttery, you probably won't need much, if any, flour.


Divide into six equal pieces (the hardest part for me!). I use a dough scraper to cut it.


With your hands, form each piece into a long rope (maybe 14 or so inches long).


Make two braids. (As Liz reminds me, it's right over middle, left over middle!)


Put the braids side-by-side into the buttered 9x13 pan. Cover lightly with plastic wrap. Let rise in a warm place until doubled.


When the dough has almost doubled in size, preheat the oven to 400°.


Melt the 4 tablespoons butter. Brush the braids with the melted butter, then pour the remainder over the braids. Sprinkle with a little pearl sugar.


Bake for 20 minutes or so.


Cool in the pan for a while, then remove. When cooled, bag them airtight. Better yet, enjoy!
Gather your fellow travelers for a fika when you join our Grand Baltic Sea Voyage Small Ship Adventure.