Recipe: Štruklji (Slovenian Dumplings)
Posted on 1/22/2019 12:00:00 AM in The Buzz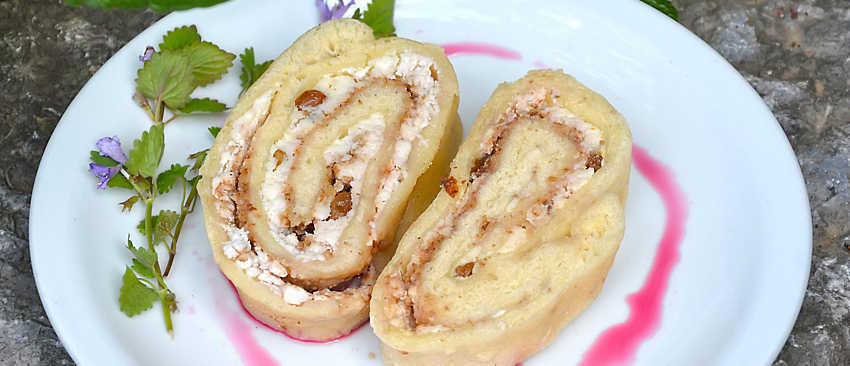 Slovenia's culinary roots stem from the country's location at the crossroads of the Alps, the Mediterranean Sea, and the Pannonian Plain—a flat region of grasslands and farms that spans several Eastern European countries. Thanks to its mineral-rich soil from the Danube and Tisza rivers, this agriculturally productive basin is home to more horses and cattle than people and is said to be able to feed all of Europe. With its bounty of crops and livestock, Slovenia is an undiscovered and distinctly Eastern European culinary treasure specializing in prepared meats, wine, and honey.
To celebrate its array of traditional meals, Slovenia's Section for Hospitality and Tourism distributes a trademark called a "Gostilna Slovenija" to restaurants serving traditional food. These traditional Slovenian restaurants must meet strict requirements to receive this designation, which include serving high quality local and regional dishes, using sustainable ingredients of Slovenian origin, and styling the actual space with traditional Slovenian décor. For those traveling to Slovenia and interested in savoring the true flavors of the country, look out for the restaurants that have earned the "Gostilna Slovenija."
Drawing from other nearby countries and cultures, Slovenian dumplings are a beloved culinary tradition. With a variety of types available, each can be made with a mixture of dough and filling options, from savory to sweet. Štruklji, for example, is a type of popular Slovenian dumpling made from dough and stuffed with cheese and herbs or sweet fruit fillings, like apples. You'll find these throughout Slovenia, but most commonly in the capital of Ljubljana.
Štruklji (Slovenian Dumplings)
Ingredients:
For the dough:
½ cup hot tap water
2 tablespoons butter
1 egg, lightly beaten
1 teaspoon salt, if desired
2 cups all-purpose flour
For the filling:
4 tablespoons butter
1 cup bread crumbs
4 eggs
1 pound dry cottage cheese
½ cup sour cream
1 tablespoon chopped parsley
Salt to taste, if desired
For the topping:
1 cup bread crumbs
4 tablespoons butter
Preparation:
To make the dough, place the hot water in a small bowl and add the butter to the water to melt. With a fork, blend in the egg and salt.


Place the flour in a separate mixing bowl. Make a well in the flour and pour in the liquid mixture. Blend and knead until the resulting dough is smooth and elastic. Cover and allow to rest in a draft-free place for about 30 minutes.


Meanwhile, prepare the filling by melting the butter in an 8-inch saucepan and browning the bread crumbs in it. Remove from the heat, add the eggs and stir until they have completely scrambled.


Combine the cottage cheese, sour cream, parsley and salt in a mixing bowl. Add the egg mixture and mix well.


Roll the dough on a lightly floured board into a rectangle about 12 inches by 18 inches. Spread the filling over the dough and roll it, starting at its long side, into a tight roll, much like a jellyroll.


Place the roll on a clean white cloth or a double thickness of cheesecloth large enough to cover it. Wrap the roll in the cloth and tie the ends with string, sausage fashion.


Coil the roll into a circle and drop it into a large pot of boiling salted water. Simmer for 40 minutes, then carefully lift it from the pot. Unwrap the roll and keep it warm.


For the topping, sauté bread crumbs in butter until golden brown. Slice the struklji into pieces 2 inches thick and top with the buttered crumbs.
Serves 8
Look for authentic Slovenian cuisine when you join O.A.T. for Crossroads of the Adriatic: Croatia, Montenegro, Bosnia & Herzegovina, and Slovenia.