Recipe: Stop and Taste the Roses
Posted on 4/25/2017 12:01:00 PM in The Buzz
Each spring, in between the High Atlas Mountains and the Sahara Desert, a lush green valley transforms into a blanket of pink. The so-called Valley of Roses in the province of Ouarzazate has reason to celebrate the arrival of its eponymous blooms: wild Damask roses are big business in this part of Morocco. The flowers, used to make rosewater and rose oil, are prized around the world for their intense perfume, and bring a pretty penny to the locals who work tirelessly to harvest them each year. Every day during the month-long growing season, pickers rise before dawn to collect the blossoms before the sun steals their precious fragrance. They are sorted by hand and left to dry for two weeks before being used locally or sold.
At the end of the season, usually during the second weekend in May, the Rose Festival celebrates the bounty of the harvest. Vendors from throughout the region gather to sell every type of rose product imaginable: potpourri, cosmetics, soaps and candles in all shades of pink. And buyers from all over the world, some from the high-end beauty industry, flock here to buy direct. The festival culminates with the crowning of the Rose Queen—a great honor for a lucky local girl.
Whenever you find yourself in the region of Ouarzazate, a bottle of locally produced rosewater is a special souvenir to bring home—just look for 100% pure to avoid cheap and chemical-laden knockoffs. It's an ancient beauty secret that dates to the days of Cleopatra: simply spritz or smooth onto your skin to hydrate, soothe, and tone.
A less obvious use for rosewater, at least in the U.S., is in the kitchen. No, you don't want your food to smell like a sachet of potpourri, and it's true that too much rosewater in any recipe can be overpowering. But when used correctly, it adds a unique flavor and fragrance that keeps tasters guessing. Its intense perfume mellows when cooked. These traditional sweets, which Moroccans whip up in countless varieties, are a perfect gateway to appreciating the flavor of flowers.
Almond & Rosewater Ghriba (Shortbread Cookies)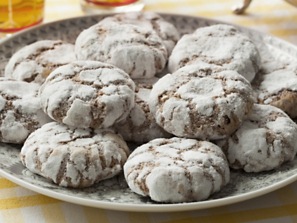 Ingredients:
1 cup almond flour
1 cup caster sugar
1 tsp baking powder
Pinch of salt
5 Tbsp butter
4 egg yolks
2 tsp rosewater
Zest of 1 lemon
Whole almonds and powdered sugar to decorate (optional)
Instructions
Preheat oven to 350 degrees Fahrenheit.
In a medium sized bowl, combine almond flour, sugar, baking powder, and salt. Set aside.
In a separate bowl, mix butter and egg yolks with a wooden spoon for about a minute. Add the rosewater and lemon zest and mix again.
Combine wet and dry ingredients and begin mixing with the spoon until it becomes too difficult. Finish bringing the dough together with your hands, being careful not to knead. The dough will be soft.
Using wet fingers (have small bowl of water nearby), form into balls the size of a walnut, roll in powdered sugar, and place on a parchment-lined baking sheet. Top each cookie with one almond. There's no need to flatten the cookies; they'll naturally spread.
Bake for about 15 minutes, watching for a pale golden color.
Allow to cool, and enjoy with mint tea.
Seek out locally made rosewater and sample all sorts of sweets when you join us for Morocco Sahara Odyssey.