Recipe: Spanish Crema Catalana
Posted on 11/19/2019 12:00:00 AM in The Buzz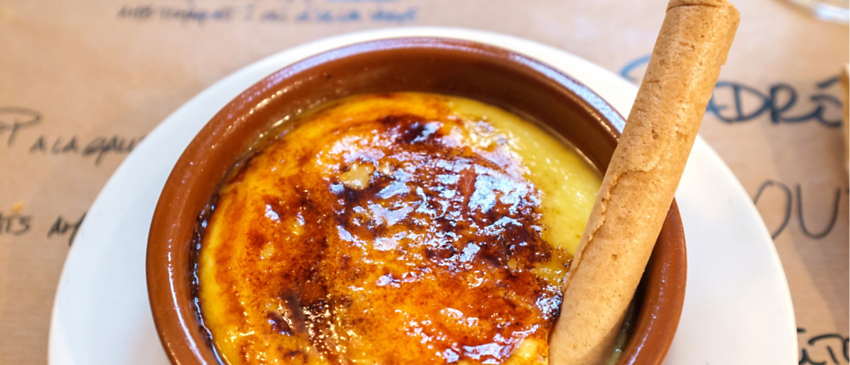 The Original Silky Sensation: Spain's Crema Catalana
People sometimes confuse Spanish crema catalana with France's creme brûlée. Both are silky custards with a sugary top crust. But the differences are clear: crema catalana uses milk, not cream; it requires no water bath (a win for casual cooks); and it includes lemon and cinnamon (not vanilla). The result is a little bit firmer, more like a flan than a custard. Beyond those things, it has a distinction that Spanish like to point out: It came first. The original recipe appears in a Catalan cookbook from the 14th century, 300 years before one appeared in France. Its fame has spread beyond Catalonia or Spain to the rest of the world and now, once served only in the spring, it is a sweet finish to meals year-round.
Ingredients
2 Tbsp. cornstarch
2 Tbsp. water
5 large egg yolks
1 cup superfine sugar (regular granulated sugar will do if needed), divided in half
2½ cups whole milk
3-inch slice of lemon peel (do not substitute lemon zest)
1 cinnamon stick
Instructions
Dissolve the cornstarch in the water and set aside.


Beat half the sugar into the egg yolks until pale and then whisk into the corn starch mixture.


In a small saucepan, bring the milk, lemon peel, and cinnamon stick to a boil.


Remove the citrus peels and cinnamon stick from the hot milk, and reduce the heat to low.


Slowly add the egg yolk mixture to the milk, whisking continually so that the eggs don't scramble.


Stir constantly until the mixture has thickened into the crema.


Remove from the heat and pour the crema into 4-6 ramekins or small bowls to cool.


Once cooled, cover ramekins in plastic wrap and chill for four hours (or as long as overnight).


When ready to serve, let ramekins come to room temperature. Sprinkle a thin layer of sugar on each in an even layer.


Caramelize the tops with a kitchen blowtorch or place ramekins on a tray, and brown the tops directly under your oven broiler, keeping a close eye to see that they don't burn.


Serve immediately, at room temperature, or chill to serve cold.
For variety, you may substitute orange peel for lemon, and you may top the finished product with fruit.
Discover the land that created crema catalana on your Iberian Voyage: Lisbon to Barcelona Small Ship Adventure