Recipe: Slovak Pirohy
Posted on 12/31/2019 12:00:00 AM in The Buzz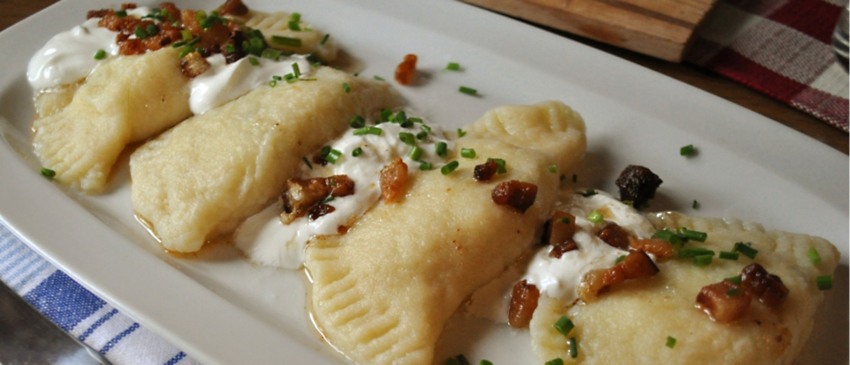 Across Central and Eastern Europe, the humble dumpling-like pierogi occupies a shared place of pride in the cuisines of diverse cultures. While many Americans associate it with Poland, Slovak people have long claimed its near twin as their own. Spelled pirohy, their dish is a hearty and filling staple of country cooking, made distinct from its Polish counterpart by the use of a Slovak sheep cheese, bryndza.
Making pirohy at home is fairly straightforward, even if you don't have bryndza on hand. The Slovak-American community has already solved this: they use feta cheese mixed with sour cream to achieve the tangy flavor of bryndza. Once your ingredients are assembled, you can make them start to finish right away, or you make the pirohy in advance and keep them in the fridge, bringing them out to rest a little before cooking.
Bryndzhov Pirohy
Ingredients:
2 large potatoes, peeled
2 cups flour
One egg
¼ cup oil
1 Tbsp salt
1 cup bryndza OR 3/4 cup feta
1 cup sour cream
½ cup chopped bacon
Instructions:
Fry the bacon till crisp and dry on paper towels.


Place the potatoes in a small pot of water and raise the heat to high, boiling the potatoes till very tender.


Remove the potatoes from the water and mash them thoroughly or rice them.


Mix potatoes well with egg, salt, and oil.


Mix in the flour, one cup at a time, until you have a stiff but workable dough, which you will form into an oblong ball. (Too dry? Add a splash of water. Too wet? Add a bit of flour.)


Bring a large pot of water to a boil.


Dust a workspace with flour and roll the dough on it, aiming for 1/8-inch thickness.


Use the lip of a drinking glass or a cookie cutter to cut circles in the dough.


Top each circle with a teaspoon of the cheese, heaped in the center, leaving empty space all the way around. (If using feta, mix the feta with ¼ cup sour cream first.)


Fold the dough circle over the filling to make a half moon and pinch edges closed, crimping with your fingers or using the tines of a fork.


Drop the pirohy in the boiling water, using a wooden spoon to keep them from sticking to the pot, until they float all the way to the top by themselves.


Remove to a serving plate with a slotted spoon.


Break the fried bacon into crumbles and sprinkle atop the pirohy.


Garnish with the remaining sour cream.
Perhaps you'll savor pirohy and pierogies alike during your Jewels of Bohemia: Czech Republic, Slovakia & Hungary adventure.