Recipe: Scottish Sticky Toffee Pudding
Posted on 1/21/2020 12:00:00 AM in The Buzz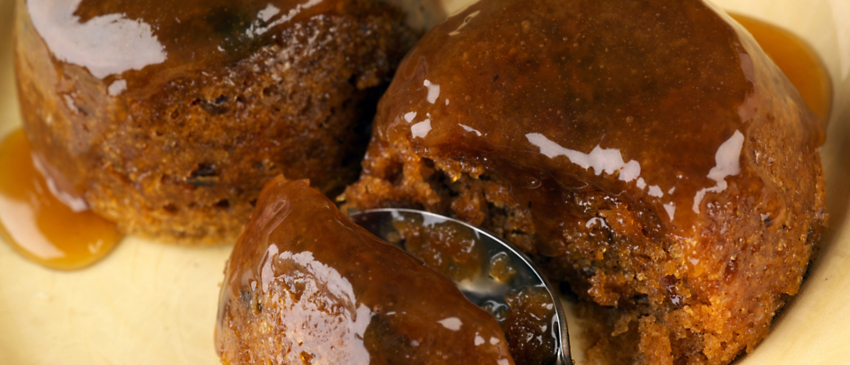 A pub menu staple, Scotland's sticky toffee pudding isn't a pudding in the American sense at all. Instead of the creamy, cold dessert that you might expect from an American pudding, sticky toffee pudding is a buttery and spongy cake smothered in a warm toffee sauce and paired with whipped cream or vanilla ice cream. With a light and fluffy texture after it's baked, the cake becomes dense and moisture-rich once the toffee sauce is poured over and absorbed into it. The secret ingredient to its sweetness is chopped dates, an ingredient in many Scottish desserts.
While a few different restaurants across England claim they created the dessert, the Scots argue that it was first served at the Udny Arms Hotel Aberdeenshire, Scotland in 1967, where it is still expertly served to this day. Despite the true origin, it's easy to see how a treat like this would become a cherished dessert, especially during the cold and gloomy weather of the winter months.
You can bake the recipe with a six-cup Bundt pan—like our recipe—or you can use individual Bundt molds, ramekins, or muffin tins. While most of the stickiness of the recipe comes from the toffee, it also comes from the moisture of the cake. When baking, make sure not to overcook the cake to prevent it from drying out and becoming a not-so-sticky toffee pudding. Lastly, always serve the cake warm to ensure the toffee melts properly, creating the ultimate decadent dessert experience.
Ingredients
For the pudding:
1/4 cup unsalted butter, room temperature
1 1/2 cups sifted all-purpose flour
1 1/2 cups chopped pitted dates
1 tsp. baking soda
1 tsp. baking powder
1/2 tsp. sea salt
1 cup sugar
1 tsp. vanilla extract
2 large eggs
For the sauce:
1 1/4 cups brown sugar
1/2 cup heavy cream
1/4 cup unsalted butter
1/2 tsp. vanilla extract
Whipped cream or vanilla ice cream
Preparation
For the pudding:
Preheat oven to 350°F. Grease and flour the Bundt pan to ensure the cake can easily slide out once baked.


In a medium saucepan, bring dates and 1 1/4 cups water to a boil. Remove from heat and stir in baking soda (mixture will by foamy). Set aside and let cool.


Whisk flour, baking powder, and salt in a medium bowl. With an electric mixer beat butter, sugar, and vanilla in a separate large bowl (mixture will be grainy). Add one egg and beat. Add half of the flour mixture and half of the date mixture and beat to blend.


Repeat with the remaining egg, flour mixture, and date mixture. When finished, pour mixture into the Bundt mold.


Bake until a toothpick comes out clean or about 40-45 minutes. Let cool in pan on a wire rack for about 30 minutes.
For the sauce:
In a small sauce pan, bring sugar, cream, and butter to a boil over medium heat, stirring consistently. Boil for about three minutes, then remove from heat. Stir in vanilla extract.


Let stand at room temperature and rewarm when needed.


Cut the cake and serve with toffee sauce and whipped cream or vanilla ice cream.
Taste sticky toffee pudding and other heavenly treats of Scotland when you travel on our New! Scotland's Legends & Lochs: From Glasgow to Edinburgh adventure.