Recipe Roundup: A Global Table
Posted on 5/19/2020 12:00:00 AM in The Buzz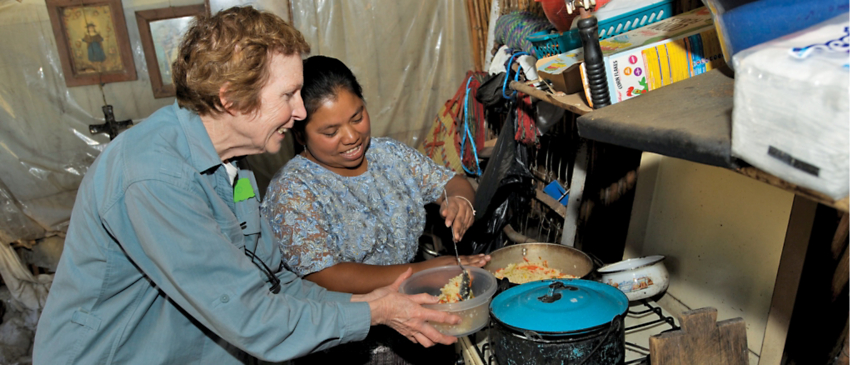 While we're not traveling, many of us are doing a lot more cooking—so why not take an adventure right in your own kitchen? Many of these recipes are easily adaptable to whatever you have on hand, and some require just a few basic ingredients. Do you have a recipe from your travels that you'd like to share? We're always hungry for more, so email us at [email protected].
1. Japan: Daigaku Imo (Candied Sweet Potatoes)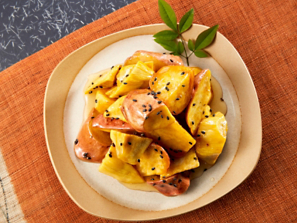 For Tokyo college students in the early 1900s, sweet potatoes may have been cheap enough—but they apparently weren't sweet enough. Enter these honey-glazed spuds, still known as "university potatoes" today. Appropriate as either a dessert or side dish, it's a healthy(ish) way to satisfy your sweet tooth.
Get the Recipe
2. Croatia: Fis Paprikas (Fish Stew)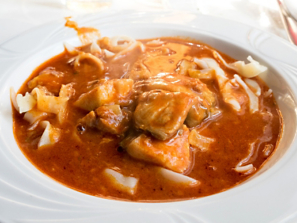 Croatia shares a border with Hungary—so perhaps it's not surprising that the country has adopted a love of paprika, particularly in the northern Croatian county of Osijek-Baranja. This comforting recipe for fish stewed in fragrant, paprika-spiced broth also celebrates an abundance of local seafood.
Get the Recipe
3. Italy: Pugliese Brasciole (Rolled Beef)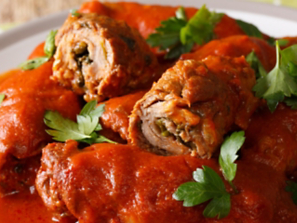 Also spelled "braciole" and pronounced bra-JAWL in Italian-American households, this tender braised meat dish has countless variations in Italy. Here, we start with the basics: beef, breadcrumbs, cheese, garlic, and parsley. Master this, and the only limit is your imagination..
Get the Recipe
4. Scotland: Sticky Toffee Pudding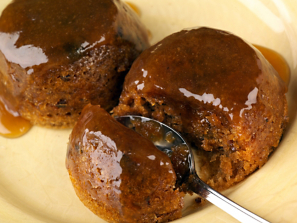 If your idea of "pudding" is limited to the little plastic tubs you feed your grandchildren, give the Scottish version a try. As if a sweet and buttery cake weren't delicious enough, this recipe goes even further by smothering it in a decadent caramel sauce.
Get the Recipe
5. Slovakia: Pirohy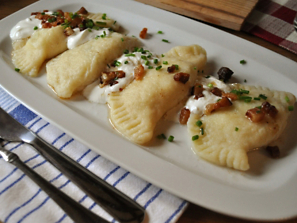 From gnocchi to jiaoxi, dumplings are beloved around the world—and while Poland and Slovakia may share a common border, they each have a distinct version of this stuffed, doughy delicacy. The Slovakian secret? A particular cheese that's not easy to find in the U.S.—but crafty home cooks have devised a solution.
Get the Recipe
6. Portugal: Acorda a Alentejana (Bread & Garlic Soup)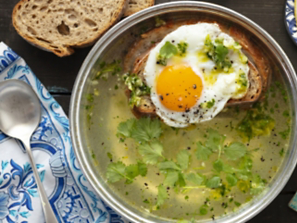 Embrace simplicity with this simple yet flavorful soup, which hails from Portugal's Alentejano region. Sometimes nicknamed "beggar's soup," it magically transforms just a few basic ingredients—eggs, garlic, herbs, and stale bread—into something far greater than the sum of its parts.
Get the Recipe
7. Peru: Causa (Potato Casserole)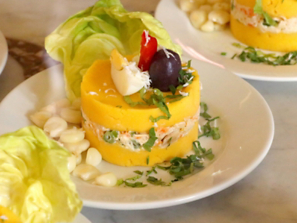 Home to more than 3,000 varieties of potatoes, Peru knows a thing or two about creative spud preparation. This layered casserole is built upon a classic combination of potatoes and peppers, but the variations are as limitless as the cook's imagination. It's a fun twist on standard potluck fare.
Get the Recipe
8. Turkey: Pide (Stuffed Flatbread)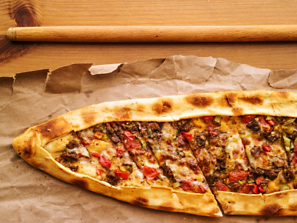 Since before the days of the Ottoman Empire, meat-filled morsels from dumplings to vegetables have been prominent in Turkish cuisine. But why stuff a pepper when there's bread to be filled? Often referred to as "Turkish pizza," pide can be customized to your liking—so consider our recipe a jumping-off point.
Get the Recipe
9. Chile: Pastel de Choclo (Corn Pie)
Whether you have fresh corn or a bag in your freezer, take your starch game up a notch with this sweet and savory Chilean pie. More akin to a casserole, it's easily portable, and boasts layers of complementary flavors to surprise your guests' palates when we're able to share potlucks again.
Get the Recipe
10. Thailand: Pad Grapow Gai (Basil Chicken)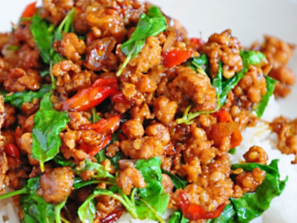 Thailand borrowed the stir fry method from China, but made the flavors all its own. Learn to make a fresh, fragrant Thai chicken stir fry with basil and chilies—and watch as the dish is prepared in a mouthwatering step-by-step film from the Meatmen.
Get the Recipe