Recipe: Risi e Bisi
Posted on 4/17/2018 12:00:00 AM in The Buzz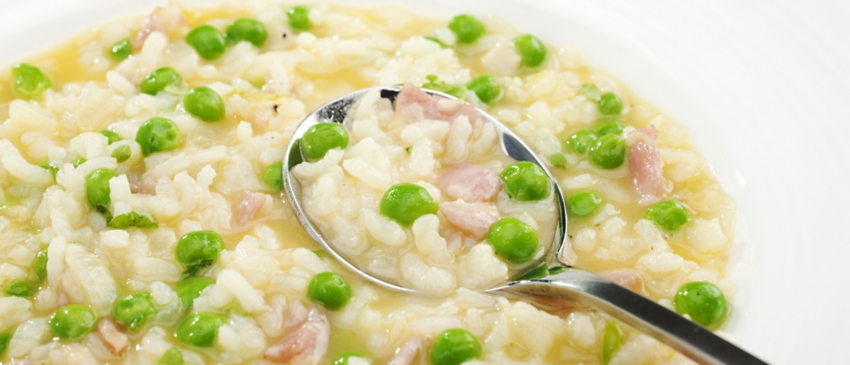 Sweet green peas herald the arrival of springtime—and in Venice, capital of Italy's Veneto region, they are appropriately celebrated in this creamy rice dish. Somewhere between a soup and a risotto, risi e bisi is traditionally served on April 25 for the Feast of St. Mark.
According to legend, as St. Mark waded in a Venetian lagoon, an angel appeared to him in the form of a winged lion. "Peace be with you Mark," the angel said. "Here your body will rest." In 828, taking this story quite literally, two Venetian merchants set out to steal the saint's relics, which resided in Alexandria, Egypt. They wisely determined the best way to hide anything of value from Muslims: cover it with piles of pork. No one disturbed them as they pushed a cart of pig carcasses through the streets of Alexandria, and their return to Venice was met with great fanfare. From that point on, Mark was the patron saint of the city, and the winged lion that appeared to him became the official emblem of both Venice and the Veneto region.
In the days of the Venetian Republic, risi e bisi was prepared on St. Mark's Day especially for the Doge, who received the season's first pea crop as a gift every year. While the dish today seems more rustic than royal, some would argue that it must not be ordered outside of the Veneto region, where rice is a staple crop and beloved even more than pasta. Given how easy the dish is to make, we prefer to buck tradition and prepare risi e bisi at home. For the sake of ease, we see nothing wrong with using frozen peas, which are picked at the peak of freshness. So technically, you don't even need to wait for spring.
Some cooks treat risi e bisi like risotto, ladling the stock by the spoonful and stirring constantly, but others say there's no need—and, with ease in mind once again, we wholeheartedly agree. The finished dish should be soupy enough to eat with a spoon. In Italy, it's typically served as a first course—but you can buck tradition even further and serve it as a main course, alongside a fresh green salad.
Risi e Bisi: Venetian Rice and Peas
Ingredients:
2 Tbsp olive oil
1 medium yellow onion, finely chopped
1/2 cup pancetta, diced (about 2 ounces)
1/4 cup flat-leaf parsley, chopped, divided
2 1/2 quarts chicken stock
2 10-ounce packages frozen peas, thawed (or fresh)
2 cups Arborio rice
1 cup freshly grated Parmigiano Reggiano
2 Tbsp unsalted butter
Salt and freshly ground pepper, to taste
Preparation:
In a Dutch oven or other large, heavy pot, heat olive oil until shimmering. Add onion and sweat over low heat until translucent.
Add pancetta and half the parsley and cook for about 5 minutes.
Add the stock, peas, and rice. Bring to a boil and reduce to a simmer. Cook until rice is tender and liquid is nearly absorbed, about 20 minutes.
Stir in Parmigiano Reggiano, butter, and remaining parsley. Season to taste with salt and pepper. Serve immediately.
Serves 8-10
Discover the regional cuisine of Veneto in Venice when you join our Voyage to Istria Small Ship Adventure.