Recipe: Ratatouille Niçoise
Posted on 5/29/2018 12:00:00 AM in The Buzz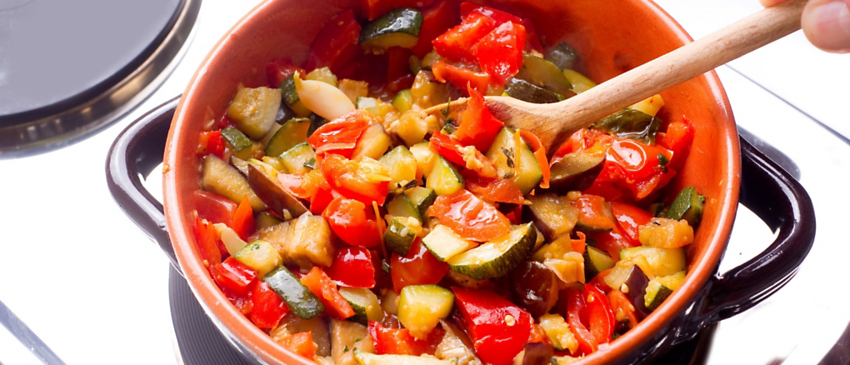 Often referred to as the "forgotten French cuisine," Niçoise cooking varies greatly from the rich, butter-laden fare celebrated elsewhere in the country. On the French Riviera, where the foothills of the Alps meet the Mediterranean Sea, you won't find heavy sauces or an abundance of meat. Instead, seafood and vegetables dominate menus, prepared with fresh herbs and olive oil. Pasta, too, is quite common—which is less surprising when you learn that this area of France belonged to Italy until the signing of the Treaty of Turin in 1860. In fact, many Niçoise specialties have close cousins in Italian dishes. Where Genoa has pesto, Nice has pistou. Italian farinata—a pancake made with chickpea flour—becomes socca on the Riviera. And Niçoise pissaladiere, topped with onion, anchovy, and olive, looks suspiciously like pizza.
Salade Niçoise, if by name alone, is the region's most easily recognized export—though the authentic version may not resemble what you'd order in your local bistro. For one, true salade Niçoise does not include potatoes. And instead of seared, fresh tuna, the Niçoise use jarred: usually from Italy, always packed in olive oil, and often more expensive than a yellowfin steak from your fishmonger.
But the recipe that perhaps best typifies Niçoise cuisine is ratatouille: a celebration of Provencal vegetables brightened with herbaceous pistou. You can pick up all the ingredients at your local farmers market—regional and seasonal, the Niçoise way. And to truly embrace the culture, enjoy it al fresco on a warm evening, as the setting sun kisses your glass of rosé.
Ratatouille Niçoise
Ingredients:
For the pistou:
1 bunch of fresh basil
3 cloves of garlic
1/2 cup extra virgin olive oil
1 ounce parmesan cheese, grated
Salt
For the ratatouille:
5 Tbsp extra virgin olive oil, divided
4 cloves of garlic, minced
1 medium yellow onion, diced
2 small eggplants, trimmed and diced
4 vine-ripened tomatoes, diced
2 bay leaves
1 sprig of thyme, stemmed
3 red bell peppers, seeded and diced
2 medium zucchini, diced
Salt and freshly ground pepper
Preparation:
To prepare the pistou, blend garlic, basil, and olive oil in a mini food processor until smooth. Stir in the parmesan. Season to taste with salt.
In a large saucepan or Dutch oven, heat half the olive oil over medium heat. Add garlic and cook for about a minute. Add onion, reduce heat to low, and sweat until translucent, about 5 minutes.
Add the bell pepper, stir, and cook for 10 minutes.
Add remaining oil and increase heat to medium. Add eggplant and cook for 10 minutes, stirring frequently.
Add the tomatoes and cook until they release their moisture. Add bay leaves and thyme. Reduce heat to low, cover, and cook for 30 minutes, at which point the vegetables should be soft and moist, but not soupy. If too much liquid has accumulated, remove lid and reduce for a few minutes.
Add the zucchini and cook for 15 minutes.
Season with salt and pepper to taste. Remove from heat and cool to room temperature—ratatouille is traditionally served lukewarm.
Serve topped with pistou alongside crusty bread.
Serves 4-6